Our Favorite Spring Fashion Trends
This post was sponsored by Meijer and all opinions are our own! Thanks for supporting the brands that make Wandeleur possible! Check out MeijerStyle.com for even more fashion inspiration. 
Spring is officially in the air, and we've been loving all the fashion trends that come with this beautiful, warmer weather. And since we're big proponents of giving yourself a little treat now and then, we were so excited when Meijer sent us their spring fashion essentials to try. From denim dresses to white jeans, we love the classic Americana-inspired styles, dressed up with some fun accessories. Now that the weather's (finally!) starting to warm up, here's a list of the top spring trends we'll be wearing this season:
Chic Denim Dress:
Denim has been a wardrobe staple for as long as most of us can remember. It's comfortable, neutral and totally classic. But even if you have multiple pairs of jeans in your closet, you might not own a denim dress…but believe us when you say that you SHOULD! It's versatile to help you get through all the way from this cold spring weather to full blown summer lovin'.
White Jeans:
There's nothing that keeps your look fresh and chic for spring like the perfect pair of white jeans. We scored these from the junior's section of Meijer, and we love how perfect they are paired with an easy-breezy colorful top and gold accents. We're big fans of how comfy and stretchy this pair is, and it's the perfect pant for a busy day around town running errands, or even a dressed up with a fancy top for the office. It's also a fun trend paired with a navy and white striped shirt and comfy red flats to give yourself a little nautical flare, which we're all about especially in the spring!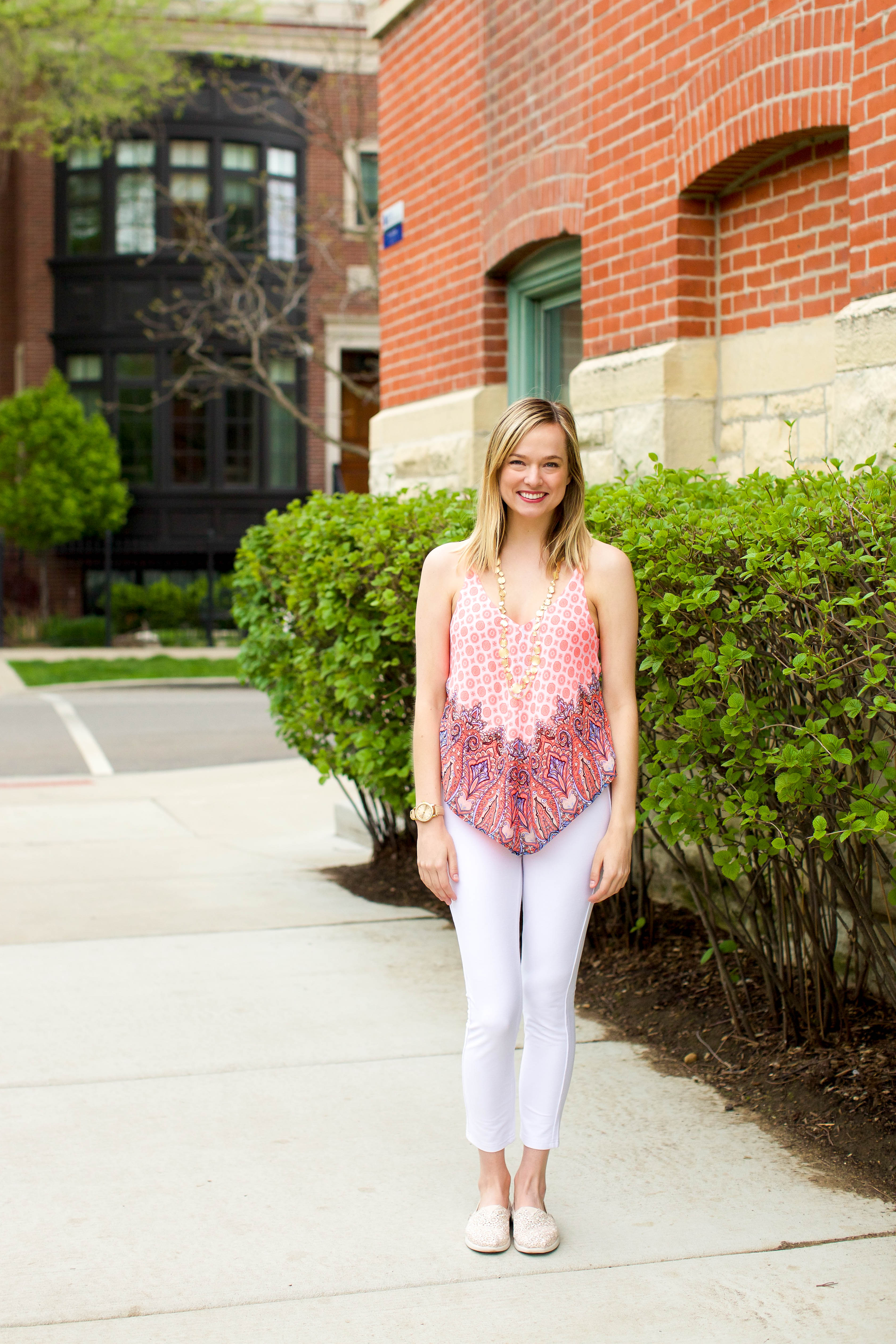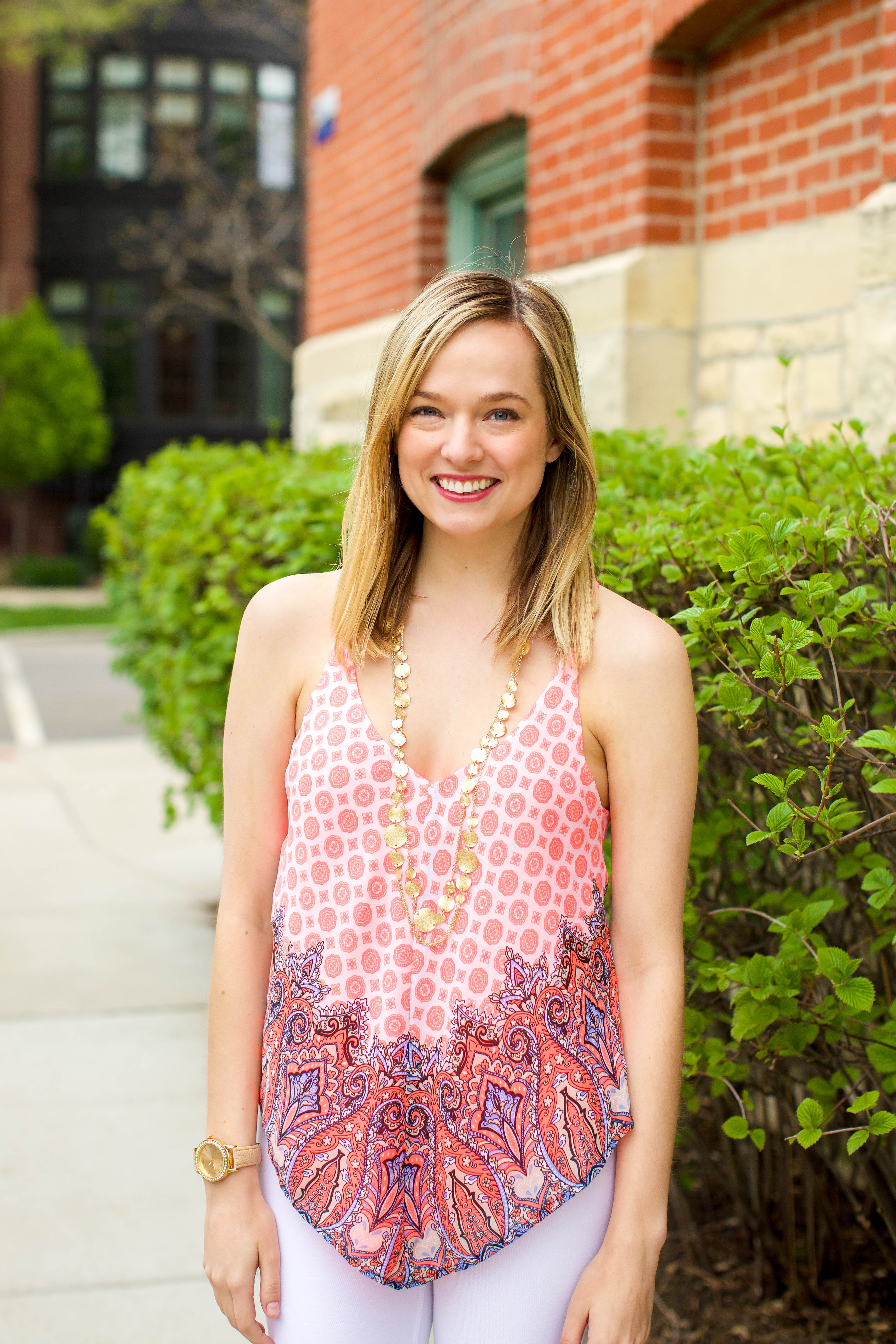 Crisp White Tank: Can you tell we go on a little all white kick during the start of spring? After hiding everything white away during the colder winter months, it's always fun to bust out a springy white tank top and jeans for a monochromatic look. We paired this detailed Meijer tank top with cuffed jeans and our favorite gold necklace for a casual weekend outfit – perfect for exploring Chicago or spending time poolside. The little details on the shoulders make this the perfect not-so-basic white tank look even more interesting and chic too!
Gold Accessories: All gold everything, please! Gold jewelry is a major trend for spring, and we found a few of our new favorite gold accessories from our recent trip to Meijer. We love this multi-string gold necklace (so much that we wore it twice!) as a piece that goes with everything, and this rhinestone encrusted watch that has the prettiest gold accents. While we love silver too, we adore that gold goes with everything this season – from nautical stripes, basic tee's and even as a chic accessory while hanging out by the pool. Believe us when we say, you definitely need some new, affordable gold pieces in your wardrobe ASAP for spring!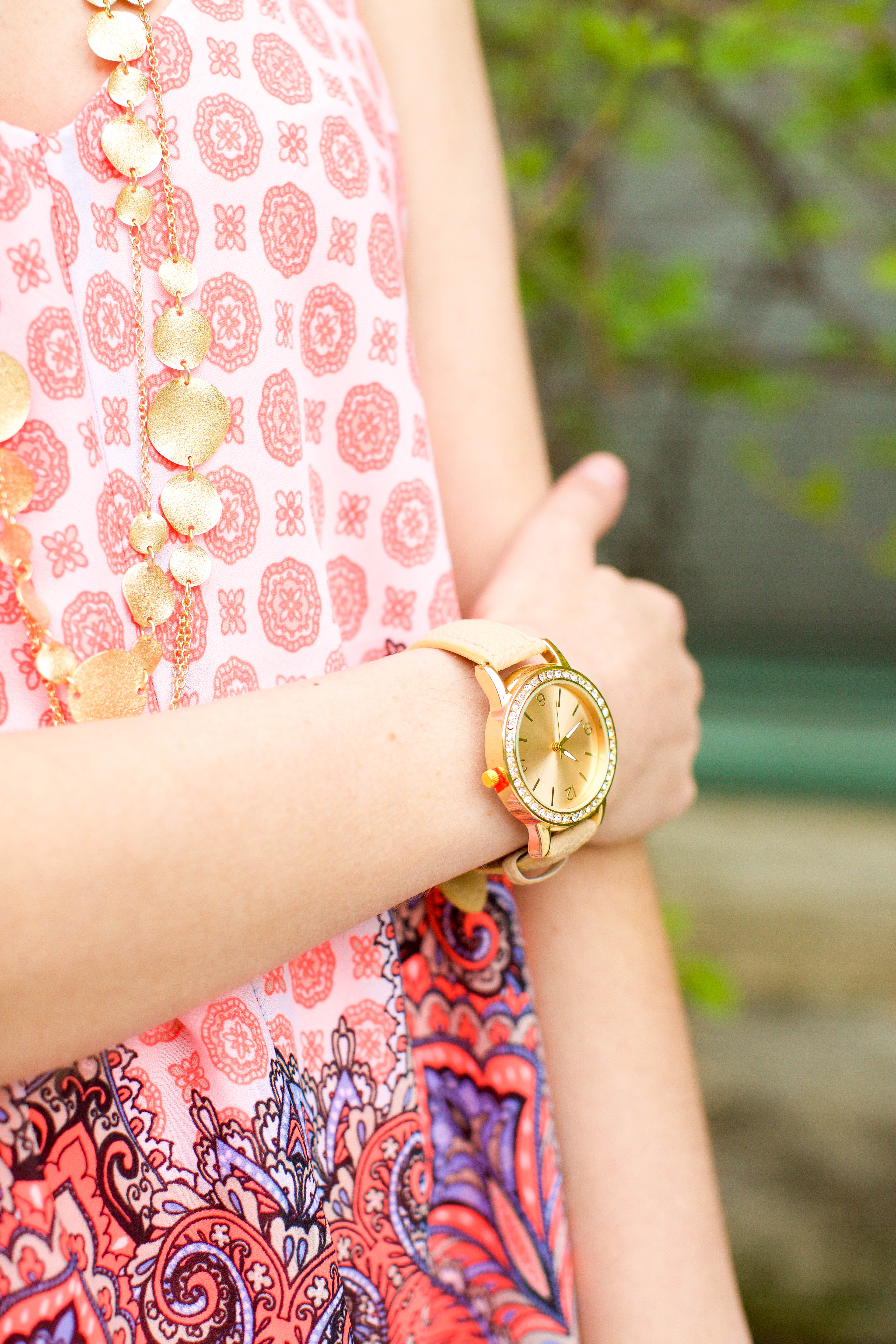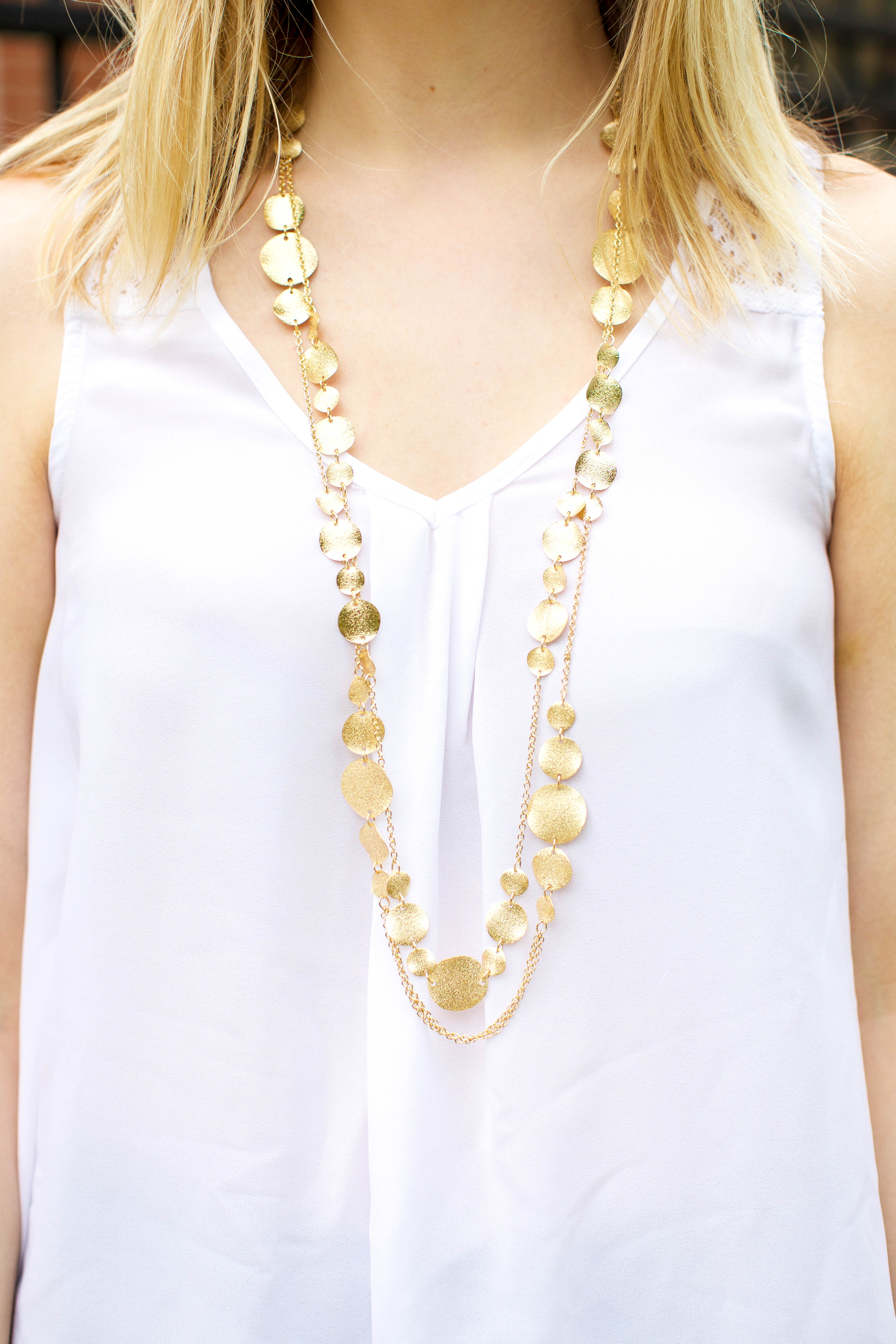 Comfy and Chic Shoes: Who says you have to sacrifice comfort for chic spring shoes? Now that the weather is finally gorgeous outside, we're spending our weekends adventuring around the city, which means lots and lots of walking around town. Because we definitely always want to stay stylish, we found a few pairs of shoes from Meijer that are both fashionable and comfortable for the season – from wedge sandals (that have the perfect amount of give and height!) to Bob's slip on shoes in this gorgeous lace material. Even though we may be walking a few miles from sight to sight around town, at least we'll stay comfortable from day to night!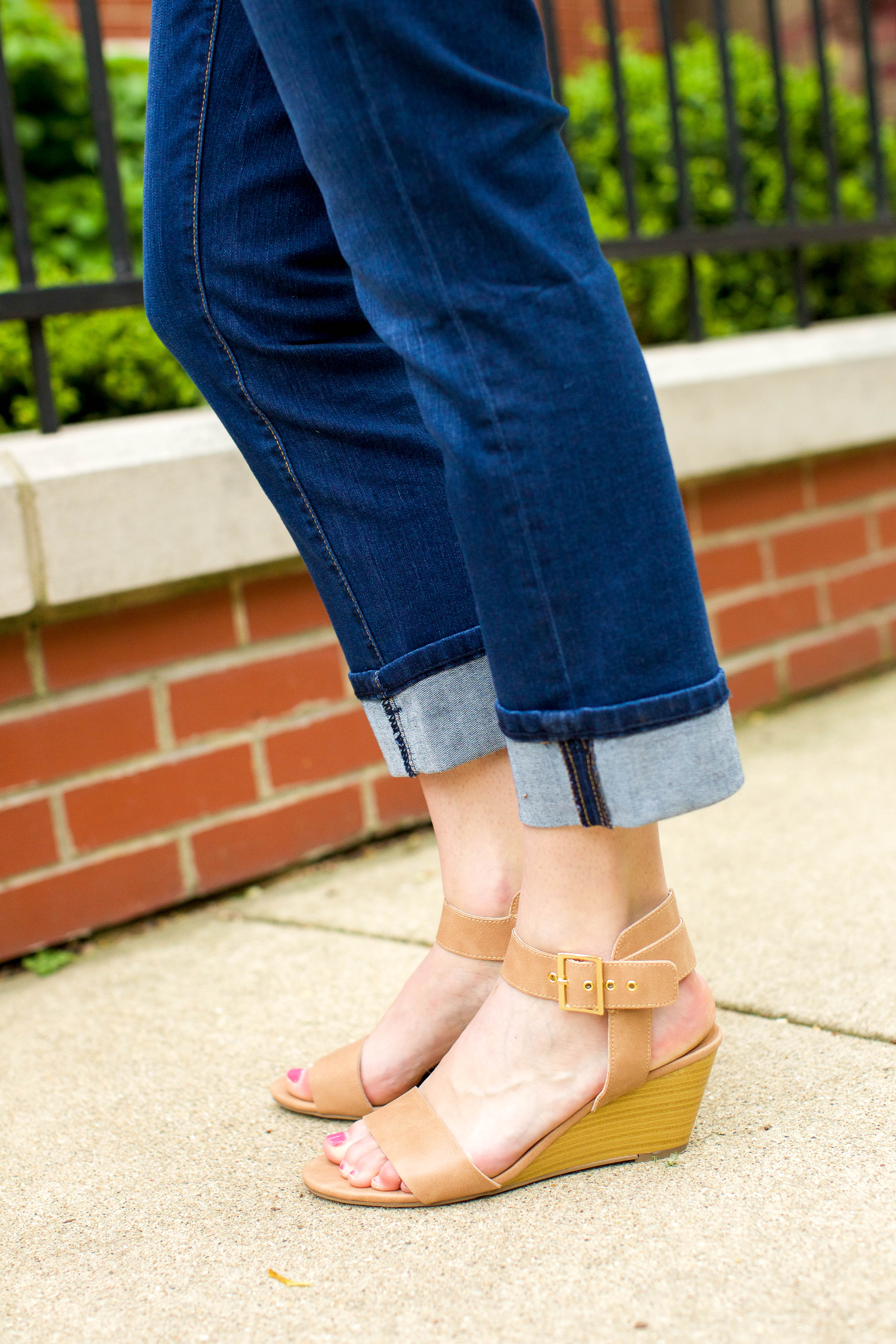 Floppy Hat: We love hats for many reasons – from protecting us from the hot spring sun to covering up a bad hair day, so as soon as the weather is beautiful again we always make sure to bust our our favorite hats for the season! We love this straw version from Meijer that is lightweight and has just the right amount of brim to achieve the perfect floppy look for the season. Paired with our new denim dress, we're ready to take on the town all season long.  
Have any other spring trends that you can't live without? Tell us what you're loving in the comments below! If you're looking for more style and beauty inspiration, make sure to stop by
Meijer Style's blog
too!