Walking Tour of Chinatown, NY
Upon my arrival in New York seven years ago, my plan for getting to know the city was to explore a different neighborhood every day I wasn't working.  That was a lot of days given my minimally time-consuming unpaid internship.  Due to said minimally time-consuming unpaid internship I was also in dire straits with regard to funds, which led me on the hunt for cheap eats.  
Enter Manhattan's Chinatown (there is one in Queens as well but I happen to live walking distance from the original).  I spent a lot of time there milling about and trying oddly shaped, competitively-priced foods.  When my cousin Frances moved here last year I knew a renaissance of Chinatown exploration was upon me.  Fran's dad is Chinese and has raised her to keep an open mind where unusual foods and experiences are concerned so she was the perfect person to accompany me on further investigations.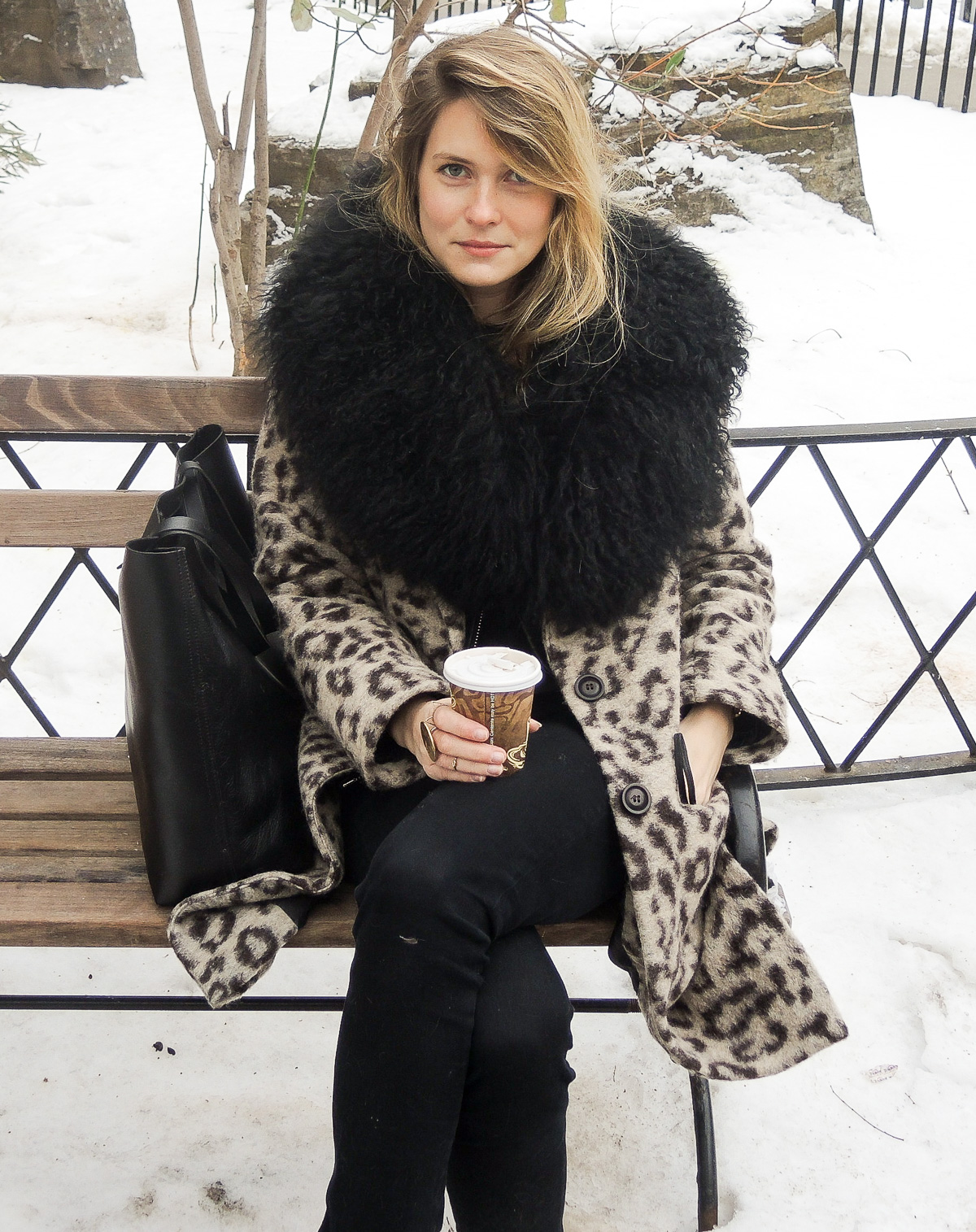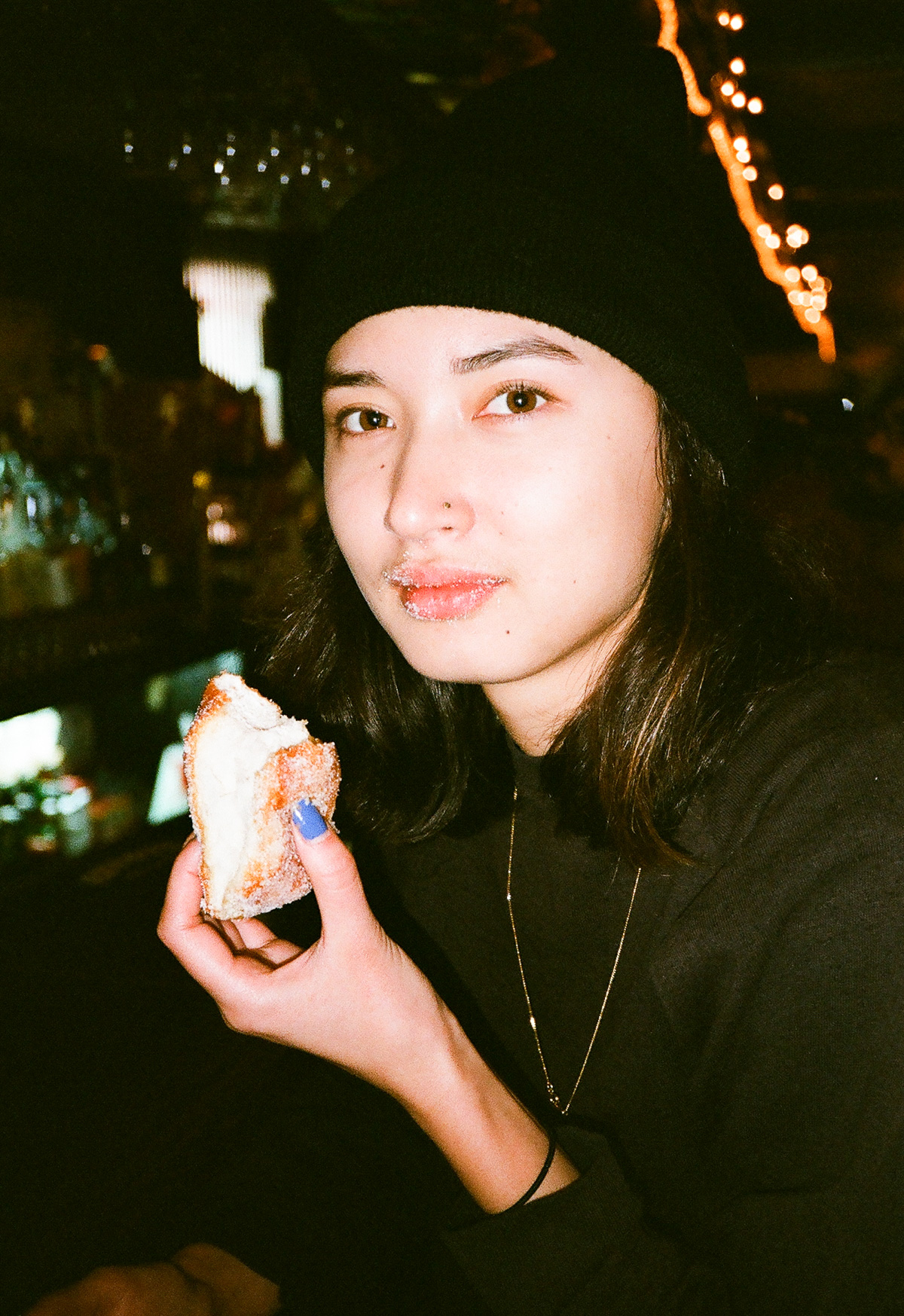 Our intrepid adventurers, Jessica Daly and Frances Li
When Wandeleur approached me to write a little something about a neighborhood in my fair city, I practically jumped through the computer screen and begged them to let me bestow upon readers a glimpse of Chinatown, my favorite neighborhood of all.
Thus, with the temperature a balmy 30 degrees, accompanied by my easily-convinced younger relation and armed with a film camera lent by my photographer boyfriend, I set out upon Lower Manhattan.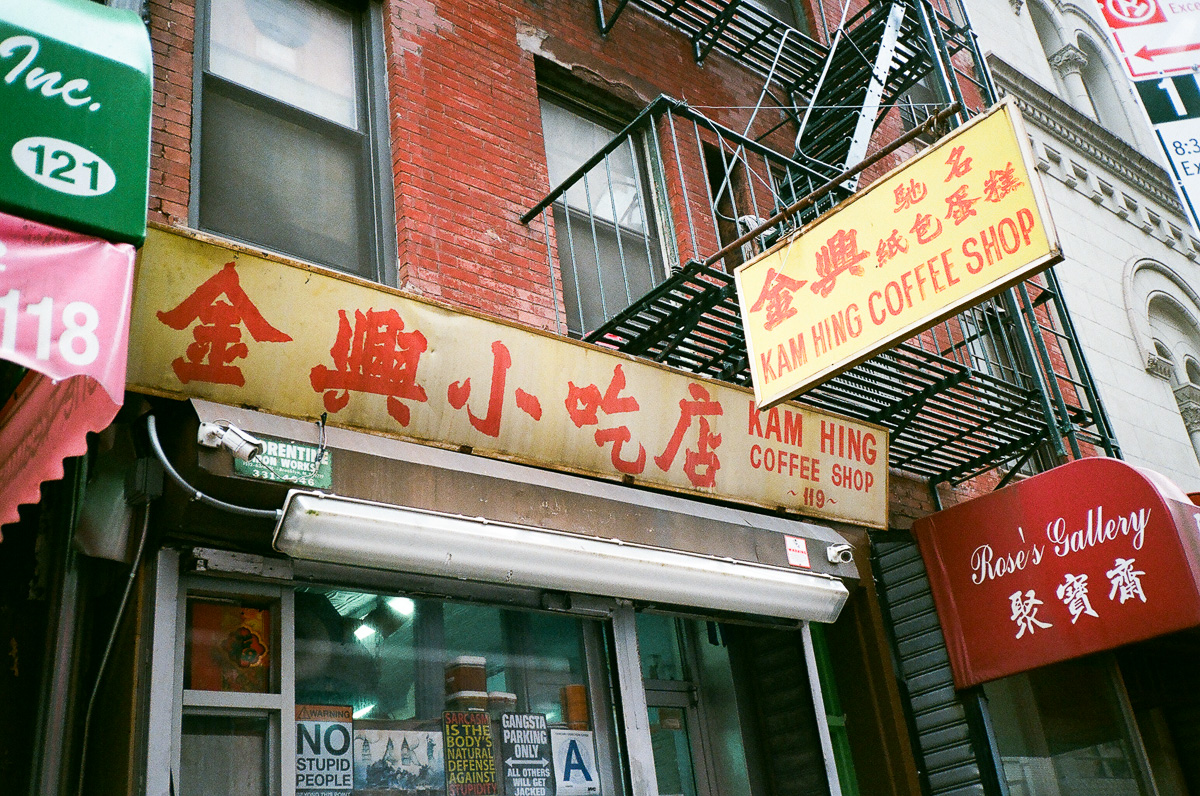 Our first stop was Kam Hing Coffee Shop at 119 Baxter Street. We followed a female customer in the front door who bossed us around in the kindest way possible, telling us exactly what to order. This tiny joint is best known for their sponge cakes, which they sell as fast as they come out of the oven for $.75 a pop. These things are like nothing I have ever tasted before–airy, light, moist and not too sweet. We also purchased an egg custard, another Chinatown staple. Ours was topped with coconut.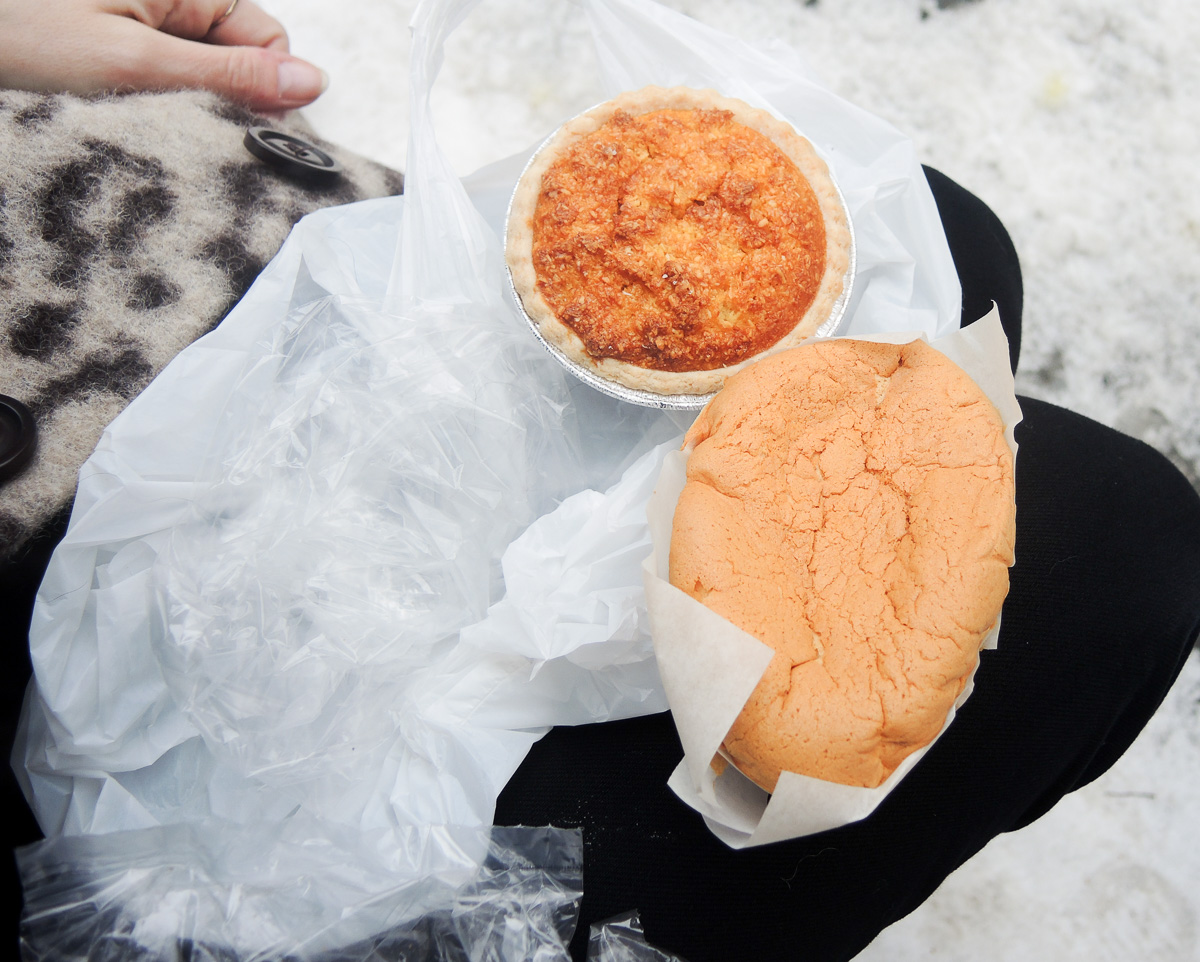 We walked to Columbus Park to drink coffee and eat our treats from Kam Hing. Optimist that I am, I expected to see the park filled as usual with the neighborhood's senior population absorbed in Chinese chess or performing traditional opera music. Instead we found a snowy, depopulated winter wasteland. Eventually we realized that the open air building at the north end of the park was filled with people participating in some kind of high-stakes card game. The windows were mostly covered with blankets or cardboard to keep out the cold so all we could see were the remnants of these activities.
Columbus Park is particularly notable for its sordid past. What is now Chinatown was the epicenter of the Five Points, the notoriously crime-infested and disease-ridden slum depicted memorably in the film Gangs of New York. Jacob Riis, a social reformer working at the turn of the 20th century, visited and photographed this neighborhood to show upper-class New Yorkers what people were living like in their own city. This image was taken by Jacob Riis in 1896 and looks north on Mulberry Street; the tenements on the left were razed to create the very park where Fran and I enjoyed our pastries that Saturday.
Our breakfast consumed, we walked around the corner to 36 Mott Street, where we visited Uniqulee, a little shop run by an interesting woman named Lee. 
My friend Caitlin discovered this store shortly after it opened last year and it's the perfect gift shop in an unexpected location. Lee has an incredible eye and is always away on buying trips restocking the store's vintage and modern jewelry (including lots of cameos, a particular obsession of mine). The store also carries tons of candles, geodes and crystals and all sorts of antiques like typewriters, paperweights, and tin soldiers. It's become my first stop when I have a gift to buy.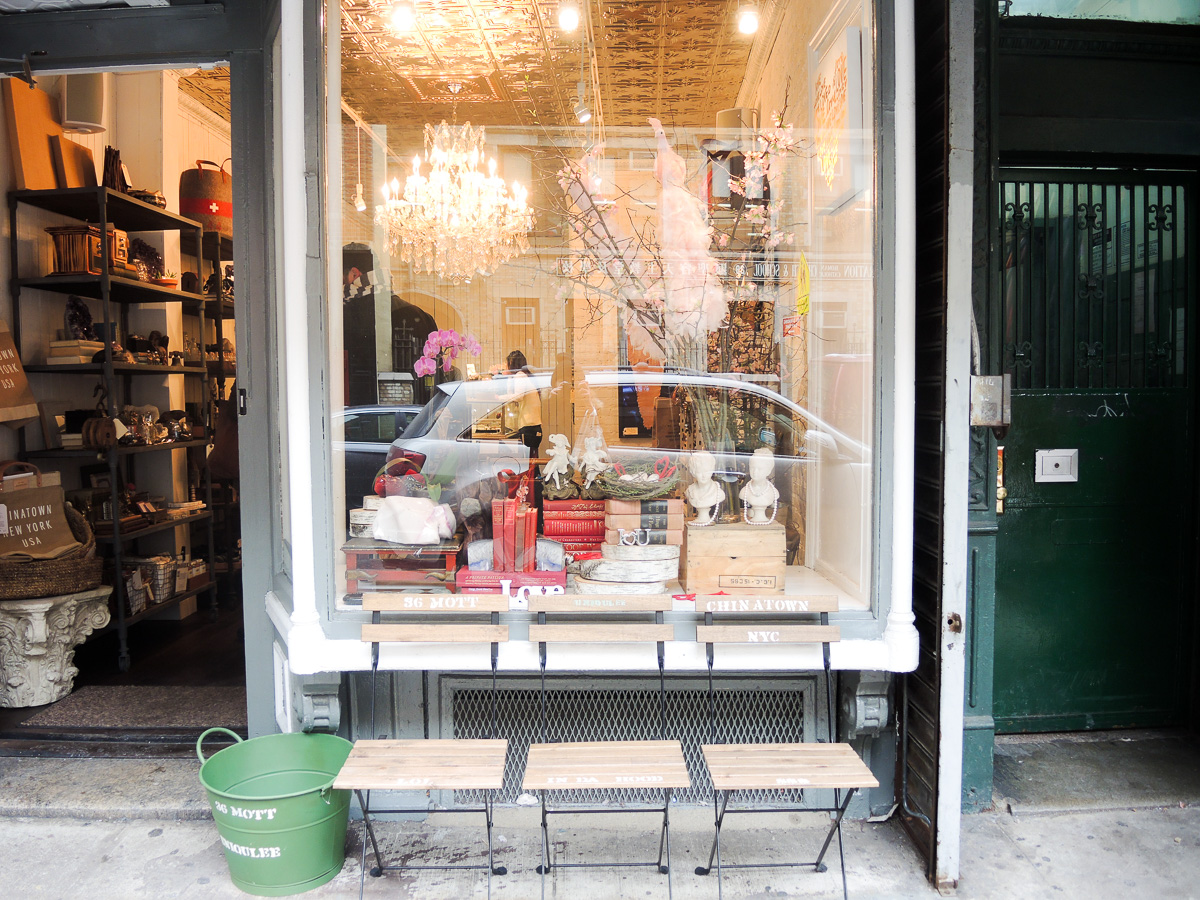 Next we hopped across the street to Aji Ichiban, a bulk candy shop that sells any type of gummy you can imagine as well hard-to-find individually wrapped candies from Asia and lots of dried fruits, fish, and meat.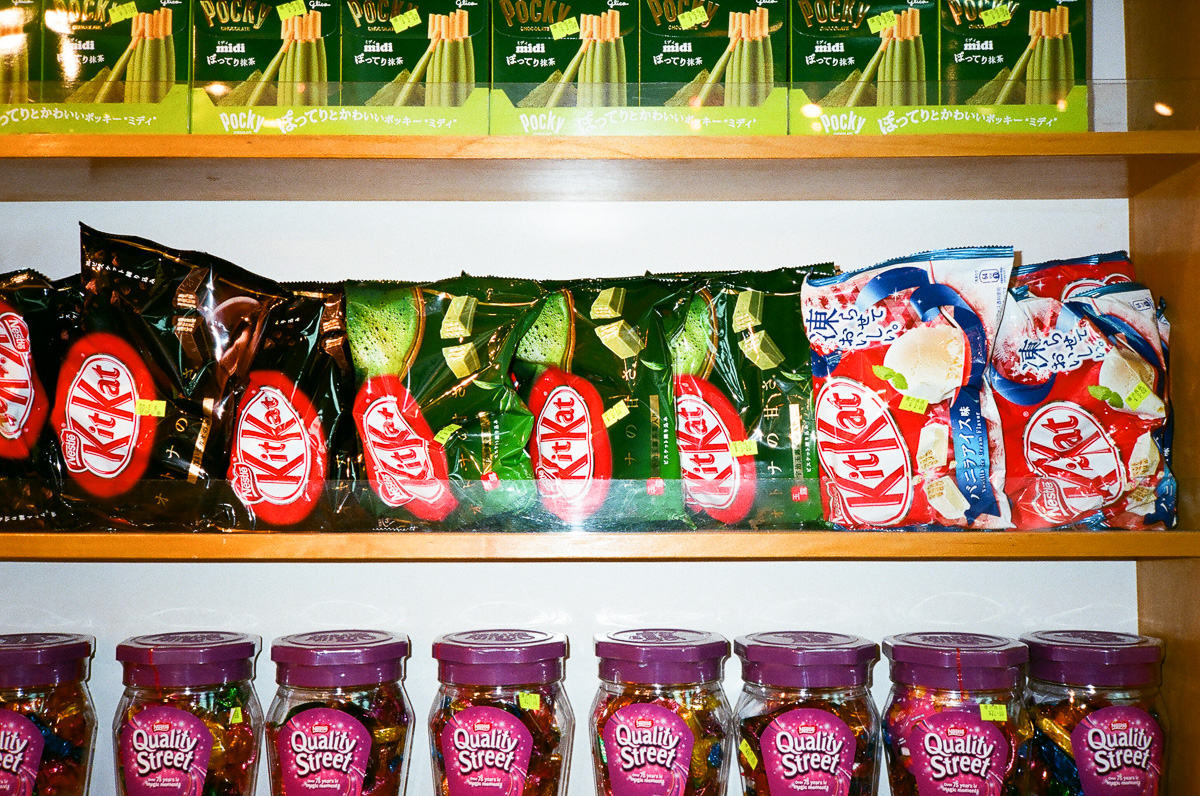 Check out the green tea flavored Kit Kats!
Our next destination was my personal favorite street in the city of New York: Doyers Street. I'll hit you with some more history on this one. Doyers is a tiny street that turns off of Pell Street (another iconic Chinatown street) and curves onto Bowery. It is an old cart path named for Hendrick Doyer who ran a distillery here in the 1800s. For a time, it was called the Bloody Angle, as the curve in the street made for easy ambushes and lots of gang street battles and murders occurred here.
When we arrived that day some filming was going on but you can still see the dramatic curve in the street.
Nestled right in the crook of Doyers street is Nom Wah Tea Parlor, in business since 1920 and practically unchanged since.  It feels like a diner designed by Wes Anderson that serves dim sum.  Long lines are typical during weekend dim sum times so we didn't stop for a cup of tea. 
Our next errand was something Fran and I were extremely excited about: getting our auras read. As we walked the few blocks to Magic Jewelry, located on Centre street between Canal and Walker, we speculated upon this downtown tradition and what it might reveal about us.
As we walked in, we were very quickly handed cups of hot green tea to warm us as we waited our turn. I won't reveal Magic Jewelry's trade secrets but shortly after entering we were handed images of our auras, which the proprietor/resident aura reader went over in detail.
Each color of the aura corresponds to a chakra.  Ideally you want your colors to be bold and strong with not much white or wispy space in between (you can see here that I have failed at this).  The left hand area represents the past and the right the future. Violet has to do with intuition and imagination and my reading would seem to indicate I am spending a lot of time in my head.  Fran's bodily region is filled with bold red, which has to do with passion and vitality.  Scandalous!  Sadly we did not have time to sit down in the crystal energy recharging station as we had many more stops to complete that day.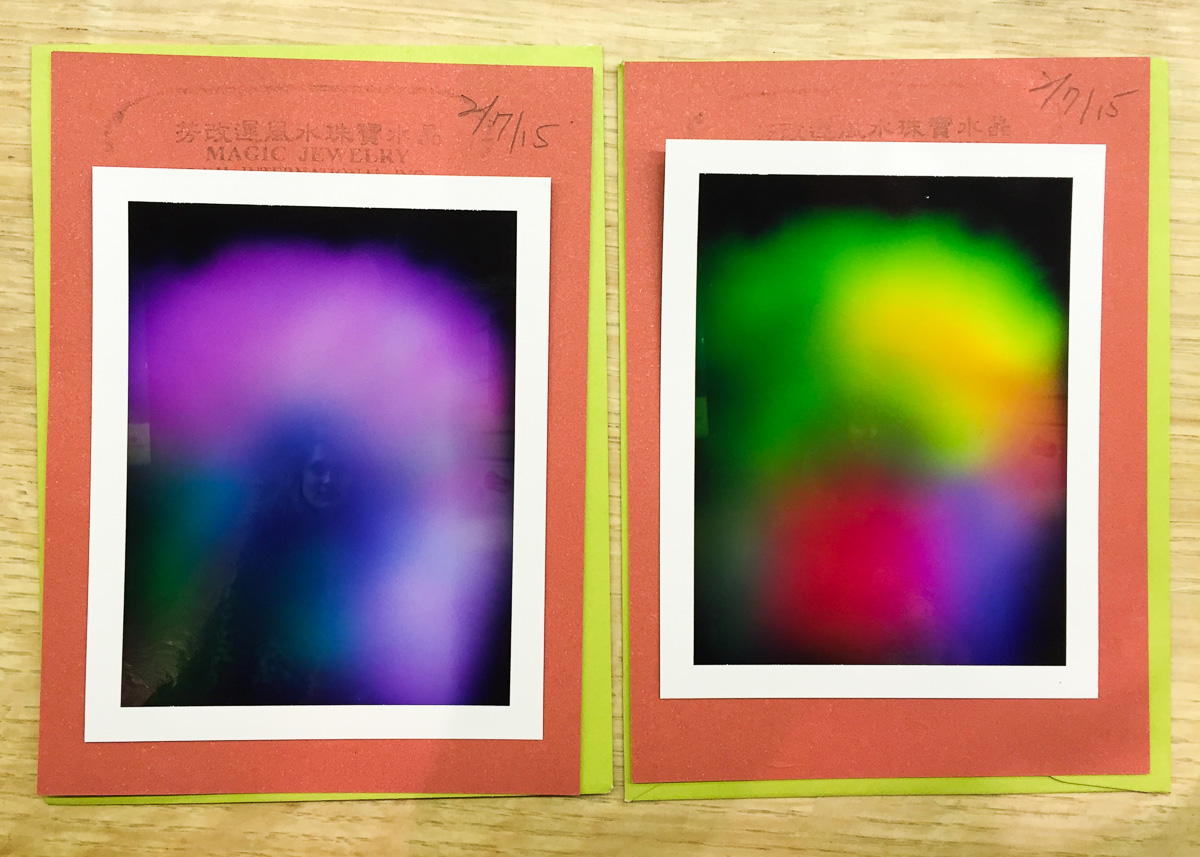 I'm on the left and Fran is on the right.
We crossed the street to visit a place we've visited together before, the delightful Dragon Land Bakery.  Visitors stand in front of this wall o' pastries and select what they'd like, which a staff member plucks from its tray and hands to you.  Our scallion hot dog bun, almond pastry and cinnamon sugar doughnuts in tow, we walked down to the legendary dive bar Winnie's on Bayard Street to consume our snacks with some cold beers.
Regrettably the news circulated among the city this week that Winnie's is closing at the end of March, which is very sad news indeed.  This bar is a downtown legend and the nightly drunken karaoke is truly a thing to behold.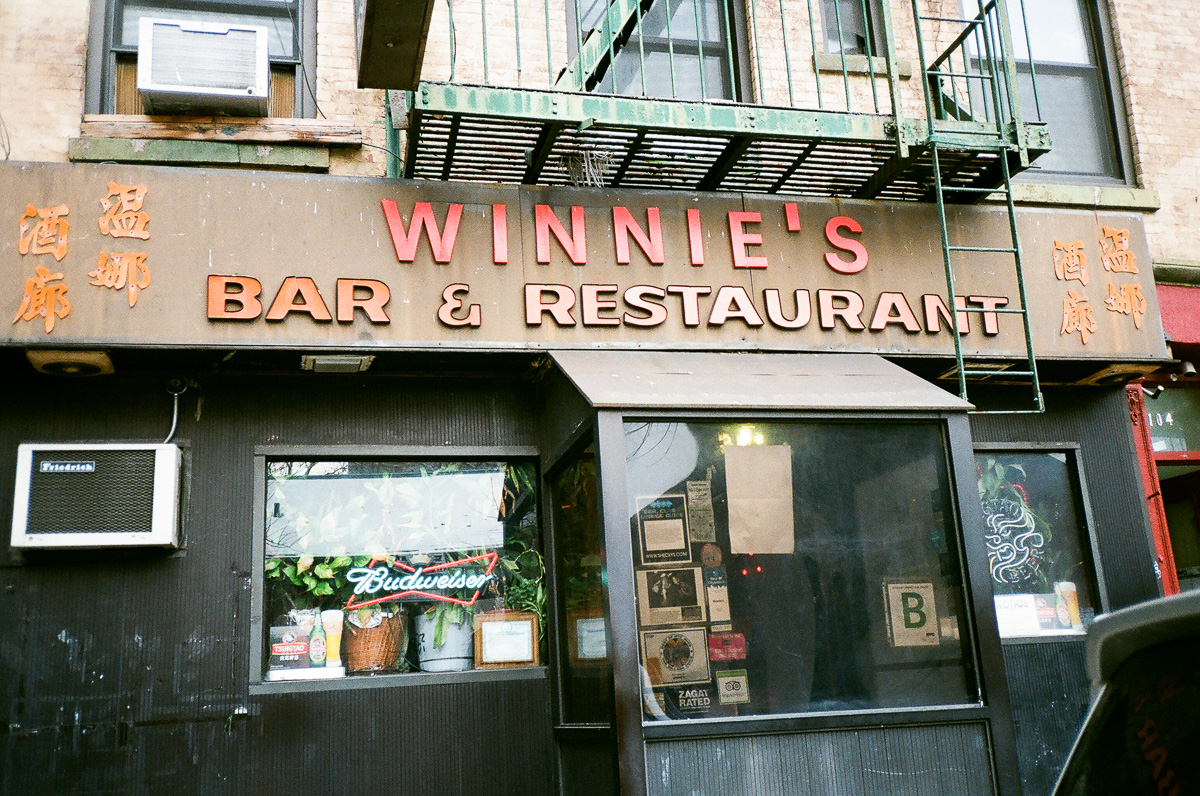 When Fran and I walked in, there were just a few patrons in the bar (it was, after all, a Saturday around 3:30pm).  The Tonya Harding story, sound on full blast, was playing on TV and held the rapt attention of most of the patrons.  The moment I realized I am old was when I had to explain to Fran, born in 1991, what the big deal was with Nancy Kerrigan and Tonya Harding.
Cinnamon sugar doughnuts, almond pastry and scallion hot dog bun (with Corona and Budweiser).
Our final stop of the day was a new restaurant called Ramen Lab. Jack Nakamura, the executive chef at Sun Noodle (the legendary noodle producer that makes unique noodles for some of the best ramen shops across the country) just opened this shop a few months ago to rave reviews. There are only two types of ramen (featuring Sun Noodles, of course) on the menu and there are just ten standing spaces at the bar, Tokyo ramen shop-style.
They open at 5PM and when Fran and I arrived at 4:45 there was already a considerable line out the door. We had to wait through two seatings of people but had fun chatting with the people in line with us. By the time we finally got inside we could not contain ourselves. Our only fear was that we had been eating so much that day, we'd embarrass ourselves by not being about to finish our food.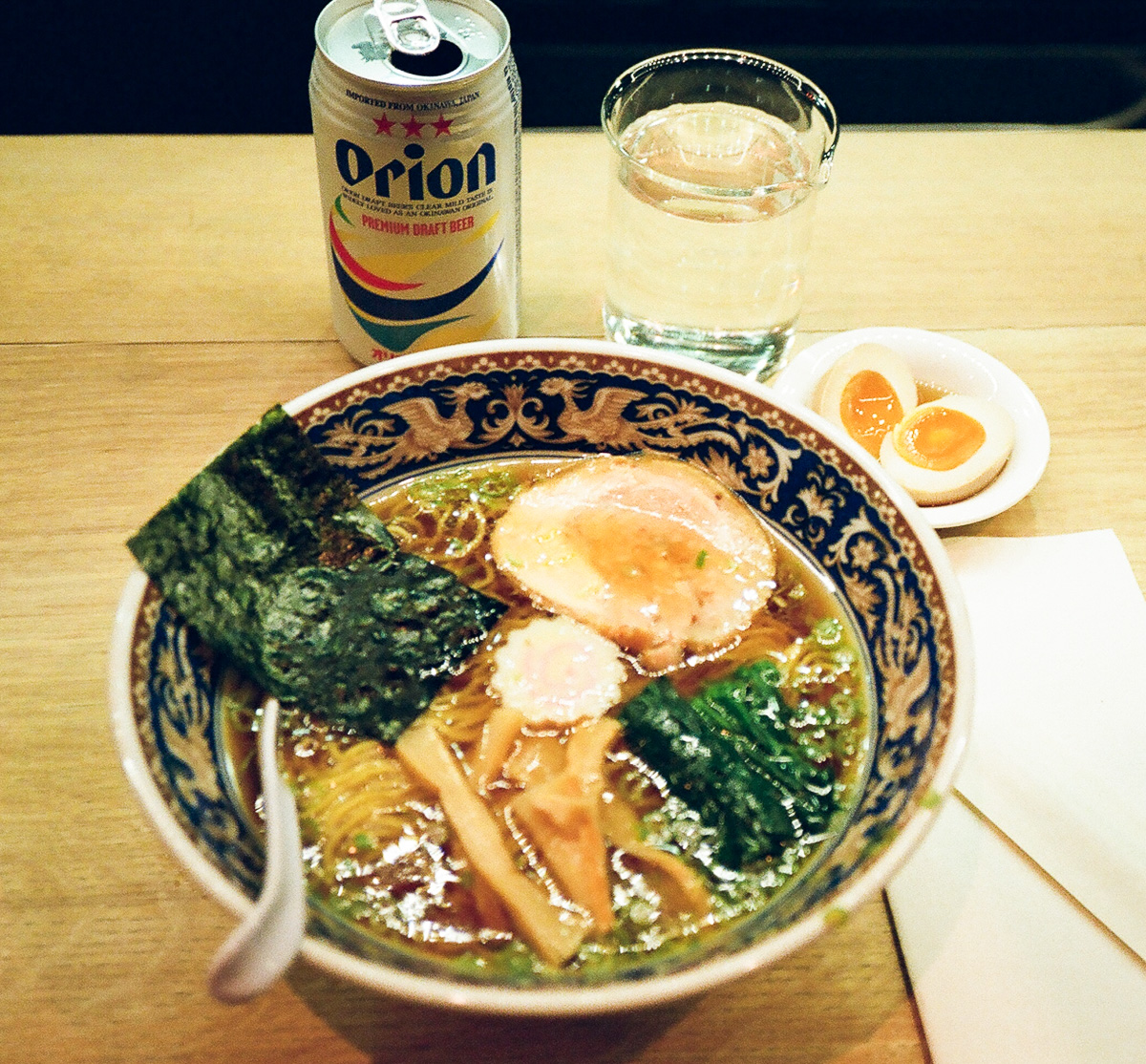 The ramen was completely delicious. The broth was clean and bright and they didn't try anything fancy–just classics done to perfection. Unfortunately we tried valiantly but could not finish our meals due to the amount of pastries and gummies we had consumed that day. We left ashamed, vowing to return to complete the task someday soon.
Fran and I parted ways after our meal, both needing ample time to digest before the parties we had to attend that night. What was our takeaway from the day? Who knows. As Jerry Seinfeld and Larry David (who I'm sure would have approved of the day's activities) like to say, "No hugging, no learning".
---
Jessica Daly is a photo producer in New York City.  When she isn't checking out new bands or eating at the latest ramen shop she is trying to concentrate on a book while her two black cats stare at her from across the room.