Try Your Hand At Abstract Acrylic Painting
Likes
Comments
Let me start this by saying that I was not formally trained as an artist. Secondly, that definitely doesn't mean you can't become a stellar painter! After browsing Pinterest one day, I decided that I was going to paint my own large piece of abstract art for my living room. Without much further thought, I bought a canvas, paint, brushes and called my aunt Karen, who's a real painter, and asked for some pointers.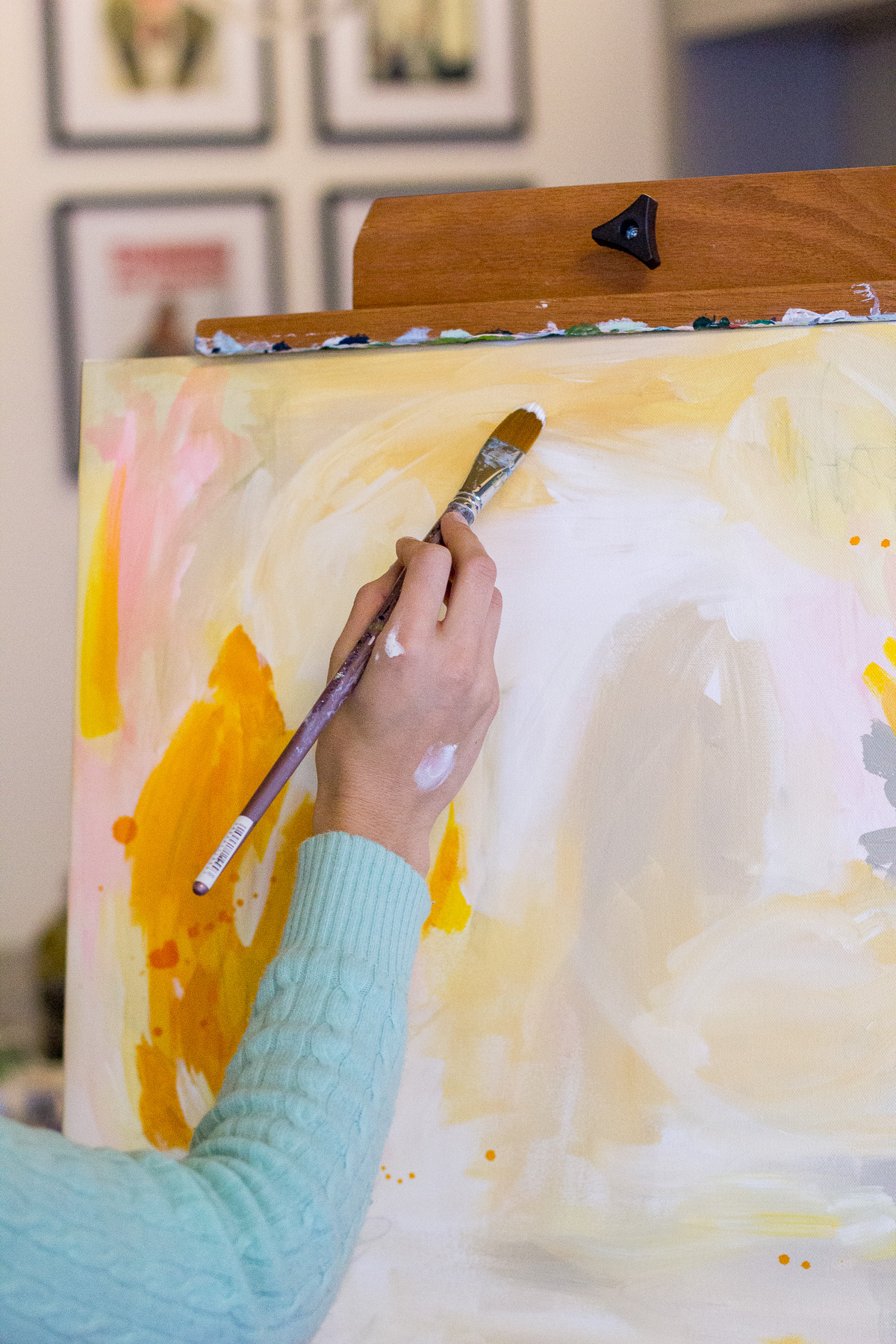 I started painting and a few days later had my first finished piece that I was so proud of. What I wasn't expecting was that I would fall in love with painting and even more so the way it made me feel. Soon after that I become obsessed. I bought more canvases, an easel and more paints and have been painting ever since. For me, it's a great way to get lost and cool off after a particularly stressful day. I'm by no means a professional, but I've picked up some tricks along the way. Here are a few things that helped me when I was first getting started.
Gather Inspiration
I browsed hundreds if not thousands of pieces and pulled my favorites into a folder. It was soon obvious that I liked a particular color scheme and brush style. I recommend you do the same and see what it is you're liking about these images. Is it the colors? Composition? Brush stroke style? Figure out what the common theme is and take note!
Practice on a Smaller Piece
This was so helpful! There's nothing more intimidating than a blank 48″x48″ canvas and zero experience. Working on a smaller piece will help you get a better feel for what each brush does and which ones you like working with best. You can practice different techniques here without worrying about messing up your 'real' piece.
Experiment
My first piece was painted with only acrylics and one brush. Since then I've experimented with oil pastels
, pencil
, colored pencils
, different color schemes (this is a great way to challenge yourself!), crayons
, drips, graphic shapes and organic patterns. The more I try new things, the more I find that I'm defining my own style while letting it evolve naturally.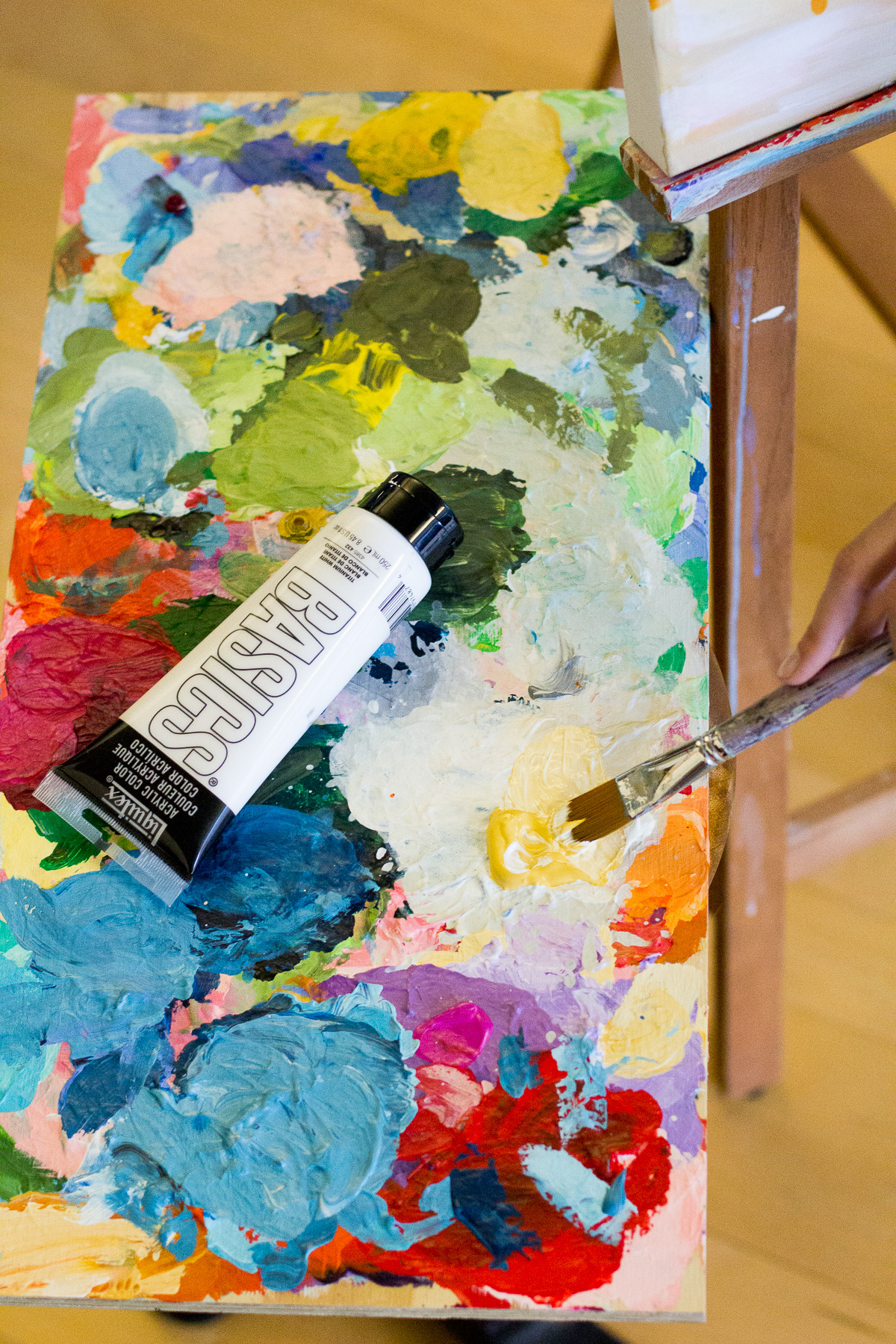 If you're still looking for a little more guidance, here's how I start my paintings. I sketch out a very rough composition with pencil
. I use a lot of scribbles and don't really plan it out too much. But I like doing this because it helps me balance the piece from the beginning. A lot of my pieces have white space, so that's where I work next. I fill in the area around the scribbles, overlapping a bit and use lots of texture here. After that, I start with color in the bigger areas and continue to layer, let it dry, step back and see what I like, dislike, etc. And continue on. In between layers, I use crayons
and pencil
to add more texture and scribbles. I love how it gives the final product a layered and complex feeling without being distracting or overwhelming.
Once I decide the painting is finished, I let it fully dry for several days and then I paint the edges white
and coat it with matte medium
to protect it. Sometimes I sign my pieces, but usually I don't. I'm not a fan of my signature and I don't always like the distraction of it on the front, but do what you like! Selling or giving away a piece is truly special, it's a little bit like giving away a piece of yourself and knowing that it's going to a good home is special.
For pieces that are dear to you, keep them in your own home. They'll remind you of those good feelings.
Painting Supplies:Acrylic Paints
| Paint Brushes
| Neocolor Crayons
| Colored Pencils
| Matte Medium
| Canvases
| Spray Bottle