The Best Things To See and Do in Lisbon
Beyond the City:
Pastéis de Belem
 A little outside the downtown area is the neighborhood of Belém, known as the home of the tastiest "pastel de nata", or a Portuguese egg tart pastry (which I promise is way more delicious than it sounds!) The iconic Pastéis de Belém is known as the home of the pastry, and still serves up the best version I tried on my trip! 
Jerónimos Monastery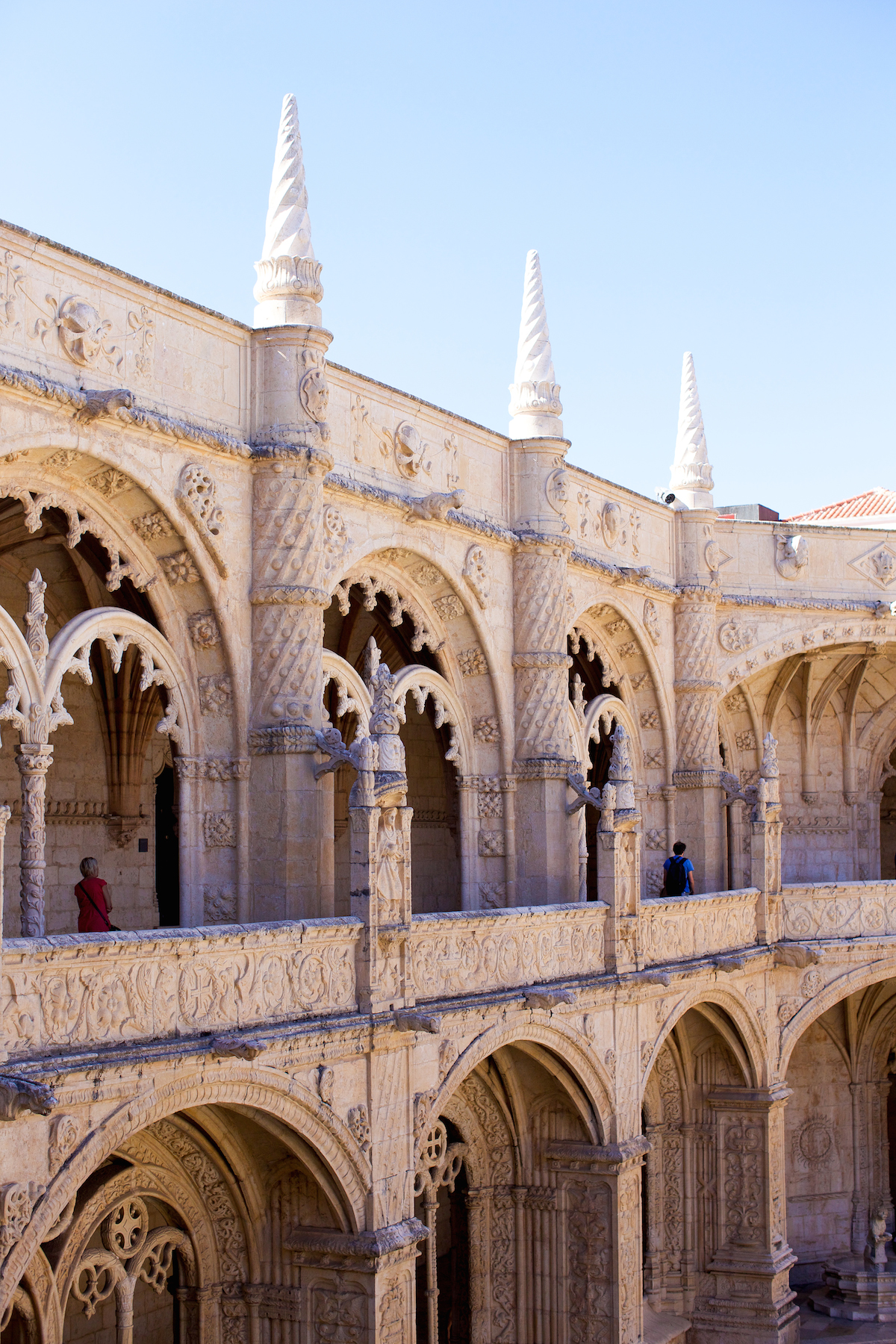 One of the most famous, prominent buildings made in the Portuguese Gothic Manueline style of architecture in Lisbon, this monastery is a favorite destination among tourists and Portuguese alike. Spend the extra Euros to visit the cloisters (pictured above), they're incredibly gorgeous and make for some memorable snaps. 
Cascais
The quaint beach town of Cascais is the perfect day trip outside of Lisbon if you're looking for some beach time. Take the train from downtown about 45 minutes and you'll be transported to the land of surfers, picturesque beaches and the cutest beach inspired restaurants and shopping spots. It's worth the $2.50 Euro and you'll enjoy exploring the town while working on your all natural beach glow!
Sintra

Another quick day trip, the town of Sintra boasts amazing architectural wonders and monuments you simply can't miss while visiting the country.  Although I'm not typically a huge fan of spending most of the day in a garden, Sintra's Quinta da Regaleira surpassed all my expectations. I highly recommend checking out the initiation well, which is 27 meters deep and resembles an inverted tower. Going down all the stairs was a little intimidating, but the underground passageways below (and waterfall you exit out of) makes the adventure totally worth it. 
Pena National Palace
One of the last places we visited was the Pena National Palace.  I knew was supposed to be beautiful but I had no idea how gorgeous it would really be! Built in the 19th century in the romantic style, the castle is bursting with color, charm and beautiful views of the city on Sintra below. I was glued to my camera the whole tour, and every corner you turned was even more incredible then the next. I wish I could say that these photos do the palace justice, but you'll have to see it for yourself to really get an idea of the place. Definitely put this palace on the top of your list if you find yourself in Lisbon in the future! 
Any other favorite spots I missed from your travels to Portugal? Please share so I can add them into the itinerary of my next trip! And if you happen to be planning a trip soon, tell me if you happen to love Lisbon as much as I did 🙂
---
About The Author: Maya McDonald is a stylish social media pro living out her dreams in Chicago. When she's not creating content for brands, she can be found penning Charmingly Styled and writing for a variety of magazines. She adores all-natural beauty, farmers' markets, and traveling the world for the best latte (she'll let you know when she finds it!)