Summer Thornton – Luxury Interior Designer
As longtime fans of her work, we are honored to feature Summer Thornton today. The Chicago-based interiors expert has a knack for combining bold, colorful patterns to create environments that are fun, energetic, and always unique. Her work has been featured in Traditional Home, Domino, House Beautiful, and she's even graced the cover of Today's Chicago Woman. From homes to boutiques, she's done it all, and she's only just getting started. 
Read on as we dive into her thoughts on the best color combination to use right now, where she goes for inspiration, and why you should start saying "No" to beige.
You're known for your bold use of colors. Why? What makes bold the right design choice for you?
Who doesn't love color!?  I know some people genuinely do like neutrals – I get it, I get it – its calm and serene and peaceful – but a lot of times many people don't actually have a love of neutrals but rather a fear of making a mistake with color.  Think about it – have you heard anyone say 'OMG – I'm obsessed with that beige!"?   I haven't, but with the perfect bold color you can get a gasp of excitement unlike any neutral.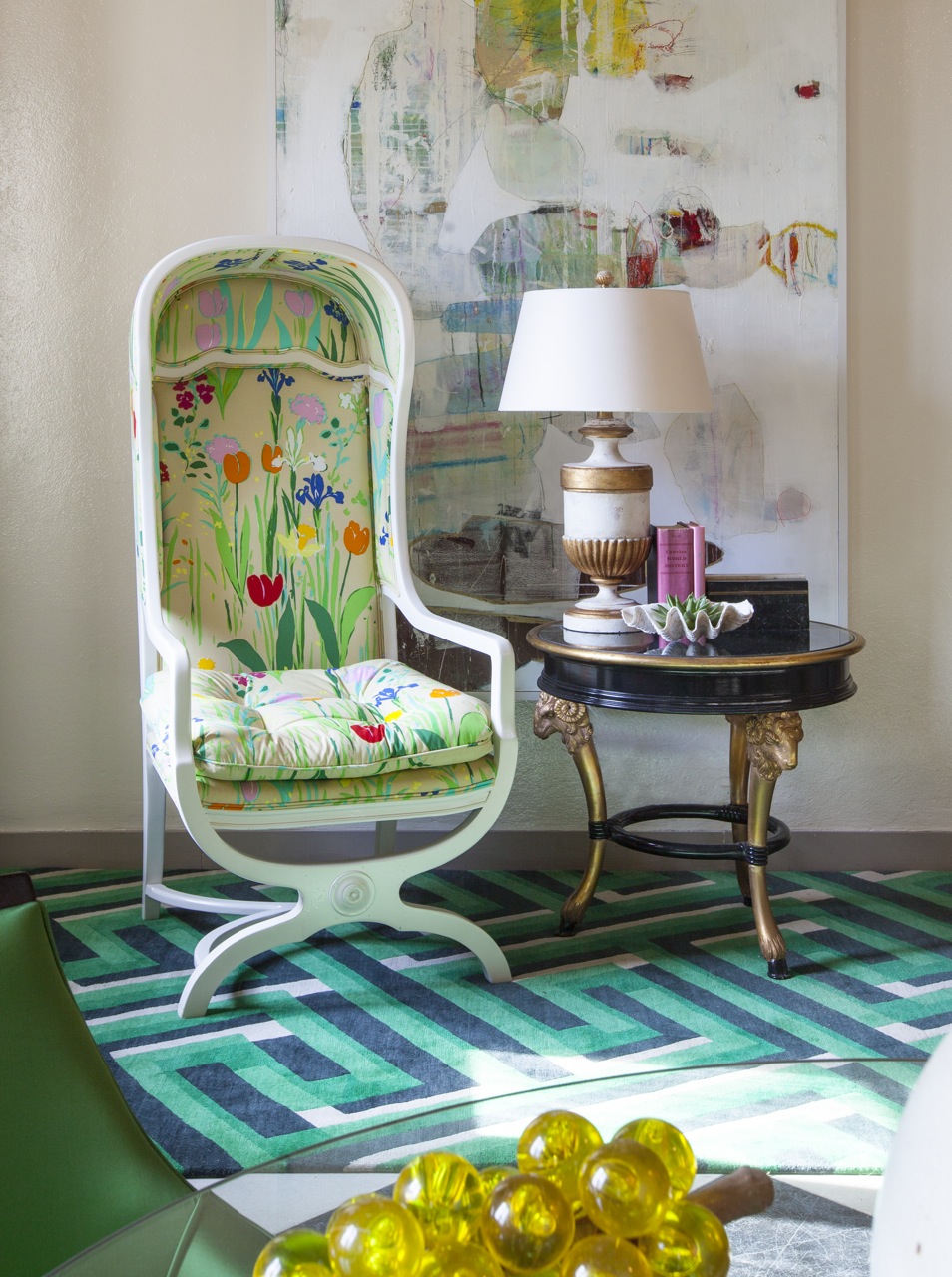 What are your favorite colors to use together? 
Color palettes are really easier to devise than one might think. I often look at art, film, fashion, and nature for inspiration. For me it comes naturally to take inspiration from a clothing designer's collection or pick up select colors from a great vintage painting.
Right now I love chartreuse & mint together. I love to throw in a rich ochre with almost anything to throw the palette off a bit. I just love 'off' colors – those kind of colors that people either love or hate. I'm obsessed with peachy/fleshy tones right now – its going to be big in a few years. But it has to be used in the right way. It's a great example of a color that has gotten a bad wrap for a while. Mauve is another. Used the right way (or the wrong way for that matter), they're going to turn heads and stand out amidst a sea of beige and grey or color palettes from the past 5-10 years.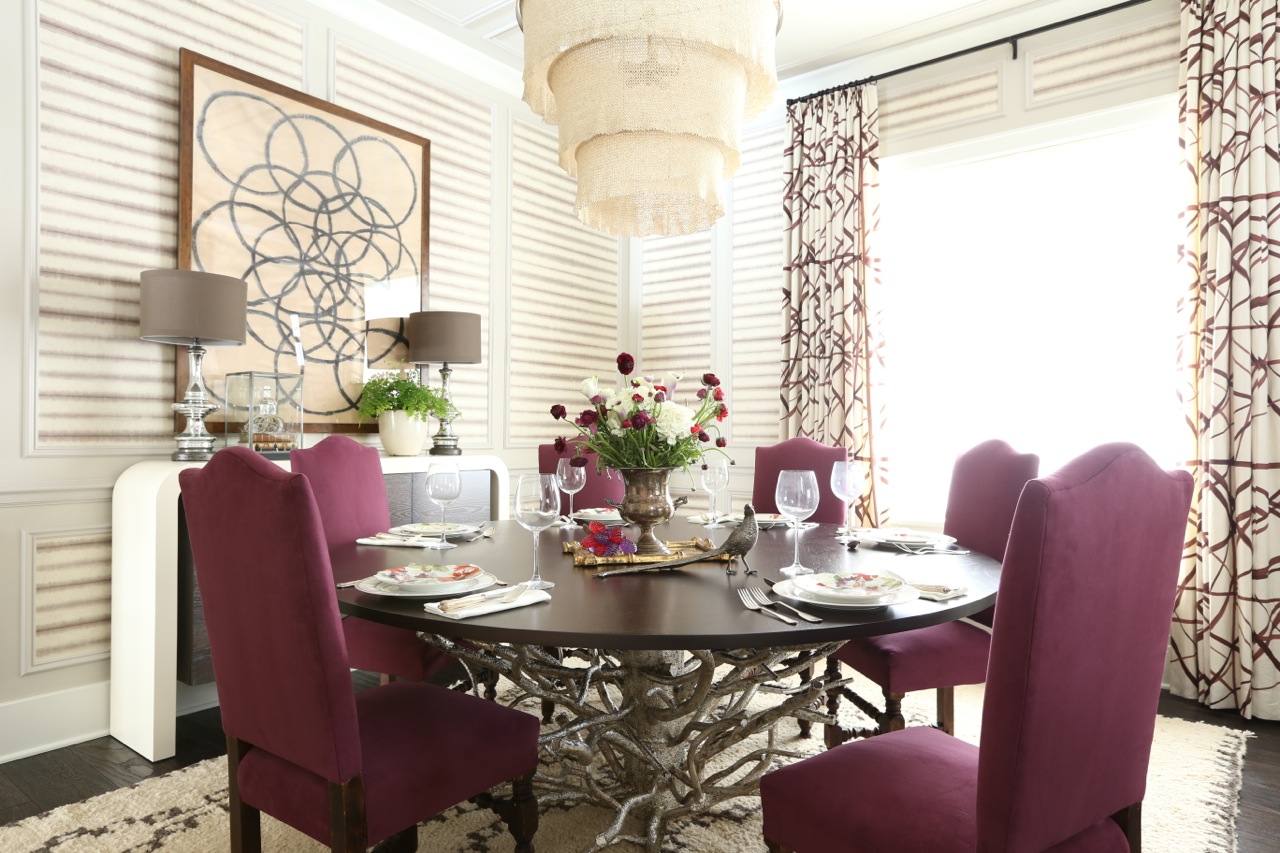 Any key rules for using color that aspiring designers, or even just those who want to develop their eye, should take note of?
Rules are meant to be broken, particularly with color. That's why I think a lot of my designs feel so fresh. I love to put colors together that aren't "easy" to see together or that haven't been paired-together in decades. When you mix-in an infrequently seen color with a palette that otherwise feels current it gives it some edge and interest.
As far as advice for aspiring designers – go with your gut & your eye. Be fearless and confident with you choice. The wonderful thing is that you learn each time, and even if you don't "love it forever", color is easy to change. Experiment and have fun with it. Color really isn't that serious but people often feel afraid of it.
What is your approach to a new design?
When I am working on a new design I typically want to tell a narrative through the home.  I pick up clues of what a client wants to say through their home.  It's such a personal expression of who people are and I always attempt to add some drama and bring out the fascinating, odd, and beautiful through my designs.  I'm not the designer to call if you want a generic design – for us it's about telling a story of who lives there and what makes them tick.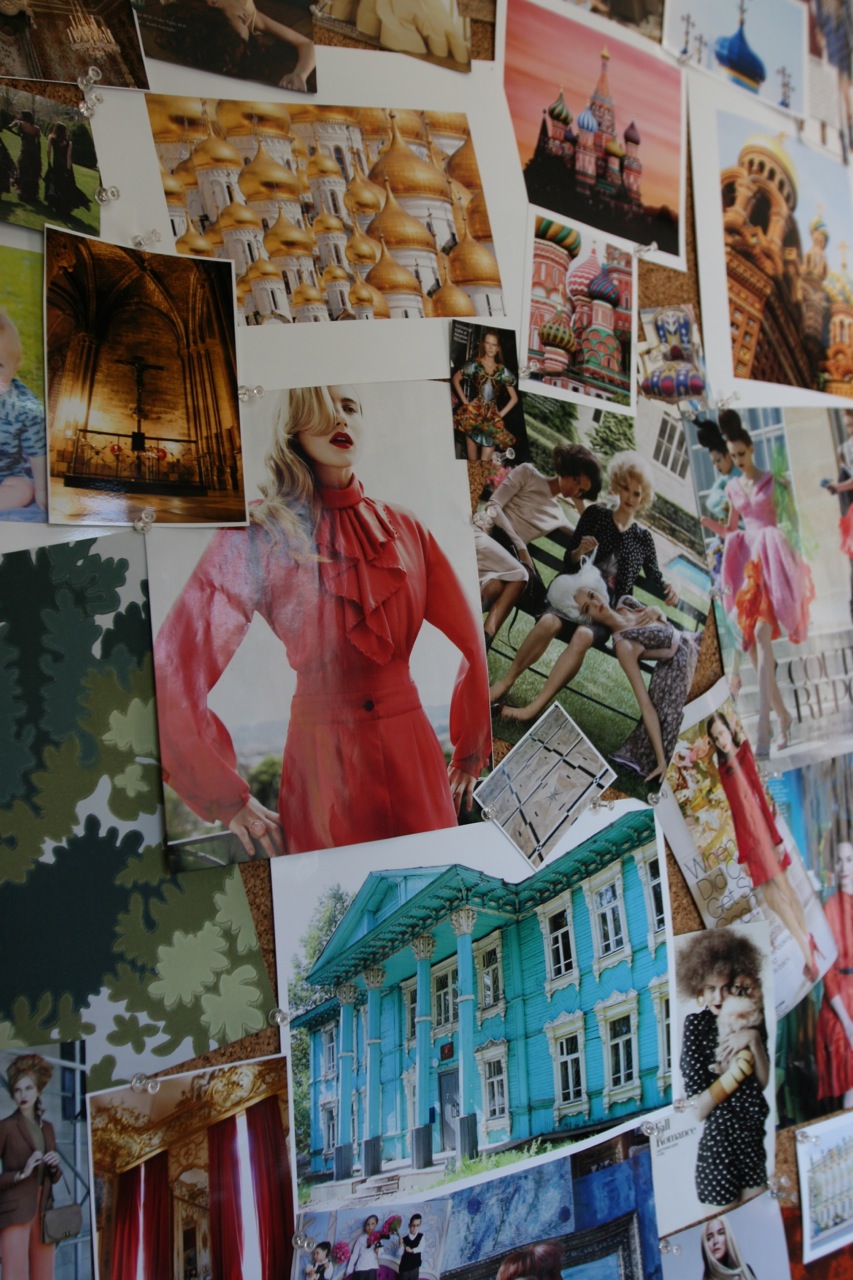 Where do you look for inspiration outside of interior design?
I'm a firm believer that you have to have intentional inspirational moments and experiences to come up with truly innovative & inspiring designs.  I don't believe in being 'inspired' by the everyday or common things.  Sure it happens once in a while, but regular life and everyday things are boring, not inspirational. 
I lean into fantasy & historical periods – Russian Palaces, Le Petite Trianon, Wes Anderson Films, an Alice & Wonderland novel, Venetian Cathedrals, French topiary gardens, Vogue editorial fashion shoots, or a secluded beach island.  Those places are intentionally impractical, fantastical, & dreamy…they're the opposite of 'everyday' and they help inspire me to create homes that feel like an escape from monotony.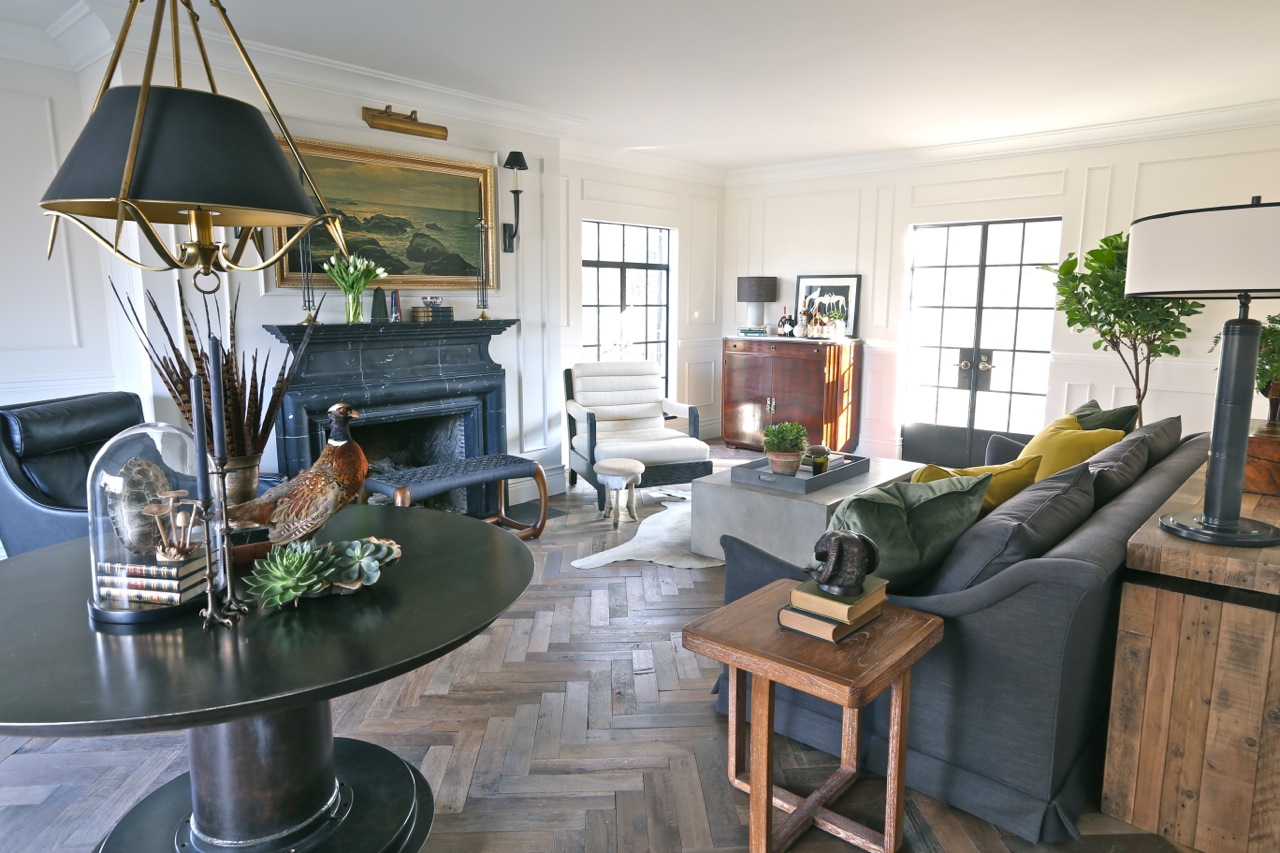 In your advice section on your website you note that, "No great room was ever designed without taking a risk". What has been one of the biggest design risks you've taken to date?
I often tell clients that they should be both excited and a little nervous about the design scheme. Without that little bit of fear, the design will be boring and safe. This way the design feels like them, but its slightly enhanced to bring out their most interesting qualities.
Great & memorable rooms always have that je'ne sais quoi that hasn't been seen before, is unexpected, and can't quite be pinpointed to a single element. One example of this was a master bathroom for one of my favorite clients – she was up for anything! We put a very formal & romantic floral wallpaper with a silver background on the walls, and then offset it with an abstract painted black & white floor with a green zigzag. Had we done a classic marble floor it would have been expected and too formal, but the painted pattern on the floor made it wild and kept people on their toes. It's a love it or hate it room that the client loves (and I do too)!
What's your biggest piece of practical and every day design advice for others?
My best practical advice is for people to embrace design in the present, no matter their living situation. Don't make an excuse for poor design or poor aesthetics – waiting until you buy, or until you move to your 'forever house', is just accepting living a life now that is aesthetically disappointing, and it says that your visual surroundings of today won't impact your future.
I think its important to live life as beautifully as possible – both inside and out – TODAY! I designed my first apartment like a boss. My dorm room in college had curtains I sewed myself. And yes, I even garbage-picked when I saw a great french dresser on the curb. I had no budget, but I found a way to make my space beautiful because I couldn't imagine living a life surrounded by something ugly.
How does interior design affect your personal creativity?
Everything in my life has to have a sense of drama. I love creating memorable experiences and I LIVE for a great party! Oftentimes I'll make them themed – my 30th was a funeral theme complete with a real full-size coffin, a eulogy, and everyone wore black, lace, and hats – it felt like a Golce & Gabanna ad. The thing about being creative is that I couldn't go 1/2 way…I had to be fully committed and so things probably went a bit too far. But everyone had something to talk about, and it still comes up today by many of our friends. I always say, better bold than boring, and this party was quite bold.
How do you differentiate between your aesthetic and your clients while on a job?
People always ask me what my design style is and I find that so hard to answer because I appreciate and participate in many different design styles. I love diving into different realms with my clients. Right now we're working on one very white & minimal project which is very different than our other work, and at the same time we have another client who likes deep rich colors and a very layered look, some want edgy art, others more approachable. Not long ago we did a monochromatic masculine space.
For me, the wider the range the better because I can stretch myself creatively in more directions. Personally, my own aesthetic is a traditional base with a very strong twist – I call it 'cultured irreverence' – its high visual stimulation with quirky colors, lots of antiques and vintage pieces all set atop a traditional foundation & shapes.
What does being creative mean to you?
Being creative is about challenging the status quo, the norm, the expected, to stimulate new ideas and stretch people to appreciate something they haven't seen before. You have to push against conformity while heightening the taste level of your aesthetic craft (in this case, interior design).
Summer Thornton Links to Follow: Website | Instagram | Facebook | Pinterest | Twitter