Nutrient-Packed Power Smoothie
It's no secret that waking up with fruits and veggies will start the day right. But, let's be honest, unless you've got the will power of a saint, biting into kale at 7 am is simply not going to happen. Luckily for those of us who need a little help in that department, we've got the recipe for a simple smoothie that is as delicious as it is easy. Best of all, it's power food & nutrient-packed, making it a perfect option for starting your day right.
First, let's take a quick look at the key ingredients and all their nutritional glory.
Kale
Full of essential vitamins A, C and K. It's also loaded with folate, a vitamin key for brain development. Just one cup of fresh kale contains nearly 3 grams of protein and is just 33 calories.
Blueberries
Anthocyanins, which take credit for the deep blue hue, fight cancer-causing free radicals. These fruits are filled with antioxidants and contain tons of Vitamin C.
Strawberries
Another Vitamin C-packed fruit, strawberries are also rich in fiber and potassium to support heart health.
Bananas
High in fiber, this fruit helps digestion, but their benefits go far beyond that. They're rich in potassium, an essential mineral that helps normalize blood pressure and heart functions, among other vitamins that help to maintain a healthy body.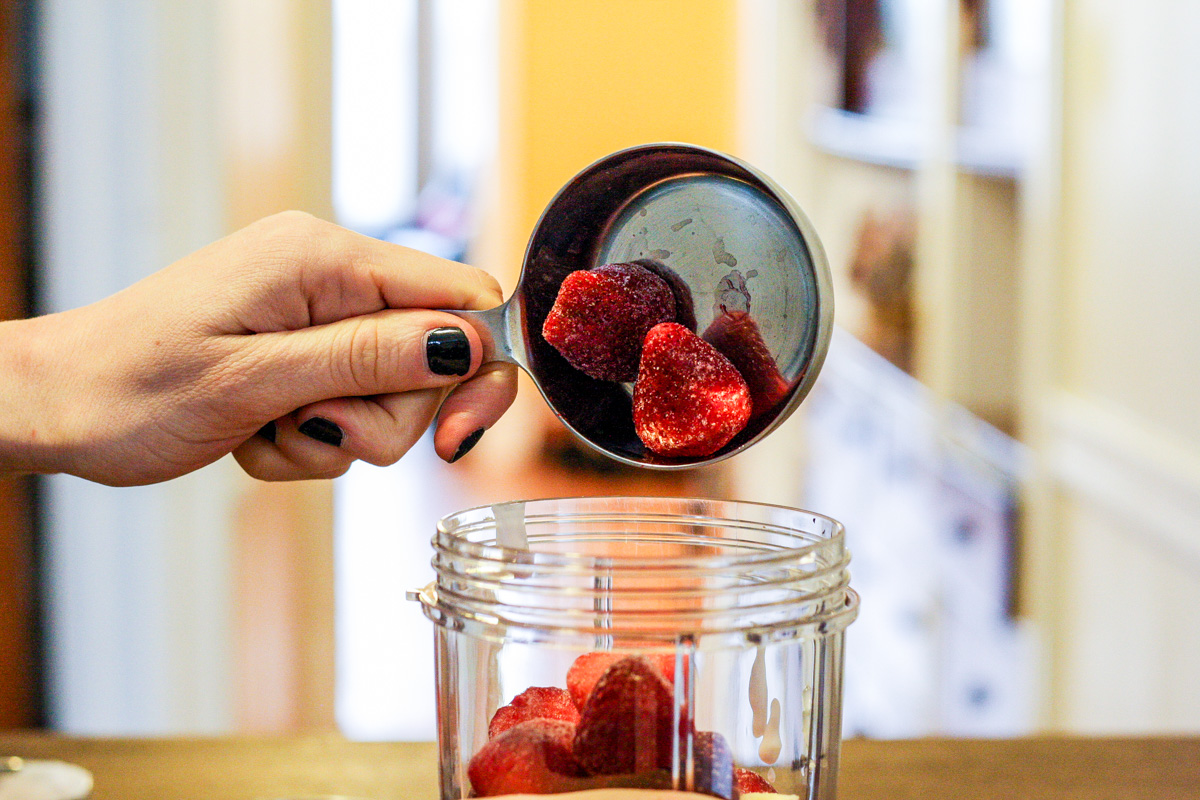 Flax Seed
Some have called it the most powerful food on the planet, and with all its nutrients, that's no surprise. These mini seeds are packed full of nutrients & vitamins, flax seed contains omega-3 fatty acids, antioxidants, minerals and fiber.
Greek Yogurt
Protein is an essential building block of life, and greek yogurt just happens to be full of it. It also contains probiotics, which helps keep a healthy digestive system.
Now that we're educated and ready to ingest all the goodness, let's get to smoothie making! Below are the ingredients laid out. All you have to do is combine them in a blender and enjoy. In terms of a blender preference, we're huge fans of the Magic Bullet NutriBullet!
RECIPE
1 cup kale
1 cup frozen blueberries
1/2 cup frozen strawberries
1/3 cup bananas
¼ cup greek yogurt
1 tablespoon flax seed
Slices of lemon and ginger to taste
Once all ingredients are included, fill halfway with water