Living Through a Home Renovation: We Do It For Love
Likes

Comments

When Scott and I purchased our fixer upper of a home the summer of 2013, we had a lot of ideas. We had a vision for every room, and every day after our offer was accepted, we dreamed of fresh paint colors, sketched room layouts and found ourselves giddy over the entire renovation process. Our plans for demolition were romantic at first, but an estimated two-week project by our contractors quickly turned into 5 months!
We had no back up plan on where we'd live throughout construction. Instead, we decided we would live in our new house – even if it was crumbling down around us (which it quite literally was at times!). This made the most sense, as we were doing a lot of the work as well, everything from ripping up carpet, knocking down ceilings and throwing sledgehammers through walls.
Working with contractors had its ups and downs, but they were full of encouragement when it came to our DIY attitude. They followed behind every mess we made, repairing old electrical, installing exterior doors and correcting bowed floors and sagging ceilings. And did I mention our house is old? Built in 1887, for every new wall knocked down and opened up, there was always a surprise in waiting.
I have to laugh now, looking back during those moments when we were really in the thick of it. We set up camp in our "safe room," which is now the guest bedroom. The room is small, but that didn't stop us from balancing our large television atop a small dresser! We could close the door and keep things relatively dust-free, although there were times when dust felt like a losing battle.
There were many (many) times when we'd look at each other and say, "Were we out of our minds to take on this project?" There were times when we'd scream it, too. But, then there were always times when another punch list item was checked off and we'd sigh, "Yes, this is absolutely worth it."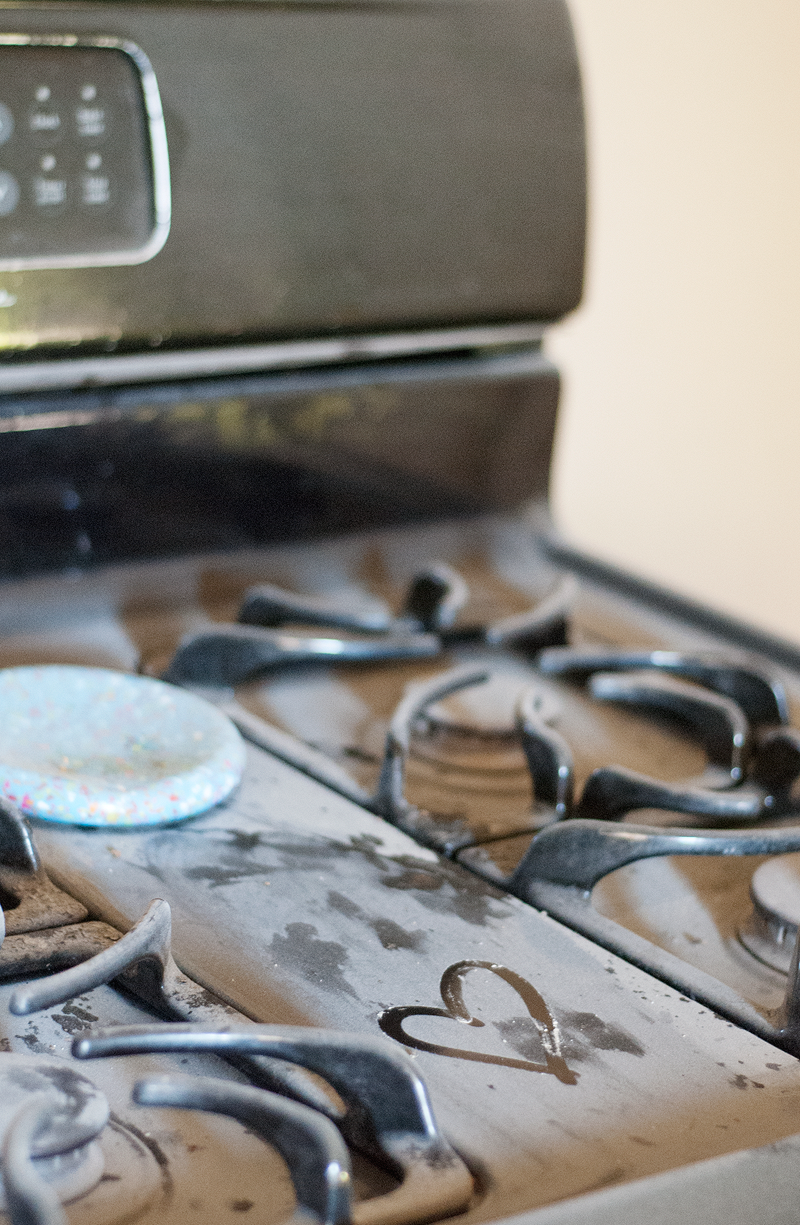 Over the last year and a half, we still find ourselves in a constant state of chaos as we're currently living through a new kitchen. Are we exhausted? Yes. Do we argue and stress ourselves out over the glitches? Absolutely. We've also had to sacrifice dinners with friends, and we've nixed nights at our favorite cocktail bars to share a bottle of wine at home.
I've asked Scott, point blank, "Why are we doing this again?" This question is thrown about in the midst of larger DIYs – room overhauls or the never-ending installation of baseboards – but it always comes back to this: Love.
We love being a part of this home's history. We love doing it together as a team. I know that one day we'll look around and instead of asking "Why?", we'll say, "Remember when?"
Kim Vargo is one half of the muscle behind the blog Yellow Brick Home. Together with her husband Scott (and two rescue Pitties and two cranky felines), the team is DIY-ing their way through their 120-year-old house. They're taking down walls, building them back up, and nurturing back the character that was so rudely taken away over time.