Lightened-Up Pecan Crumble Pumpkin Bread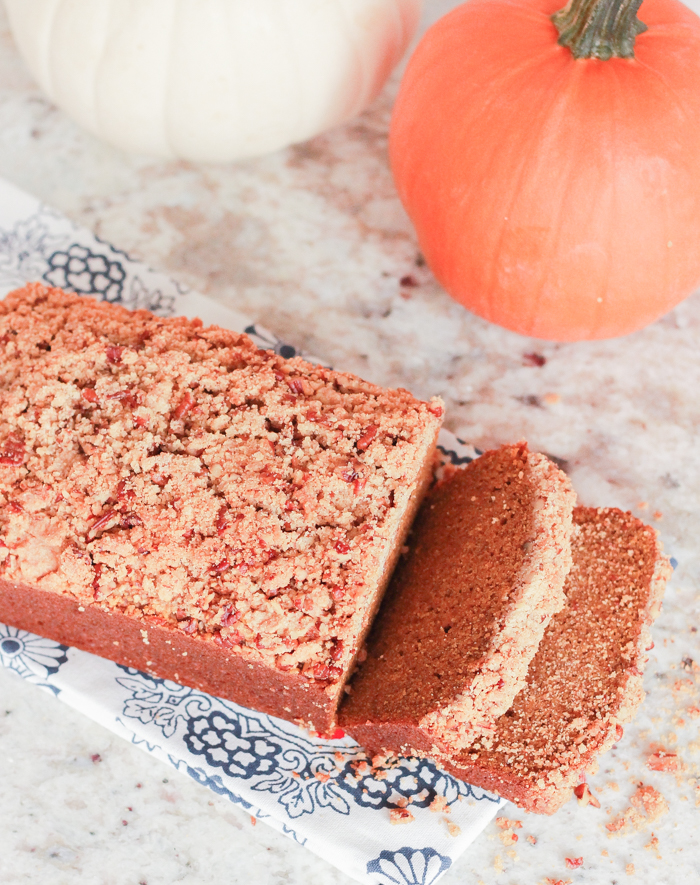 Wouldn't be fall without a pumpkin recipe! But not just any pumpkin recipe, I'm talking moist pumpkin bread with a brown sugar pecan crumble topping. Are you drooling yet? 
What if I add that it uses white-wheat flour and coconut oil. Yup, that means you can go for that second slice..or maybe even the third and not feel too guilty. 
Something about the chilly weather, makes you want to crawl under a blanket with a cup of hot cider and a pumpkin flavored snack. Who's with me?Plus when that snack is a little more hip friendly than your Starbucks iced pumpkin scone (which are just as amazing so no hate there), you can enjoy it a little more. Maybe if you're even feeling extra warm and snuggly you might just share a slice with a friend.
Ok let's not get carried away now…
This loaf can be frozen for up to 3 months and thawed/warmed for later enjoyment so if we're going to share we should probably double the recipe. One for me, one for you or two for me, none for you. What? You'll say the same once you try it too.
Enough of my chit-chat, time to get down to the baking!
Pecan Crumble Pumpkin Bread
Ingredients:
Pumpkin bread
slightly adapted from: Sally's Baking Addiction
1 and 3/4 cups white-wheat flour
1 teaspoon baking soda
2 teaspoons ground cinnamon
1/4 teaspoon ground nutmeg
1/4 teaspoon ground cloves
3/4 teaspoon salt
2 large eggs
3/4 cup granulated sugar
1/2 cup packed light or dark brown sugar
1 and 1/2 cups pumpkin puree (canned or fresh)
1/2 cup melted coconut oil
1/4 cup orange juice
Pecan Crumble
1/4 cup all-purpose flour
1/4 cup brown sugar
1/8 cup crushed pecans
Instructions:
Preheat oven to 350F degrees. Lower the bottom rack to the lower third position. Spray a 9×5 inch loaf pan with non-stick spray. Set aside.
In a large bowl, whisk the flour, baking soda, cinnamon, nutmeg, cloves, and salt together until combined. In a medium beat eggs, granulated sugar, and brown sugar together until light in color. Whisk in the pumpkin, coconut oil and orange juice. Gently mix dry ingredients with wet ingredients using a rubber spatula or a wooden spoon. Be careful not to over mix. Set aside while making the topping.
In a small mixing bowl, combine flour and brown sugar for topping. Cut in butter with a pastry blender or fork until mixture resembles coarse meal (add more butter if needed). Mix in pecans.
Pour the batter into the prepared loaf pan and shake side to side to even batter in pan. Sprinkle crumble mixture on top. Bake for 60-65 minutes, making sure to loosely cover the bread with aluminum foil halfway through to prevent the top from getting too brown. The bread is done when a toothpick inserted in the center comes out clean with only a few small moist crumbs. 
Allow the bread to cool completely before removing from pan.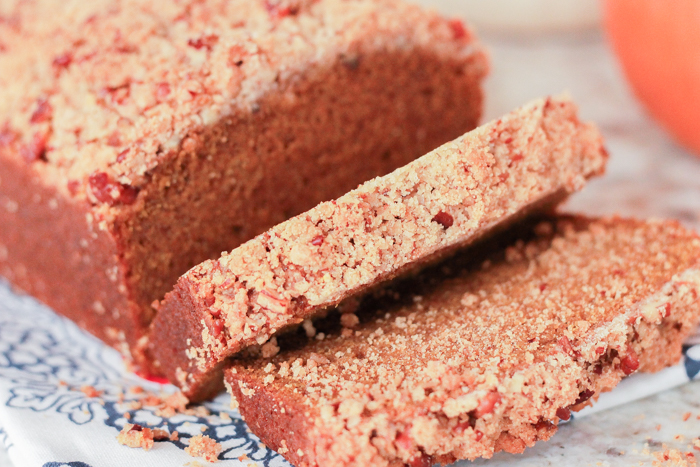 Pumpkin recipes make for the perfect fall treat, what are some of your favorite pumpkin recipes?