10 Drink Recipes For The LaCroix Lovers
That cult-like following for LaCroix? It's safe to say I've joined it. Hands down, it's one of my favorite drinks, and given that the store shelves are usually barely-stocked when I go to buy it by a case, I'm not the only one who is in love.
While summer always brings a welcomed invite for refreshing flavors, this carbonated beverage is fitting for any day and any season. And it turns out that it's not only delicious on its own, but mixed as well.
Take, for instance, the drink that my friend Kristina and I created while on a picnic recently. We mixed equal parts Raspberry LaCroix with Rose wine and topped it off with a strawberry. Easy, right? The result was a refreshing splash of deliciousness in our day. (Psst – the adorable monogrammed wine glass in these photos is from White Elephant Designs!)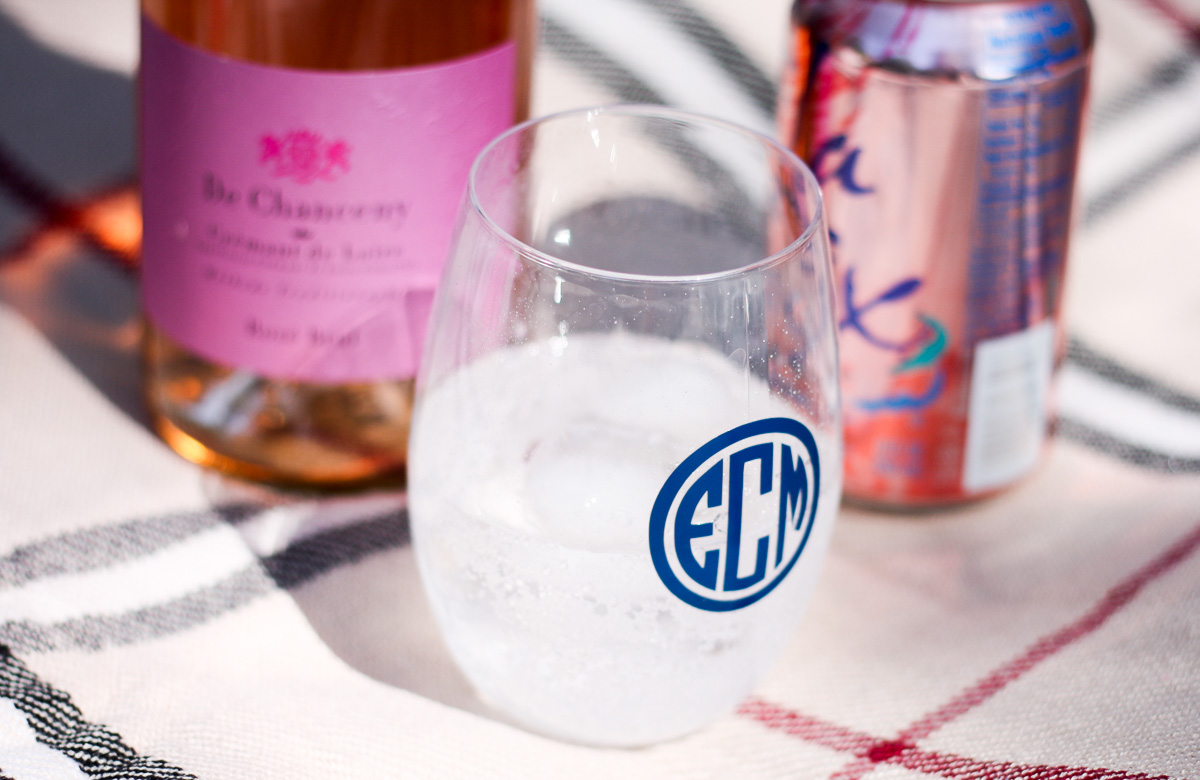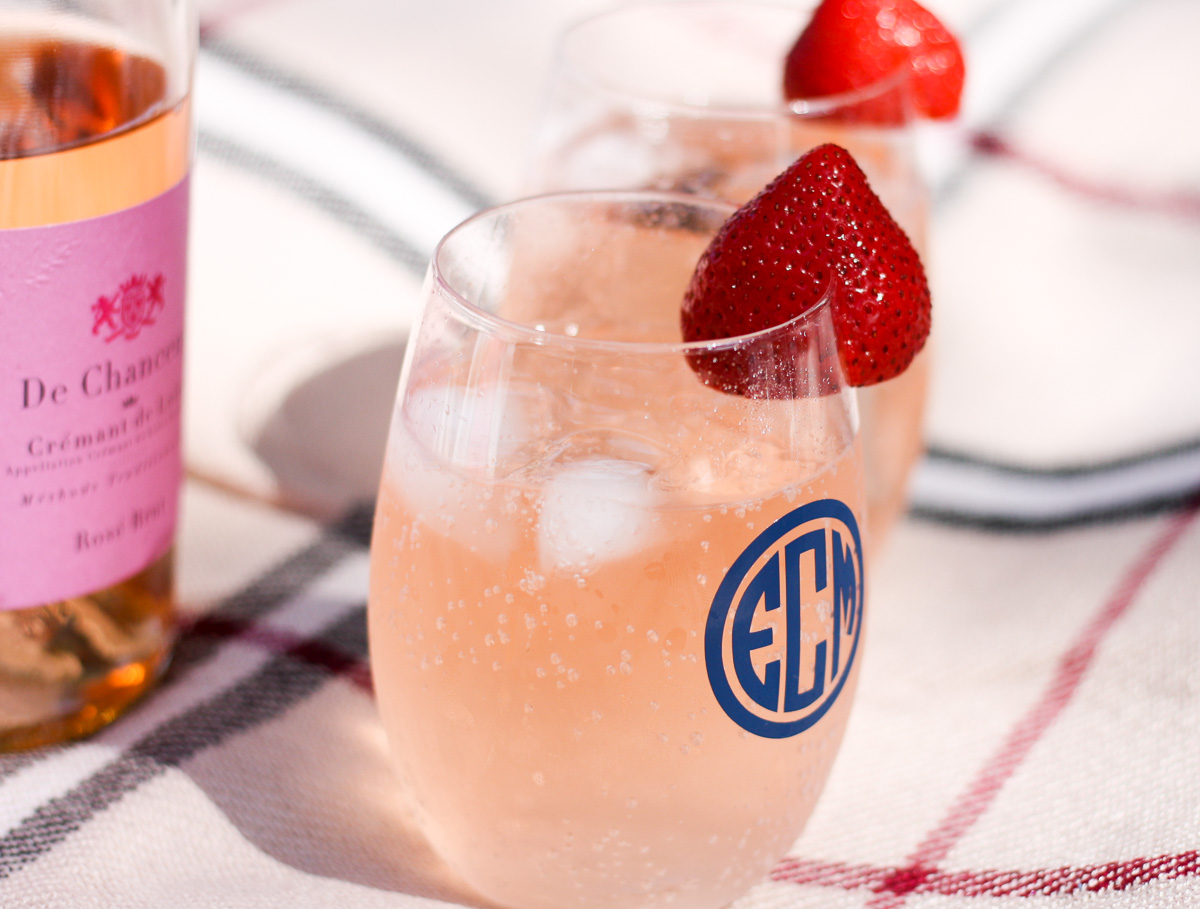 …After that, I've been hooked at mixing LaCroix with other drinks to make new, flavorful options. Here are some more fun new favorites for you to try!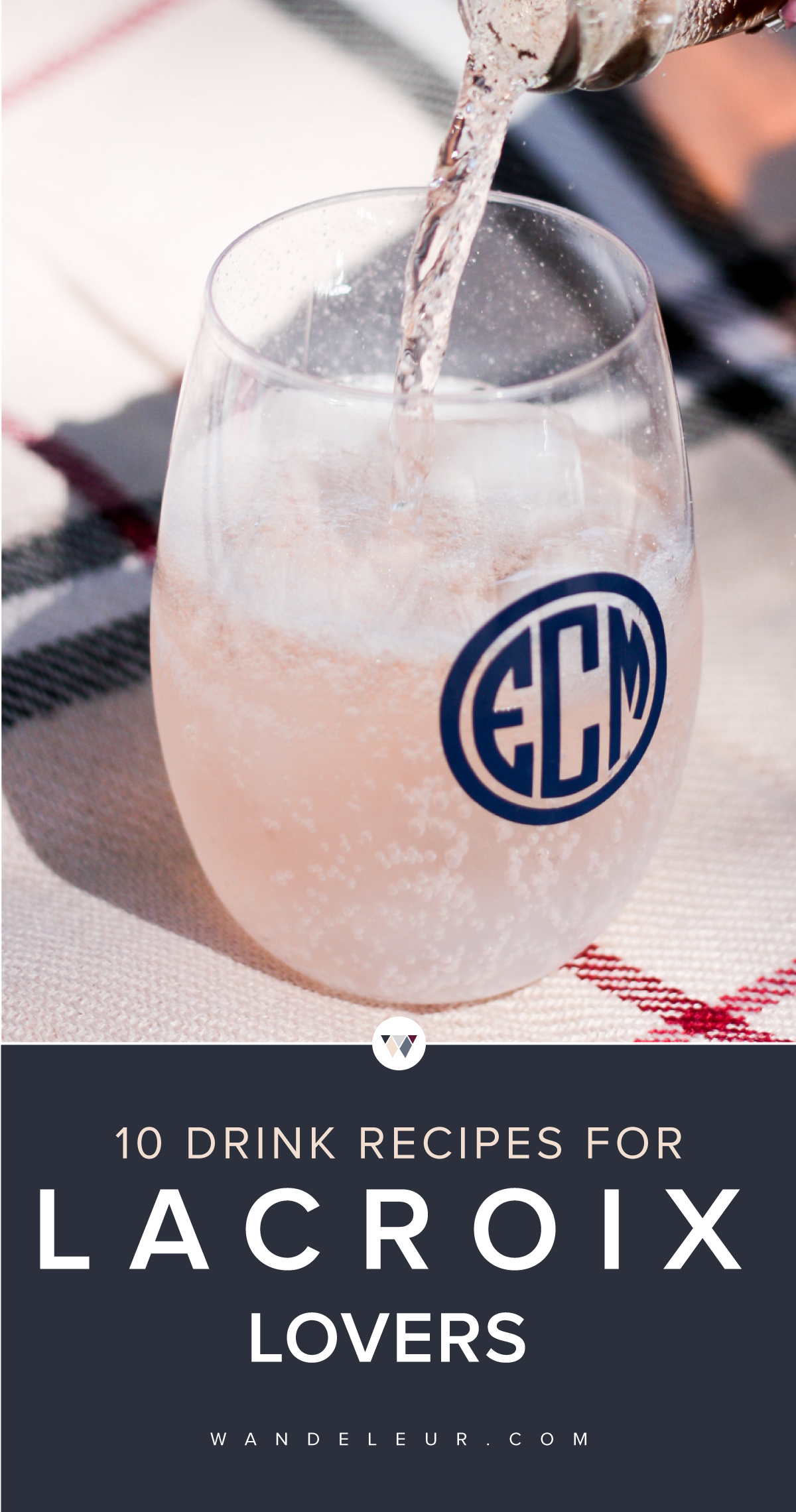 Patriotic Punch – Mix 1 can Pomme Bayá Cúrate LaCroix with a handful of blueberries and strawberries. Add 6 – 8 mint leaves and 1 tbsp of lime juice. 
Pom Sparkler – Mix 1 can of Passionfruit LaCroix, 1/2 cup Pomegranate juice, and 1 tsp of agave syrup. Add raspberries for garnish. 
Skinny Mojito Mocktail – Add fresh mint, 3 wedges of lime, crushed ice and Lime LaCroix together. 
Coconut Cooler – Shake 2 oz coconut milk with 2 oz of lime juice. Pour over 1 can of Coconut LaCroix. 
Grapefruit Slush – Blend 1 can Apricot LaCroix, 1 tsp of lime juice, 2 tbsp of grapefruit juice, and 1 1/2 cups ice. Add 2 grapefruit wedges for garnish. 
Fun In The Sun – Mix 1/2 can of Lemon LaCroix, 1/2 can of Coconut LaCroix and 1 oz of pineapple juice together
Very Hopeful Mimosa – Fill half a champagne flute with champagne and add chilled Cran-Raspberry LaCroix in the other half. Add 1-2 oz of cranberry juice or orange juice. Garnish with berries.
Blackberry Fitz – Muddle 5-7 blackberries in the bottom of a glass. Cover with ice and add 2 tsp of lemon juice. Top off with Berry LaCroix.
Orange Crush – Muddle 1 orange in the bottom of a glass. Fill with ice. Add a splash of orange-flavored vodka. Top off with Orange LaCroix.
Recipes are from the LaCroix website. Some were modified to taste!
Do you have other mixtures that you recommend? Share them with us in the comments! 
---
About The Author: Emily Charron is co-founder of Wandeleur, works in digital advertising at one of Chicago's top agencies, and is the creator behind the life + style blog Isn't That Charming. She loves great Instagram opportunities, dreams of Paris, starts the week with fresh flowers, never turns down a glass of wine, thinks good conversation is an art, and is half-way through her goal of visiting every state in America. Though she lives and plays in the skyscrapers of the city with her husband Doug and newborn daughter Gracie, she firmly believes that the coastal towns of Michigan are some of the best places on earth.