6 Out-of-the-Box (Literally!) Jewelry Storage Ideas
 Like almost any girl, I have a surplus of jewelry hanging around my apartment, ranging from glittery statement baubles to delicate gold chains. It doesn't make sense in theory—I actually wear the same rings, bracelet and watch on the regular, so the rest of my jewels are really just for special occasions. I like to come up with fun ways to store my jewelry that both puts them on display (they are pretty to look at, after all) and fits in with the rest of my décor. So skip the necklace tree—here are six unexpected and inexpensive ways to store your favorite pieces, from my apartment to yours!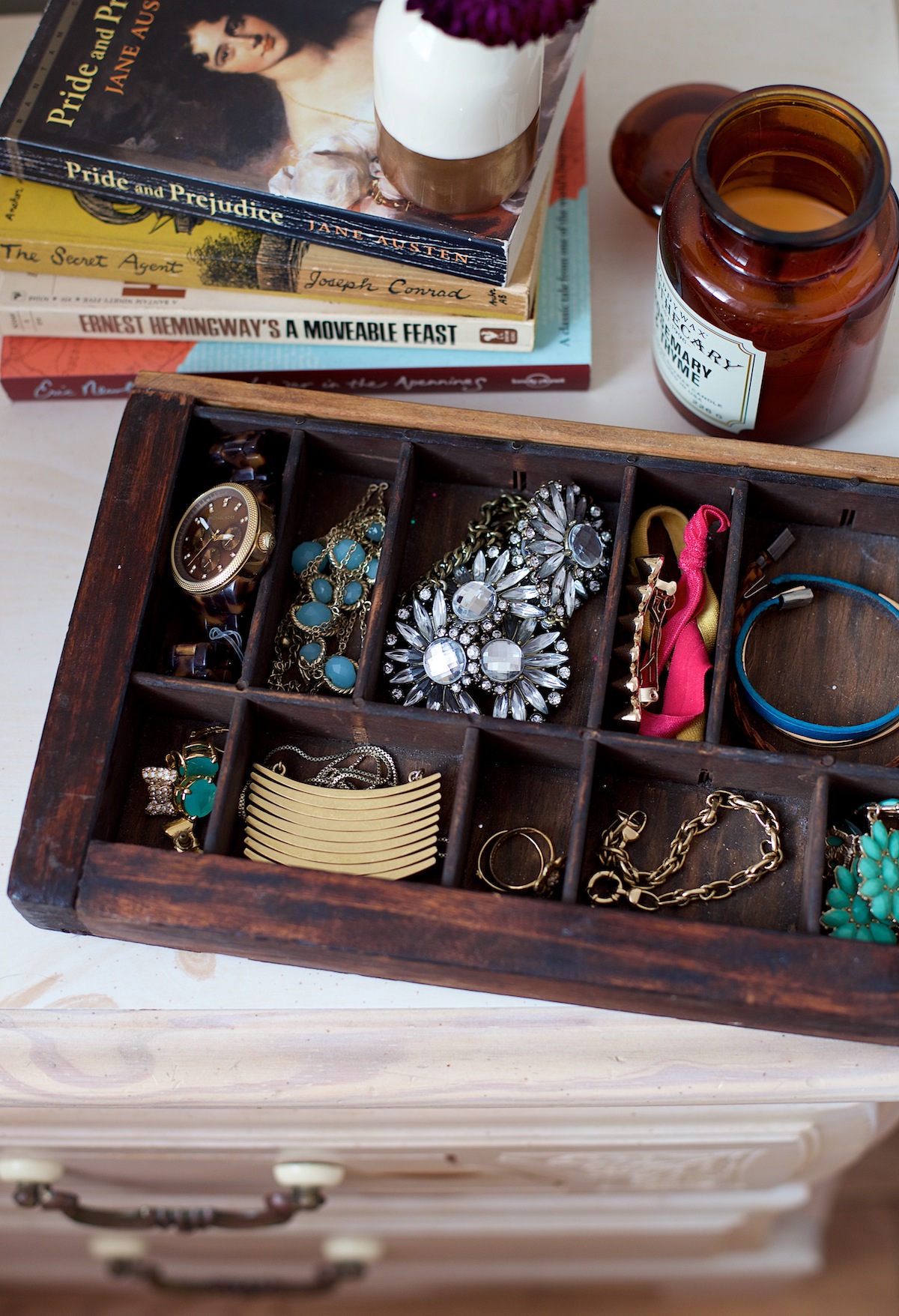 Vintage Wood Tray
I'm not sure what this guy was in another life—maybe an apothecary tray or something in a shop? Either way, it came home with me from a flea market and took on new life as a jewelry divider. I love how the mini compartments separate jewels that could otherwise get tangled and keep everything organized and on display. I feel like I'm always seeing finds like this at flea markets, so this would be a pretty easy one to find for yourself!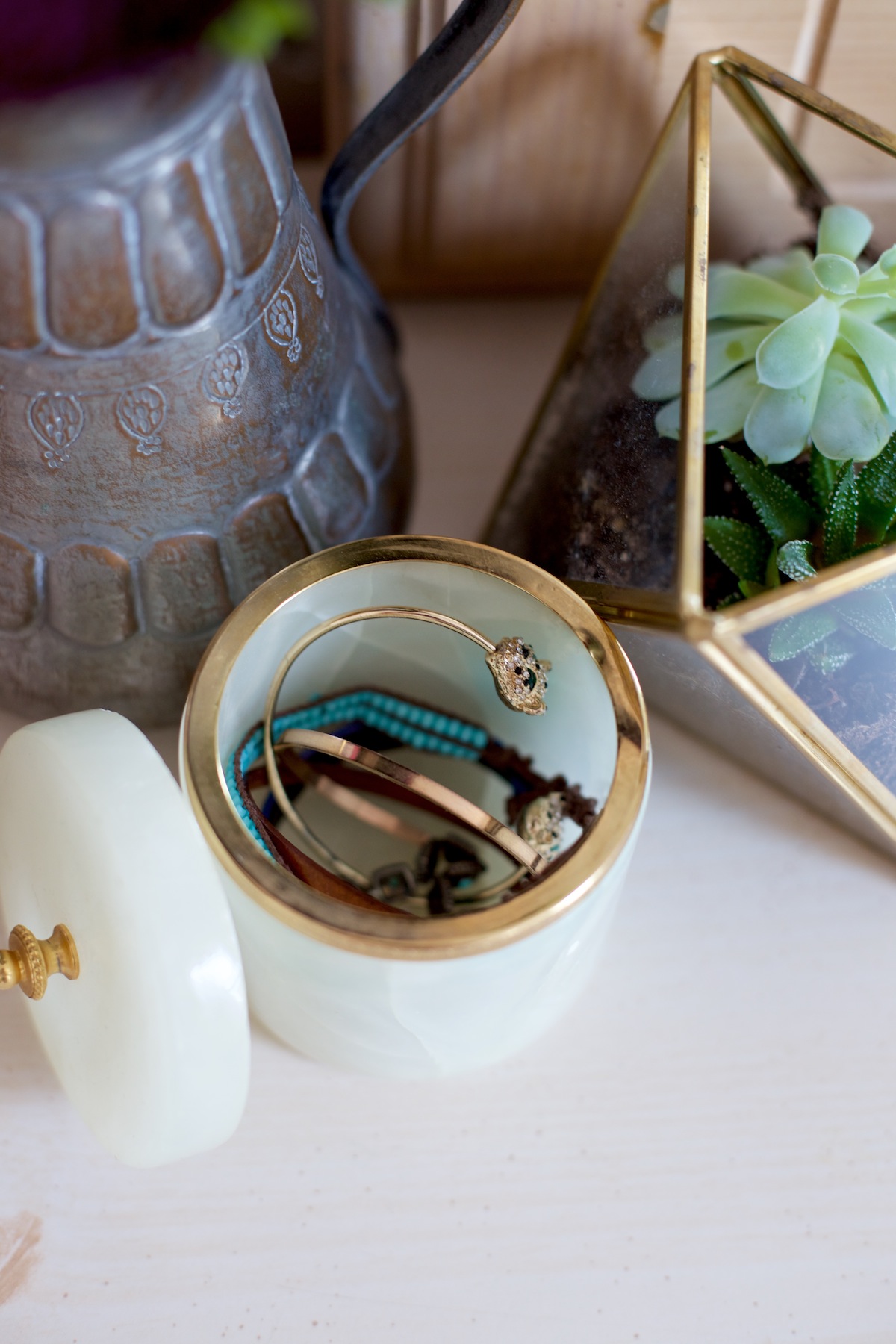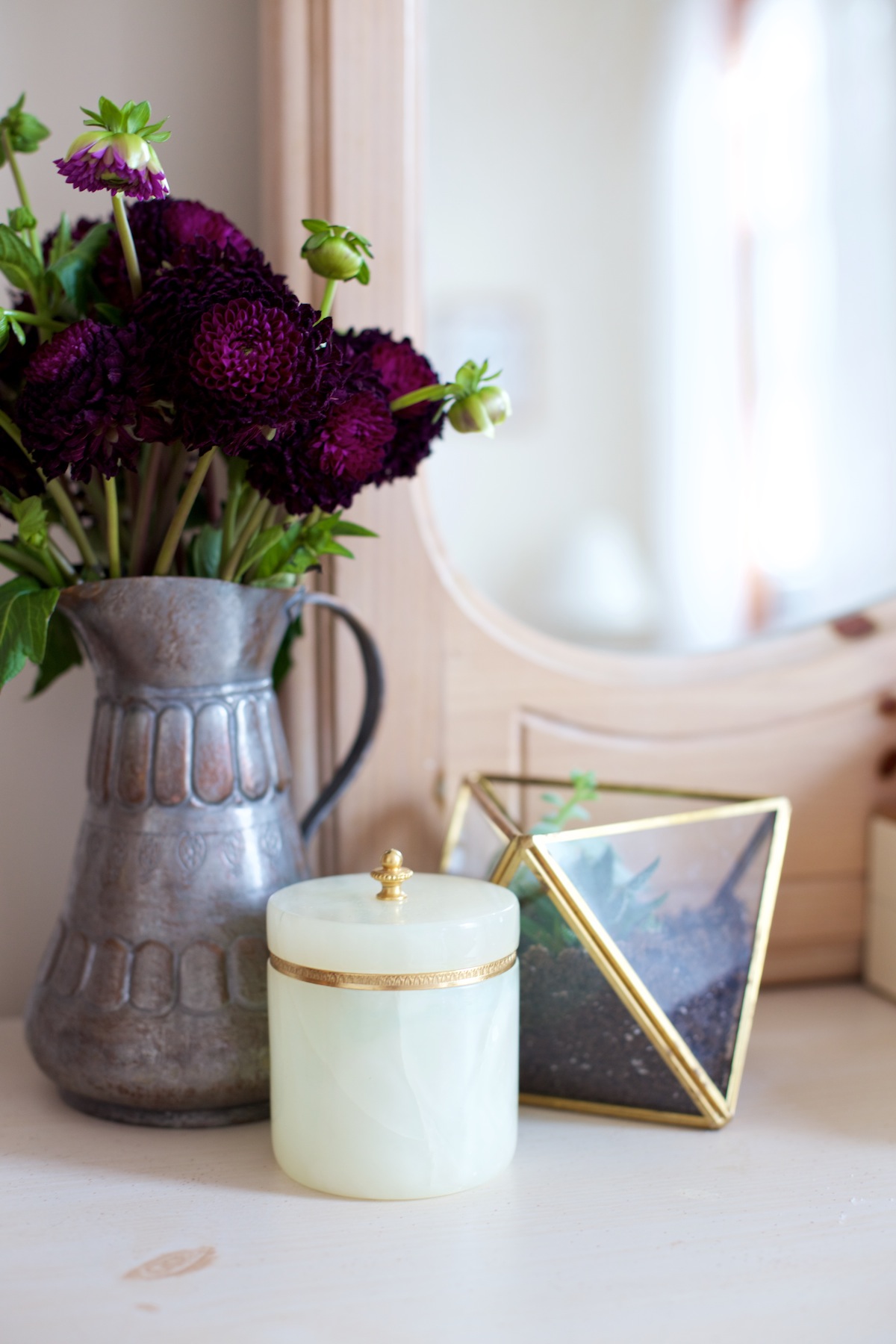 Jade Jar
Apothecary jars are the perfect place to house bangles and bracelets. You could style the jar with the top off, or, if you're like me and have a cat that tends to get into everything, you just keep it on. I picked up this jade and gold jar at a vintage store in Toronto for the equivalent of $12—a total steal when you consider it's a stylish way to stash some of my favorite bangles and leather bracelets.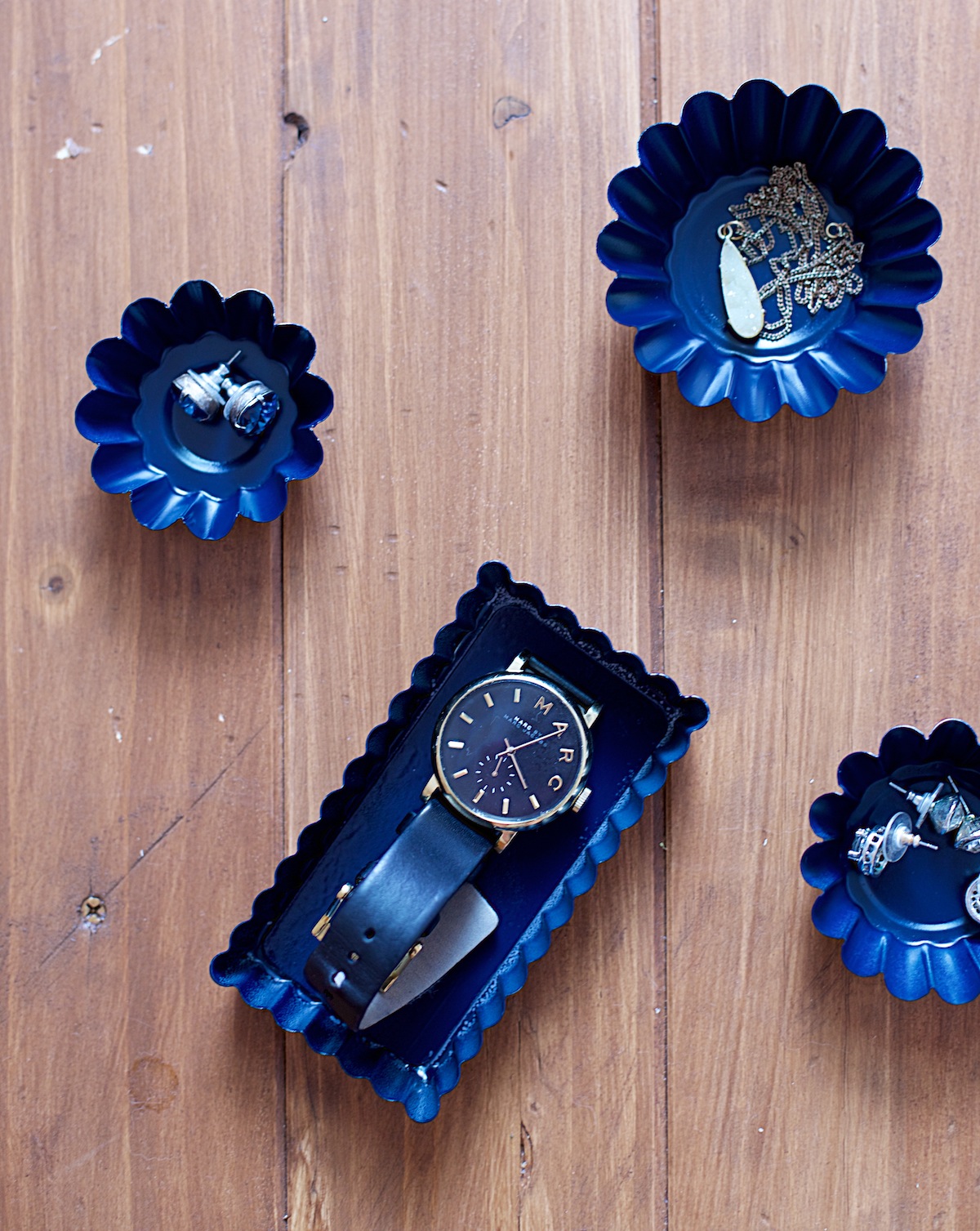 Tart Tins
This has to be one of my favorite mini-DIY projects. Have you noticed how crazy cheap tiny tart tins are? I picked up a few for 75-cents a pop from one of my favorite NYC cooking stores, Whisk (LINK: https://www.whisknyc.com/). To start, their sizes are perfect for holding small link bracelets, rings, earrings or a watch. After a quick spray with glossy navy spray paint, they transformed into light, space-saving storage. So cheap, so easy to customize!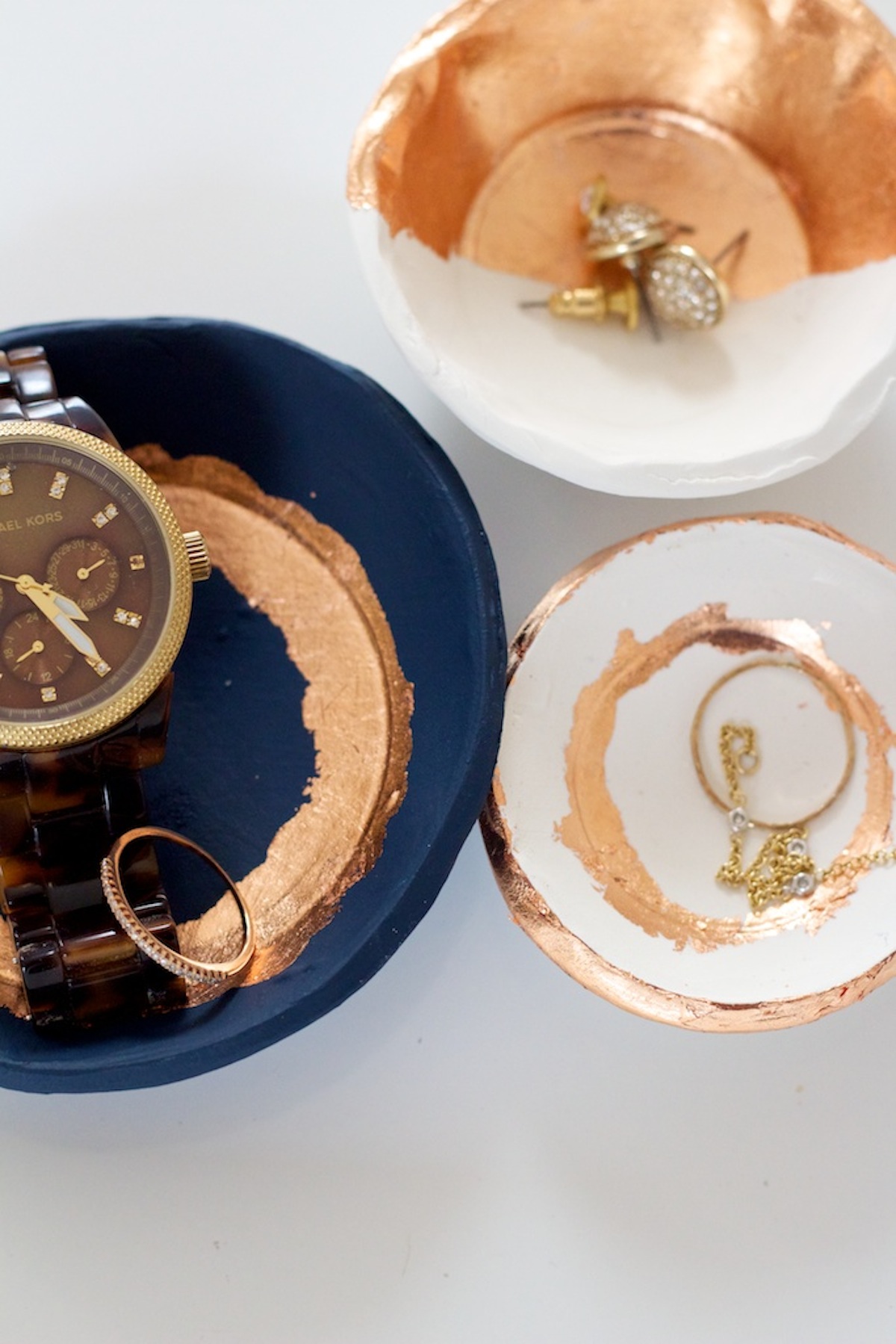 Gold Leaf Clay Jewelry Dish
If you've got a few free hours, you can make these! They're super simple—just mold oven-bake clay into small dish shapes, bake, then paint (and gold leaf!) as you please. I love that you can make these into any size, shape or color. They'd make perfect make-your-own gifts for bridesmaids or girlfriends. For step-by-step instructions, head here.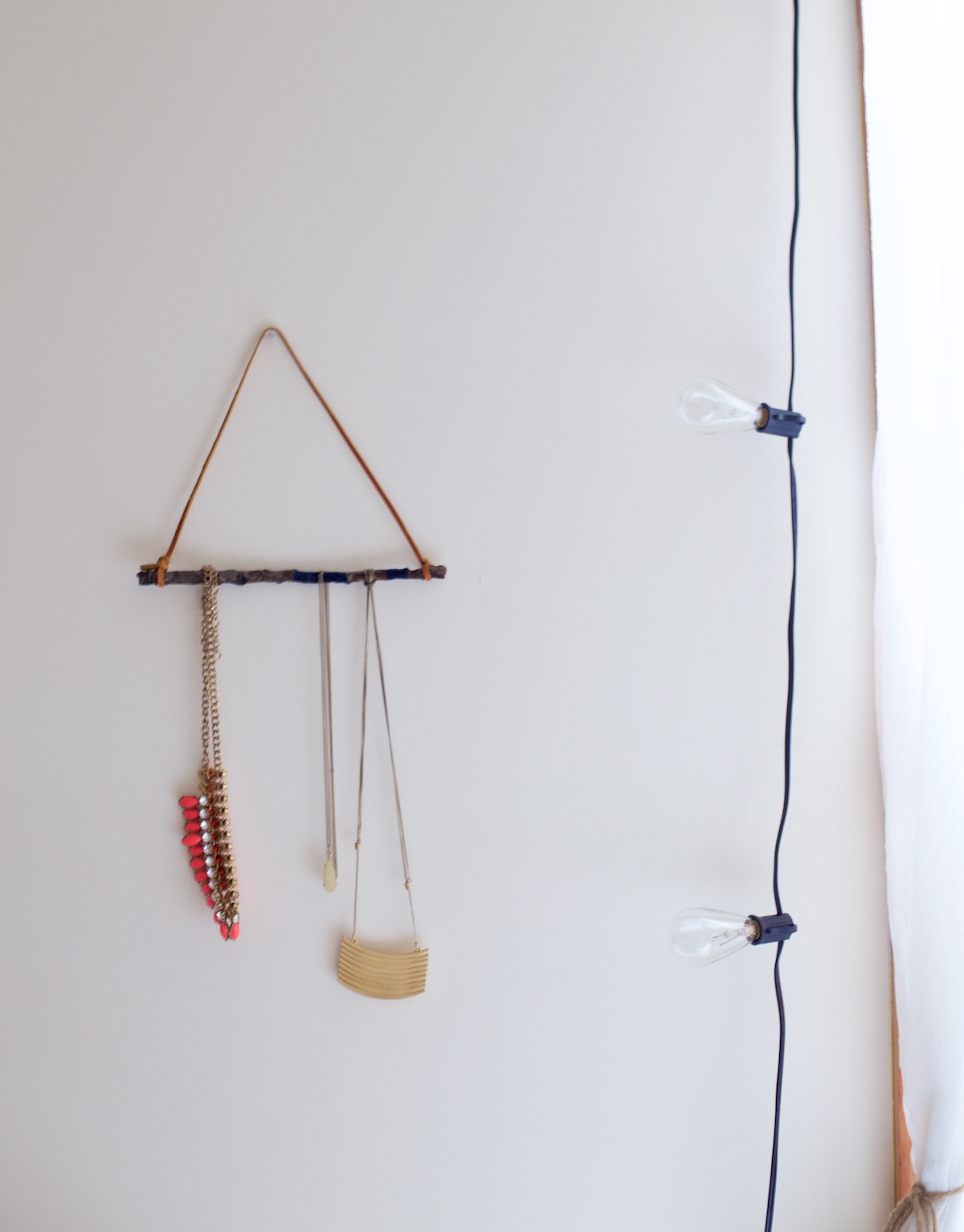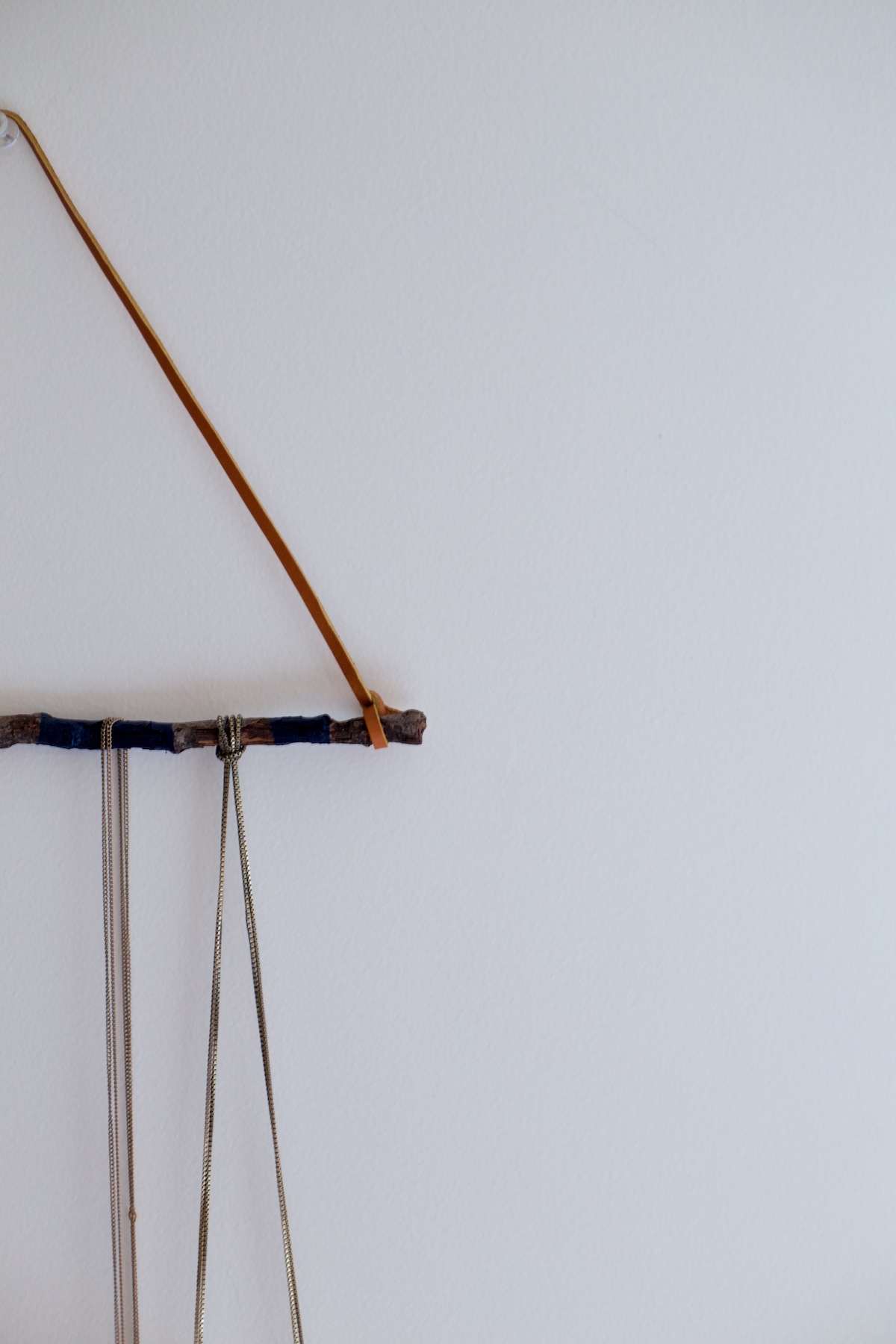 Necklace Branch
I've always loved the rustic, boho look of necklace branches. In lieu of buying one, I decide to do a little foraging and make my own. You could definitely keep your branch bare, but I decided to coat mine with a bit of navy paint. Tie it off with the string of your choice (I used leather cord, but you could use twine or embroidery floss), then hang with a nail or tack and string your necklaces.
Coat Hook
To some this may be obvious, but coat hooks and knobs also make great necklace hooks. Anthropologie always has gorgeous ones (I especially love their geode options!), but a coat "hook" can really be made out of a number of different objects or items. I found this cool lion head as part of a set on Etsy—it reminds me of those old English door knockers. I love the idea of working a coat hook into a gallery wall design to mix things up!
---
Alyssa is a magazine (and our "nest") editor who spends her time eating (and living) in New York City. When she's not styling shoots and writing copy for Good Housekeeping, she can be found dreaming up content for her lifestyle blog,
The Glossy Life
, exploring the city, rearranging yet another corner of her apartment or raiding the farmer's market. Loves Bruce Springsteen, spies, curling up with a good book, a personal block of cheese, crackly old records, exploring new cities and truly believes Mindy Kaling is her spirit animal. Really, she is.