Jaimie Myers, Illustrator and Creative Director
We're so excited to introduce you to the queen of creativity, Jaimie Myers! Whether she's painting gorgeous watercolors for her Etsy store, creative directing work for The Inner Wild, or being the world's coolest mom, she does it all with a creative spark that we truly admire. Get to know more about her inspiring career path, her work today, and where she hopes to be in the next few years!
---
Who or what inspires you?
My first inspiration will always be my family and real-life friends. On a daily basis, they inspire me to be a better woman, mother and person. I try to surround myself with people who genuinely care for me. Secondly, I am incredibly inspired by creative women who are making it work. Being creative is a hard task in life and it is never lost on me that others are working hard every single day to bring out that creativity in themselves and others. The list of "who" inspires me tends to change based on the seasons of life, but I always find myself attracted to genuine, hard-working and kind people.
Have you always been an artist? When did you start working with watercolors? 
I have not always defined myself as an artist, but I do think a part of me has always been one in one way or another. Most of the career aspirations I've had in my life have been creative, but I never thought of it that way. When I was a kid, I wanted to be a children's book illustrator. Later in my adolescent years, I wanted to be an actress. And after that, a chef or an astrophysicist. It wasn't until after I had kids that I wanted to learn photography and do crafts and later, to paint. But looking back, I know that I was always working towards being creative. I was in all the school musicals and I created one heck of a cute tri-fold presentation board. Remember those?
I have painted just for fun for many years now, but it wasn't until about a year ago that I really started using watercolors seriously. Once I started, I just couldn't stop. Something about the fluidity resonated with me and it didn't hurt that my followers and friends seemed to like it too. Having a great support system really pushes me to keep creating.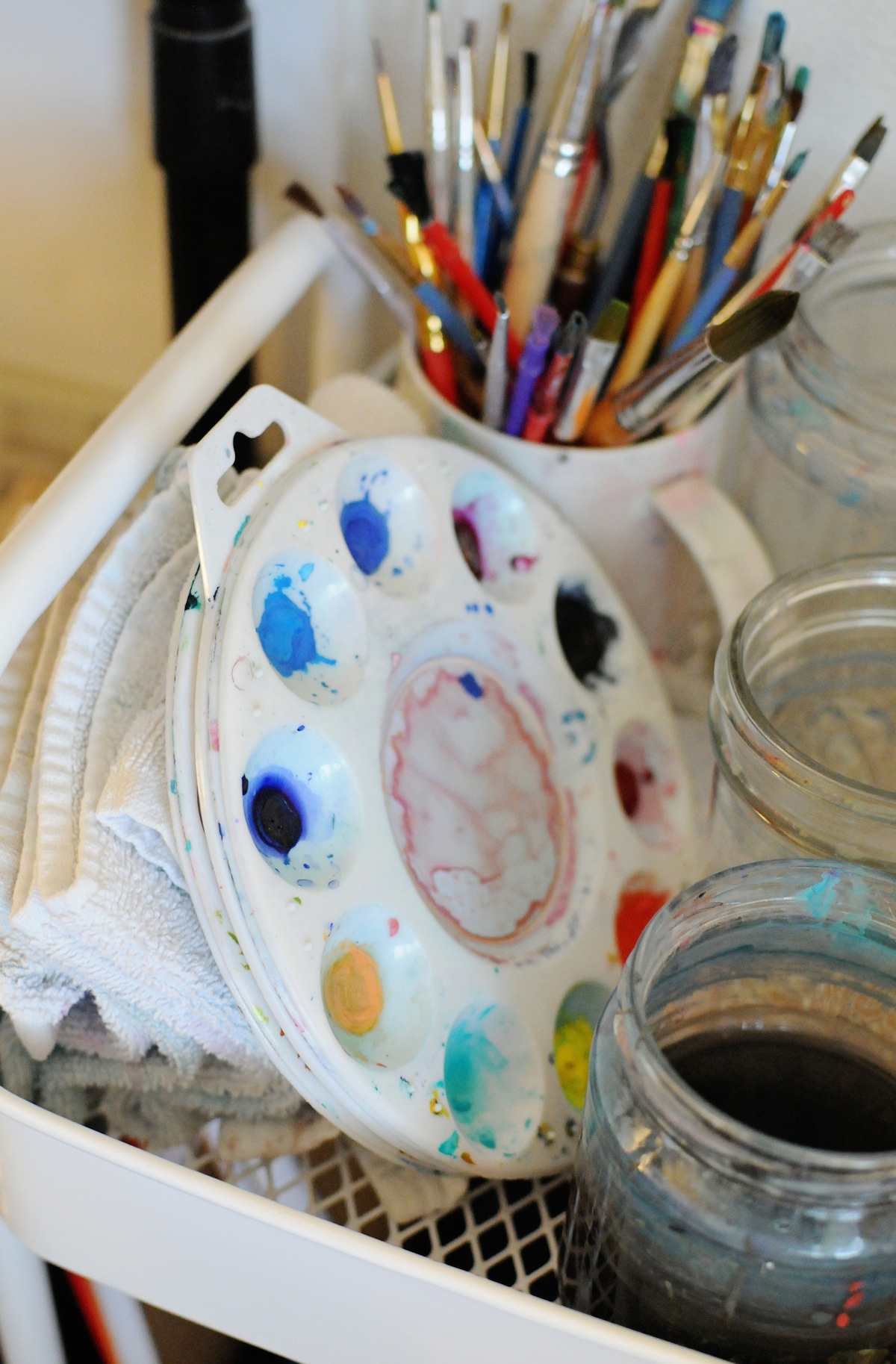 What were you doing prior to launching your business?
Prior to launching my personal business, I was working as a social media specialist for Thyme is Honey, which has since rebranded to The Inner Wild Creative Co.. Danielle has been working in social media for 5 years and was kind enough to bring me on to work with her last year.
I am also a full-time stay-at-home-mom. My youngest is now in school a few hours a day, but for many years, being a mom and a student was all I knew. I always knew that I wanted to be more and I have pushed to learn many skills over the years so that when the time came, I'd be able to make a career for myself.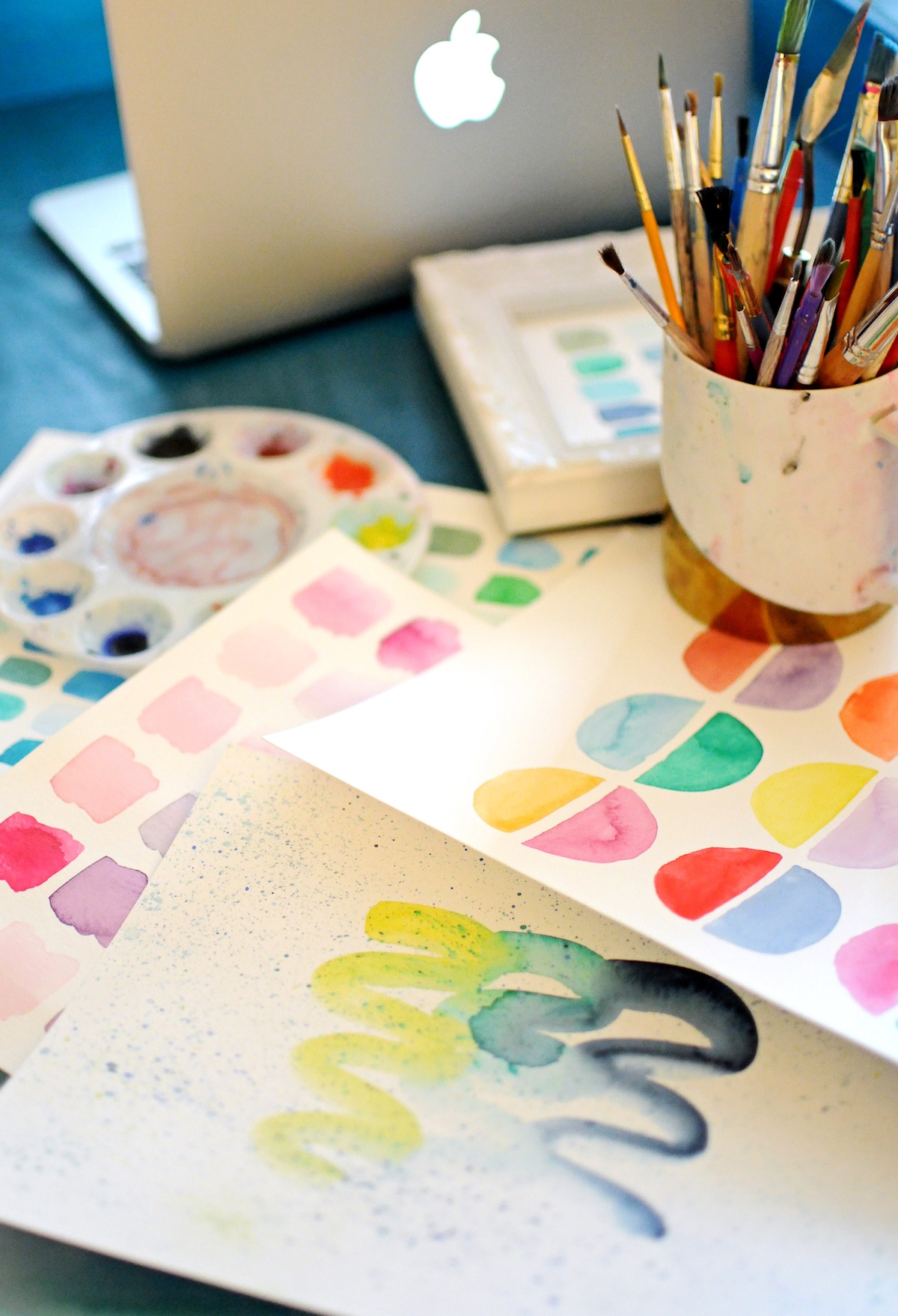 We are obsessed with your work! Where do you find everyday inspiration to keep creating such beautiful pieces?
It's kind of hard to explain! Many times when I sit down to paint, I have no idea in mind other than that I just want to put brush to paper. I let my brush and my mood lead me. I always keep nature, the ocean and a playful mood in mind, as that is what I love most about art. I have recently learned to not make myself create unless I am in the mood. I frequently use my sketchbook to flesh out ideas or color palettes before moving to making a finished piece.
Tell us about your new venture with the Inner Wild! What was the inspiration behind the company and what has the process been like?
I started working for Dani at Thyme is Honey about a year ago. Dani has over 5 years of social media experience and going to work for her was really a dream come true. She is an amazing friend, mentor and is one of my biggest creative inspirations. As the needs of her business evolved, she asked me to re-brand with her as a partner. How could I say no? So The Inner Wild was born. The name is a nod to unleashing our inner creative spirit. The process has been eye-opening, inspiring and overwhelming, but really exciting! You can read more about our business launch here.
What's one quote or motto that describes you best?
"Stay true to you!" Truly, there are so many inspiring quotes out there and I'm a quote hoarder on Pinterest like everyone else, but no truer words have ever been spoken. The quickest road to unhappiness, and I speak from experience, is trying to be something that you're not. When you are you, you will fall in with the right people, you will find yourself (probably over and over again – people change!), your work will shine and you will feel real in the world.
What's a big goal you have for yourself in the next year?
I'm always working on a million little goals, but I think within the next year, I'd really like to get involved more with my local community. I live in a really small town full of passionate and interesting people and I'd like to use my skills and art to become more involved in the community and the business community here. Being a young business owner makes that an intimidating goal, but one I am excited about for sure!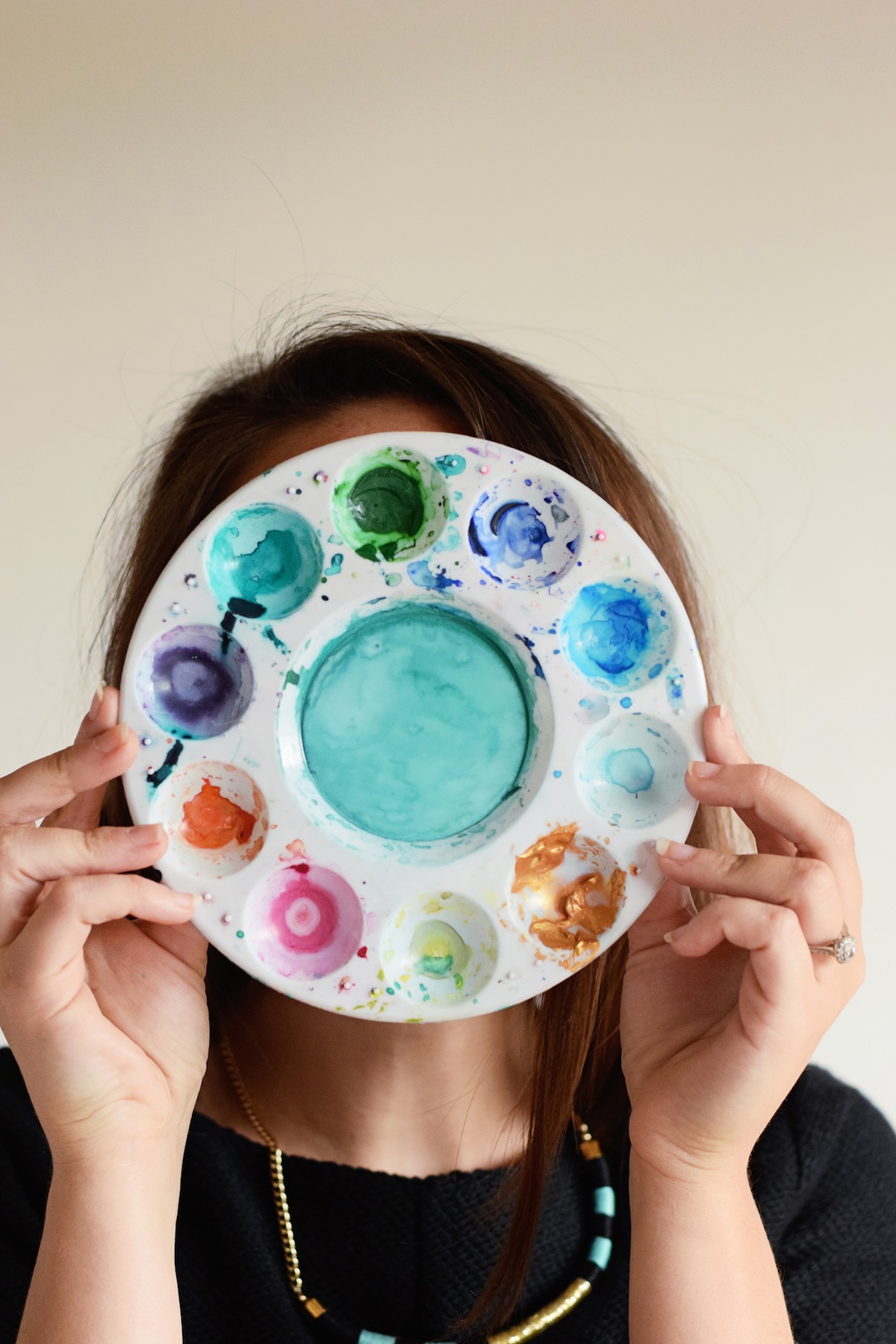 We're so inspired that you're consistently able to stay creative. Where do you find everyday inspiration?
My everyday inspiration really comes from the people that I surround myself with. My husband gives me space to be creative and all the great and not-so-great things that go along with that. My kids playfulness and ability to notice really small things inspires me infinitely. And I am really careful about the friends I choose. Having a good support system allows me to just keep going, even when it's hard. In terms of visual inspiration, I try to look for color palettes in nature or photographs that I love and then let my feelings and mood inspire my work.
Where do you hope to see your own business and The Inner Wild in the next 3 – 5 years?
I'm a dreamer and I'm always thinking about the future, but I imagine so many futures that it makes it hard to answer this question. I try to take life a day at a time as much as possible because I get overwhelmed otherwise.
My own personal business could go a number of ways, but in the next few years, I'd really like to see myself collaborate with other makers, become involved in my community and in charitable work and I'd love to finish my novel. I'll probably add more goals to the list as time goes on – I can't help myself!
As for The Inner Wild, we value our small team, flexible schedules and work-from-home routine and I don't see that changing. I think we'll expand our team if and when it becomes necessary. I see us becoming more involved in the Madison business community and growing at a pace that feels right. Our industry in social media is changing so rapidly, but I don't see social media going anywhere anytime soon. People and brands will always have a need for creative help, no matter the platform.
What does being creative mean to you?
To me, being creative really means that I allow myself the freedom to create when I feel inspired. Sometimes this means I have to push to stay inspired. I am an overthinker, so letting my mind be free is a great way for me to stay creative. Being creative also means that I recognize in myself and in others that being creative comes in so many forms – that I don't have to be painting or writing or taking photographs to be creative.
---
Follow Jaimie's work and life right here: Instagram // Website: Business // Personal // Etsy