How To Take Mouth-Watering Food Photos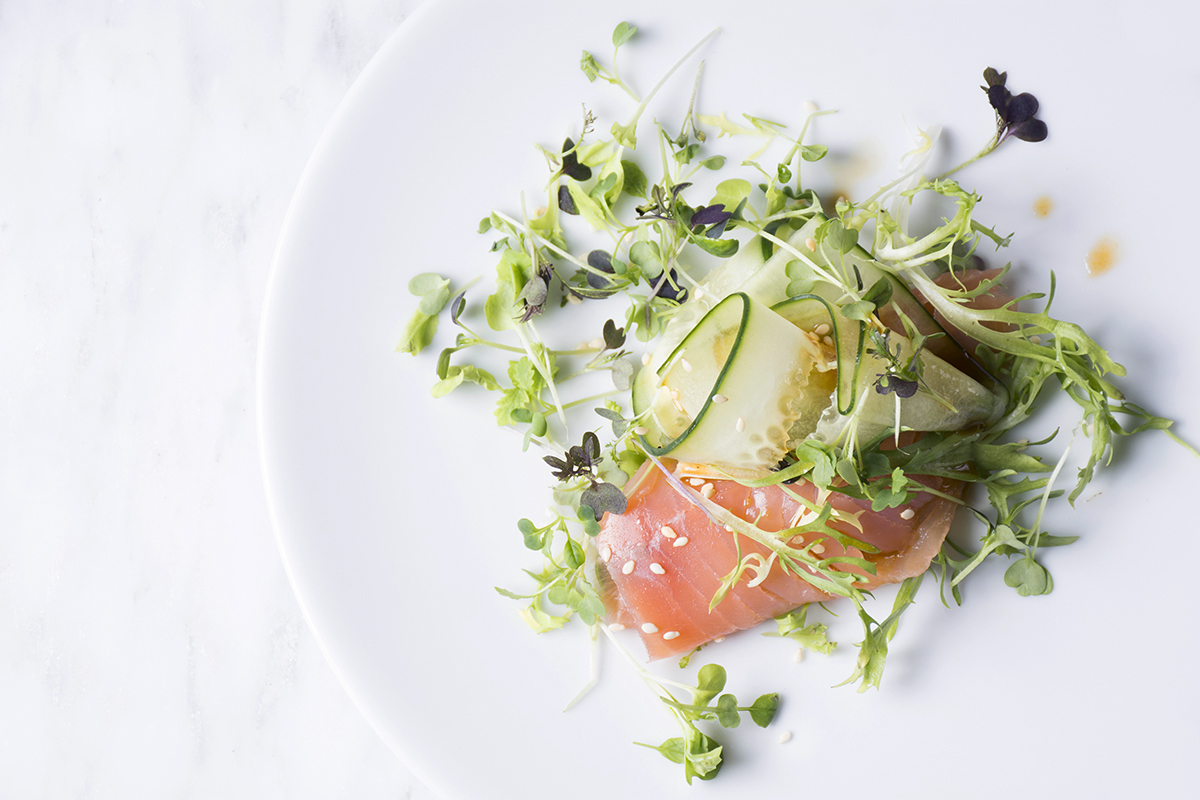 Food bloggers wear many hats. We are the cook, the stylist, the prop stylist, the photographer and the writer. One question that consistently pops up within the food blogging community is: how do I take better food photos? As a self-taught food photographer, I've had to discover a lot on my own and I want to share a few tips and tricks that have gone a long way in helping me in the world of food photography.
INSPIRATION
Find your style.
Before you can improve your food photos, it's important to figure out what you want to fix. Is it the lighting? Is it the composition? Whatever it is that you feel your photos are missing, find photographers and food blogs that inspire you. Follow them and study what it is that you love about their work. Create mood boards to fuel your vision for each shoot. Collaborate and always ask questions. Let your inspiration guide you to improving your photography and finding your style.
It's also important to continue learning your camera. Get a book that's specific to your camera model, take a class and find tutorials online to help you control what your camera can do. Don't be afraid of manual mode. The more control you have, the easier it will become to get the shots you want. Remember, you are the artist, not the camera. One of my favorite online resources is CreativeLive. They have a ton of workshops geared towards improving your photography.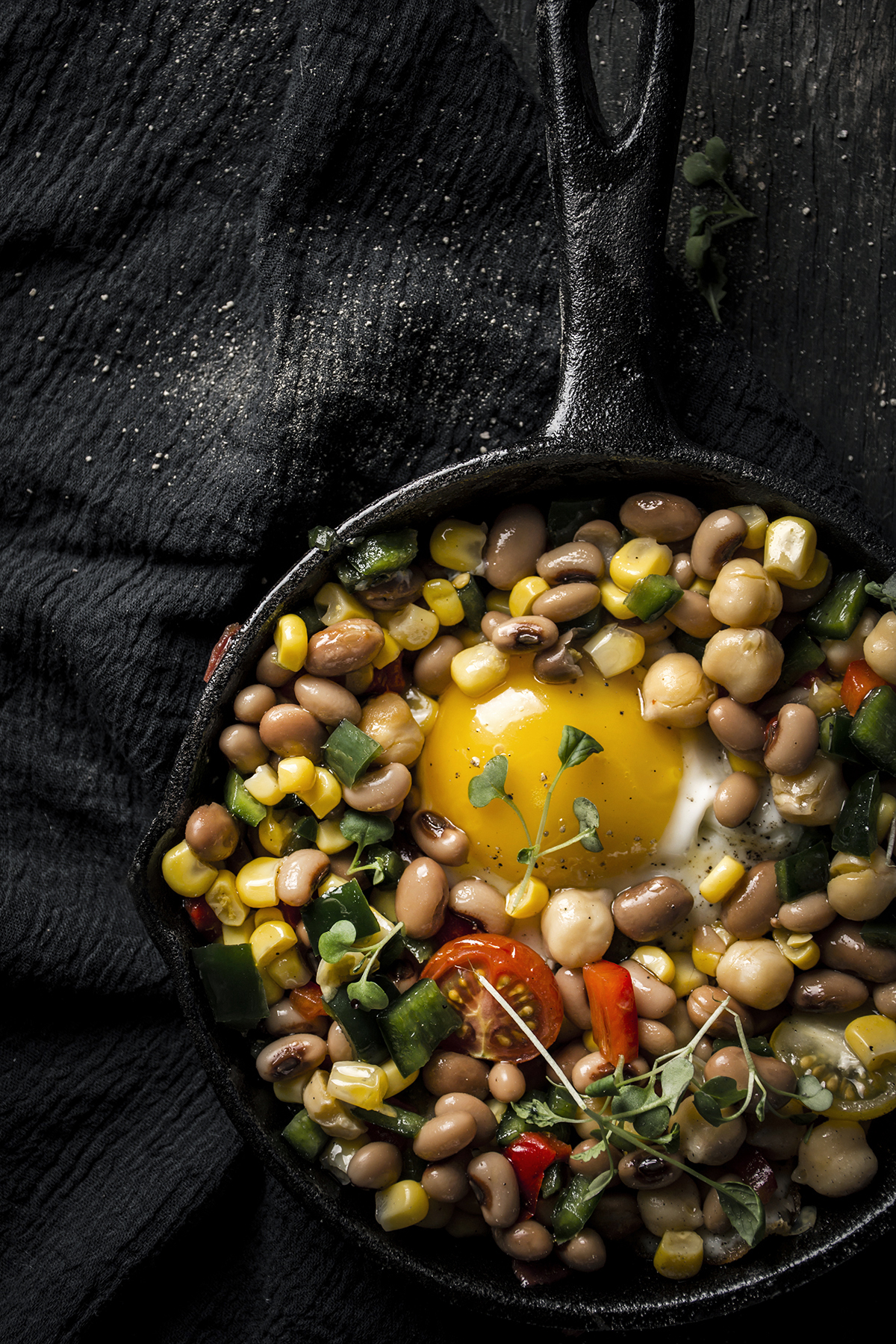 STYLING
Less is more.
Styling is a specialty on its own and requires just as much practice as photography. It's all about making the food work for the camera setup and there's a real craft behind it. Always start with fresh ingredients. I buy mine the night before or the morning of my shoot.
A common mistake is to plate the food the way you would as if you were going to sit down and eat it. It's not that you should create something fake, but less is more when plating for the camera. It's important to take your time plating to show what makes the recipe special. It can be a lot like painting; the plate is your canvas and the food is your paint.
Even with plates, less is more. Use smaller salad-sized plates instead of larger dinner-sized ones. Use a small bowl instead of a big one. This allows your composition to have more breathing room so you can show off those gorgeous details while allowing the scene to tell a story. If you're shooting something true-to-size, like a whole pizza, it can take up a lot of the image space. Be sure you can zoom out on the shot a bit so you can tell what it is without losing detail.
Remember to keep it real. Food isn't meant to look perfect. The more natural your food looks, the more people will be drawn to it. Crumbs, gooey drips, and water drops can be very beautiful elements in the shot.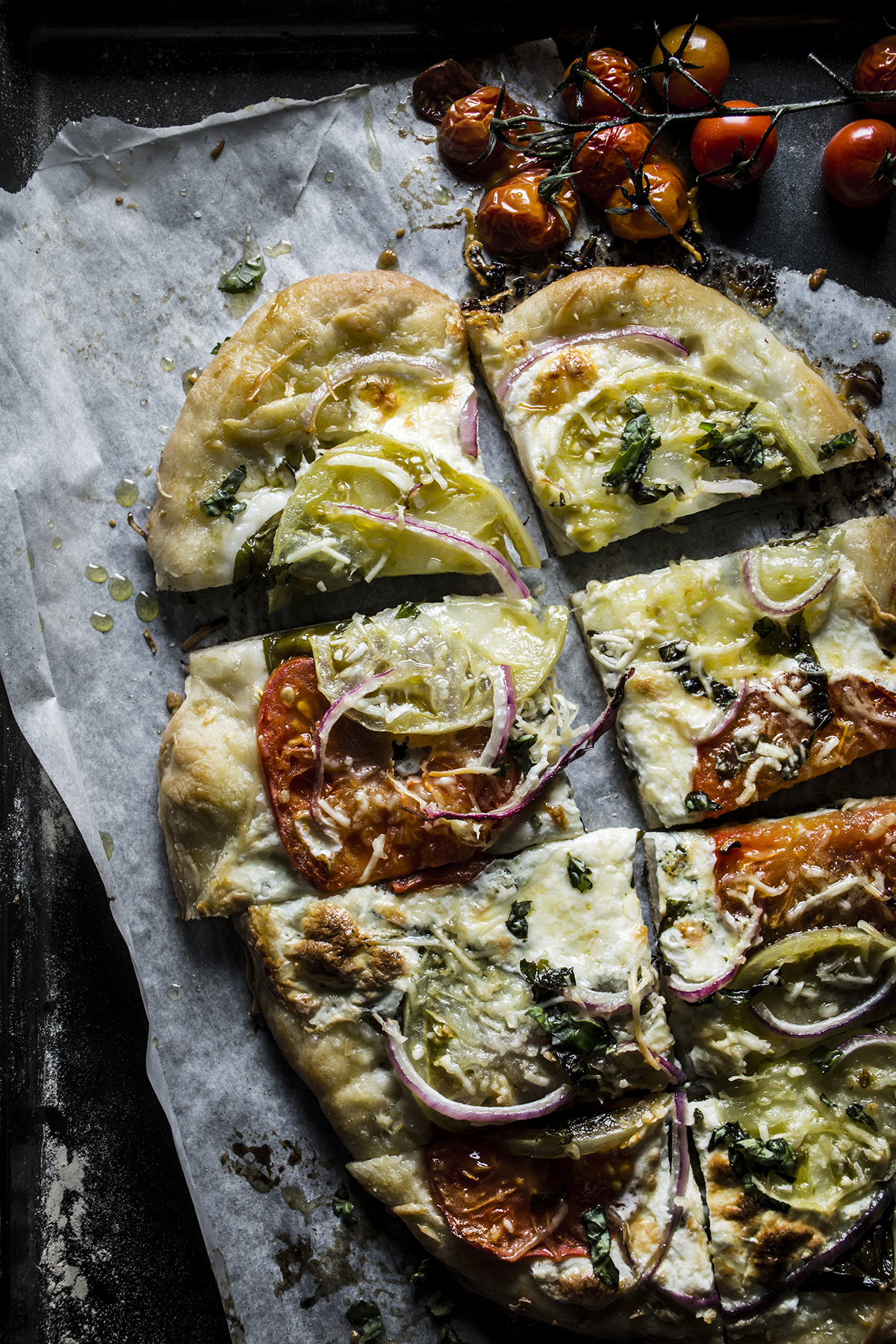 PROPS
Create visual interest.
You can use your everyday dishes for everyday dining, but for your food photography, it's a good idea to start using some props for visual interest. Visit antique stores, Etsy, World Market, Anthropologie, garage sales, or your mother's pantry. The beauty of prop shopping is you don't have to buy a full set of anything. If you don't have much to work with to start, raw ingredients make beautiful props too. Keep your eyes open and see what inspires you.
Much like using a variety of props, having different surfaces and backdrops will help take your photography to the next level. It defines the scene and cuts out busy backgrounds that could interfere with your beautiful food story. A couple of my go-to's are Home Depot for wood, tiles, sample paint and stains and Ink & Elm for backdrops and other vinyl surface varieties.
LIGHTING
Au Naturel.
Natural light is best. Unless you have ample natural light in your kitchen, try not to shoot there. Always set up near a window. Observe the light and move the food around to see how it affects the details of your food. I like to tell people if they have a window and a camera, they already have two of the most important tools in food photography.
POST PRODUCTION
Complete the look.
Completing the look is so important. Since light is always changing throughout the day, it's good to add those final touches where the natural light may have lacked.
Try not to assume you've got a perfect image based on the LCD screen on your camera. It's too small to be sure. Open up your images on the computer and really look at them. This is one of my favorite parts of photography. Take your time to go through your images and study what works and what doesn't work. If you're like me and take a lot of shots during a shoot, be careful not to show duplicates in your story.
During post production, I use Lightroom. It's affordable and dedicated to photographers. There are several editing features within this tool that will come in handy and a ton of online tutorials to get you started. Subtle adjustments make such a huge difference to completing the look of your food shot and after some experimenting, you'll really start to see your style come together.
I'm constantly learning something new every time I shoot. The most important thing is to trust your passion and enjoy the art that you're creating. Never stop finding inspiration because the more inspired you are, the more you will practice. And, the more you practice, the better you will become.
---
Regan Baroni is a food photographer based in Chicago, IL. Her food photography blog, Up Close & Tasty features approachable home recipes, restaurants and world travels. She focuses on a rustic, honest and story-telling style and is capturing the attention of foodies near and far.

Regan Baroni links to follow: Blog | Facebook | Instagram | Pinterest | Twitter