6 Moves to Get You Bikini Ready
If you're not familiar with FlyBarre or barre workouts in general, let us introduce you to this kick butt workout. FlyBarre is a total body sculpting class that blends the best of light weight training, dance and core strengthening exercises, and has a significant celeb following, with Jessica Alba, Vanessa Hudgens and Victoria's Secret models Elsa Hosk and Karlie Kloss all fans of the method. 
Since the summer is right around the corner, we're sharing this FlyBarre at home workout so you can get bikini ready in your own time!
Exercise 1: Plank Pointed Pulse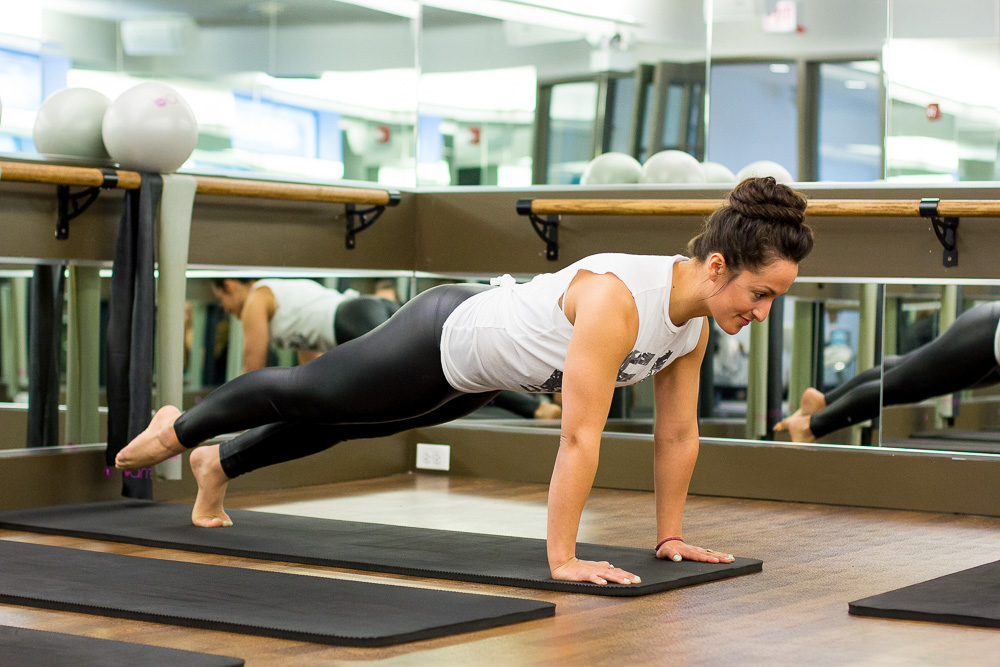 Works: Back, Core, Glutes, Thighs
Come to a plank position with your hands under your shoulders, inner thighs squeezing together, and hips at shoulder height
Extend your right leg 6-12 inches from the ground with a pointed toe
Pulse your leg up an inch (lifting with your glutes) 16 times then repeat on your left leg
Complete 3-4 sets
Things to Think About:
Keep one straight line from shoulders through hips to heels, lift up and out of shoulders, keep shoulders above wrists.
Exercise 2: Parallel Thigh Pulse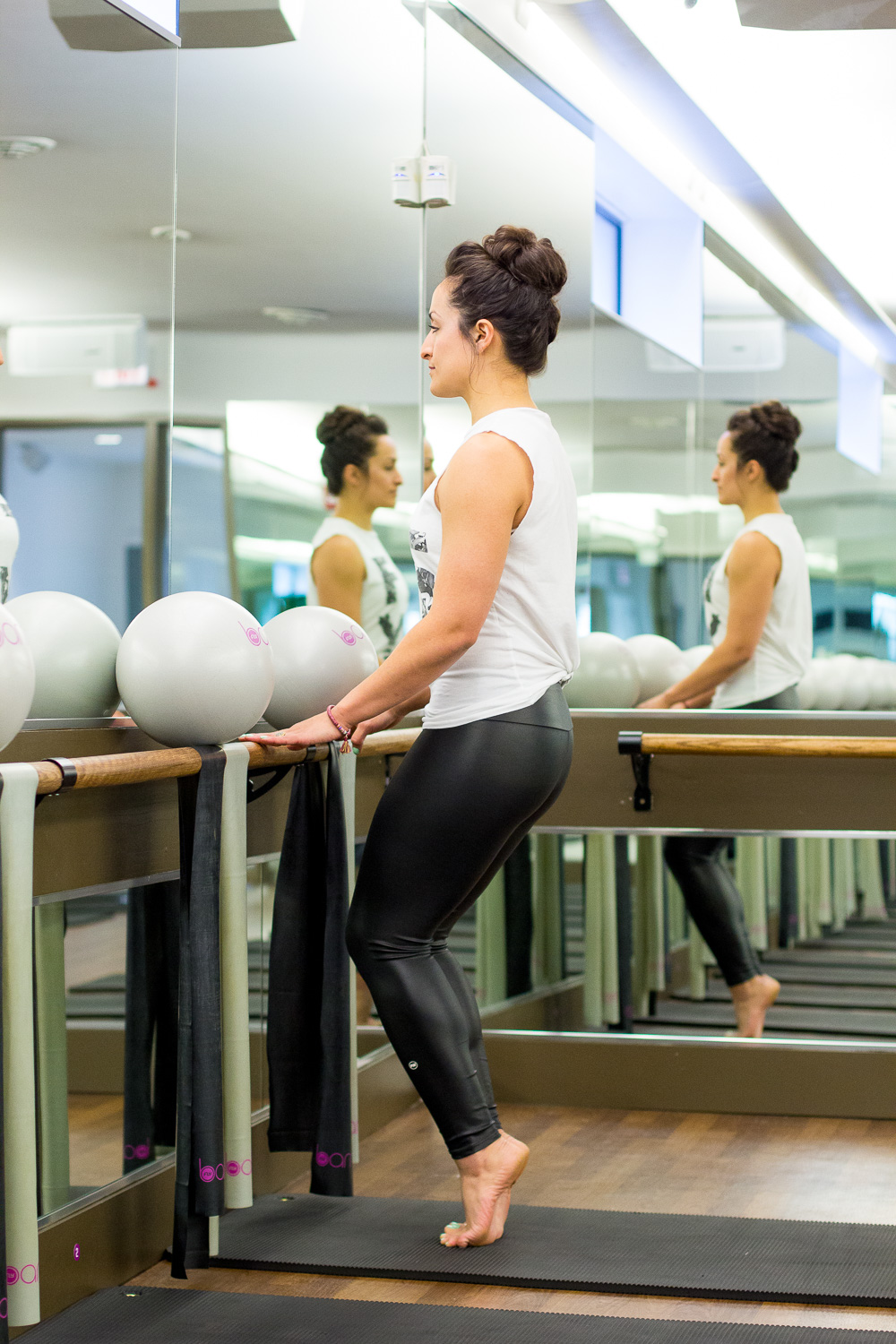 Works: Quadriceps
Place fingertips lightly on barre (at home try a chair, desk or table top)
Bring toes, ankles and knees to touch
Lift heels off the floor and come to balls of feet
Slightly bend knees
Pulse downwards 16 times, hold at bottom for 16 counts
For a challenge try lifting one or both arms for the hold
Repeat 3-4 times
Things to Think About:
Refrain from bending knees 90 degrees, keep shoulders, hips, heels in line with spine straight like you're sliding down a wall, refrain from bobbing heels up and down.
Exercise 3: Tricep Dips with Lifted Leg
Works: Abdominals
Sit on floor with feet into ground and knees together
Lift bent legs so that shins are parallel to the ceiling, balance on tailbone and place hands lightly behind the thighs
Pulse knees and chest toward one another for 3 counts of 8
Repeat 2-3 times
For a challenge try releasing thighs and pulsing with arms reaching long on either side of the legs
Things to Think About:
Keep your spine straight and chest wide, refrain from letting lower back scoop out
Exercise 4: V Sit Pulse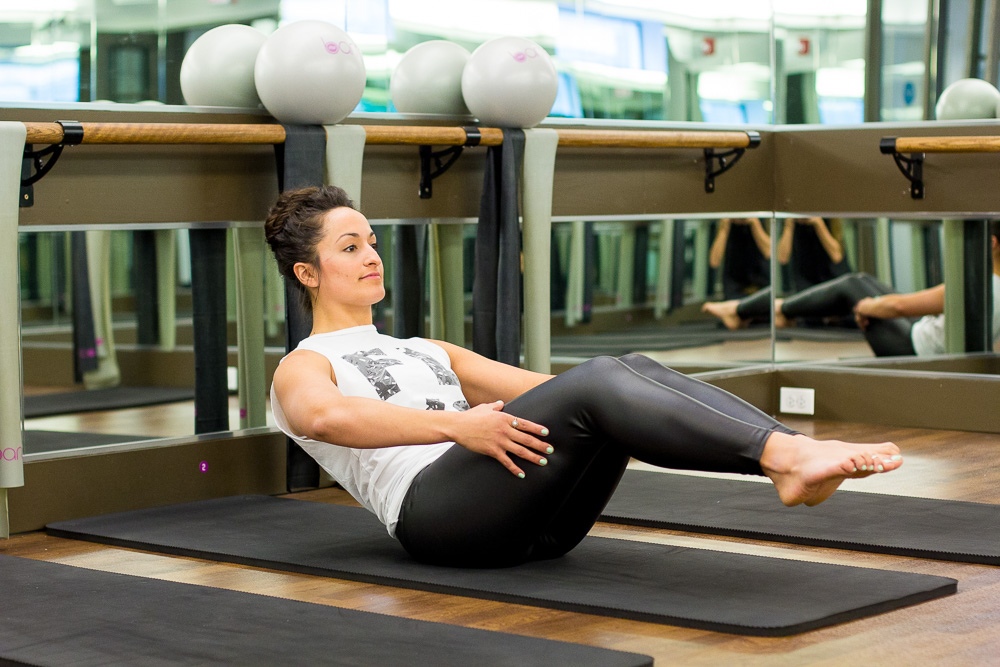 Works: Triceps
Sitting on the floor place feet on floor approx. 12″ from booty with feet hips distance apart
Place hands behind the body with fingertips facing the body
Keep a slight bend in your arms and lift your pelvis off the floor
Bend and extend your arms engaging your triceps in a full range dip for 8 counts
Extend your right leg long, toe pointed, towards the ceiling and bend and extend arms for 8 counts
Lower foot to floor and dip for 8 counts
Extend left leg long and dip for 8 counts
Repeat full set 2 times
Exercise 5: Side Lying Leg Pulse
Works: Abductors
Lay on your left side with hips stacked on top of one another and left forearm placed on the floor with elbow pointing backwards
Slightly bend bottom leg and extend top leg in line with torso
Press right hand into the floor in front of the body to keep torso upright
Extend right leg off the floor 6-12 inches and pulse to ceiling for 16 counts, hold for 8 counts
Repeat 2-3 times then switch sides
Things to Think About:
Pull your belly button to your spine to engage the core, lift up and out of your shoulder to avoid collapsing, keep your top hip directly above the bottom to avoid opening hips to the ceiling
Exercise 6: Wide 2nd Pulse
Works: Quadriceps, Abductors, and Adductors
Place your hands at heart center; stand with your feet wide apart and your toes turned out at a 45-degree angle
Bend your knees deeply and lower your hips, making sure your knees are above your ankles
Pulse your hips towards the floor for 30 seconds then hold at your lowest point for 15 seconds
Do 3-4 reps
Things to Think About:
Keep your abdominals engaged and your back flat with shoulders above hips, Knees should track along the middle toe; don't let your feet roll forward
Thanks to Elena of FlyWheel Sports who happily demonstrated and explained these workouts for us!