Two Days in Florence, Italy
Our past Thanksgiving was a little bit unusual. Instead of sitting down for a feast of turkey and stuffing, we were half way across the world sitting in a small cooking in Italy school learning how to make a few rustic Italian dishes. Yes, it was pretty different than what I'm used to, but it was amazing. I've been lucky enough to visit Italy several times and I always leave loving it even more, but there's one city in particular that I think I may never get enough of and that's Florence.
It's not a huge city, but it's jam-packed with history, good food and incredible shopping. If you can't plan a dedicated trip to this gorgeous city, make plans to go for at least a couple of days.
WHAT TO SEE
Piazza del Duomo The gorgeous and intricately decorated Cattedrale di Santa Maria del Fiore sits in the middle of this piazza and it's a huge tourist attraction. You can climb Giotto's bell tower for great views of the city or just walk around and admire the beautiful cathedral, it's one of the most beautiful I've ever seen. It's also on the UNESCO World Heritage list! Accademia Gallery Michelangelo's famous sculpture, "David", is housed here and it's pretty magnificent. There's also a good number of Michelangelo's unfinished sculptures. Pretty crazy to think these all started as large chunks of marble. Lines can be long though, so book in advance! Uffizi Gallery It's one of the most prominent art museums and sits near the Piazza della Signoria. There's hundreds of pieces of beautiful artwork in here including one of my favorites by Botticelli, "The Birth of Venus". Many of the galleries hold paintings and sculptures collected or commissioned by the Medici Family.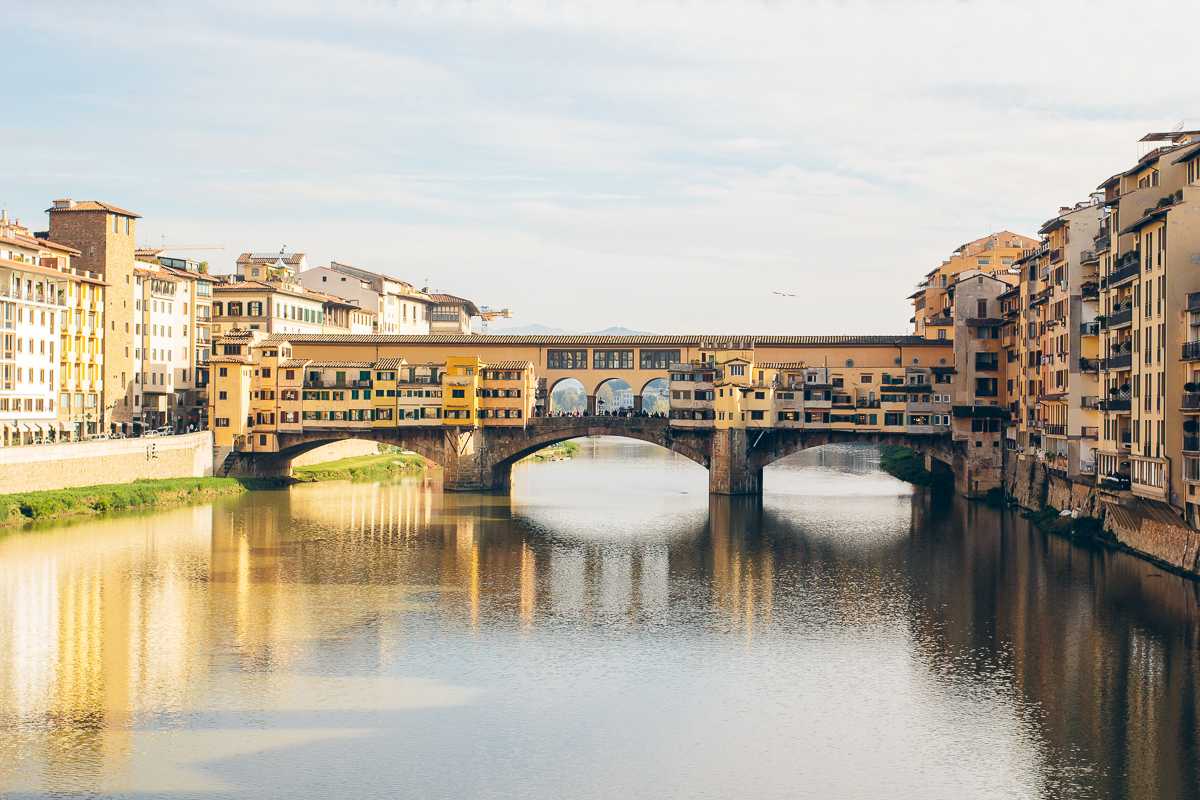 Ponte Vecchio This arched bridge that spans across the Arno River is full of small shops. Back in the day butchers used to occupy them, but now they're filled with jewelry shops. On one side you'll notice a covered passageway, the Vasari Corridor, along the top that dates back to 1564 when the Medici family had it built so they could easily move between the palace and home. Piazzale Michelangelo This piazza is up on a hill so you get gorgeous views of the city. You can walk to the top or take a bus. There's also a replica of the famous David sculpture if you didn't get enough at the Accademia Gallery.
WHERE TO EAT
Paoli On our day trip to Florence, we ate lunch at Ristorante Paoli. The food was delicious and I felt like we got a really authentic Italian family dining experience. The bathroom is funny too, you have to take a narrow winding staircase to get there.
The Oil Shoppe We first heard of this quick sandwich spot from friends who had studied abroad here. It's fabulous and perfect if you don't want to stop for a long lunch. It's close to the Duomo as well!
4 Leoni Our very first trip to Florence we ate here. They gave us free prosecco while we waited and it was worth it! The food was fresh and less traditional which was a nice break from all the pizza and pasta we'd eaten! MORE Make sure to start your morning with a cappuccino and cornetto (similar to a croissant) and after lunch or dinner, make sure to get some gelato.
SHOPPING
After walking around, you'll quickly realize that Florence is full of a ton of high-end designer boutiques. If that's not your thing, make sure to check out the leather markets. They're known for the top-quality leather products and this is the perfect place to grab a new bag or leather jacket.
We also popped into a few vintage stores where I found some great deals on vintage designer bags like Louis Vuitton, Hermes and Gucci. You can also find the basics like Zara and H&M if that's more your thing. Have you been to Florence before? We'd love to hear your favorite spots and and tips on traveling here!