Erin Minckley Chlaghmo of Relativity Textiles
We're so honored to have the lovely Erin Minckley Chlaghmo of Relativity Textiles, a Chicago based textile design company on the site today! Erin is a true creative – and we've loved watching her build her beautiful design company from scratch over the last few months. Inspired by her travels around the world, Erin creates striking patterns and designs inspired by her visits to Morocco, Vietnam, Paris and more. Discover Erin's inspiring entrepreneurial story and fall in love with her designs as much as we have!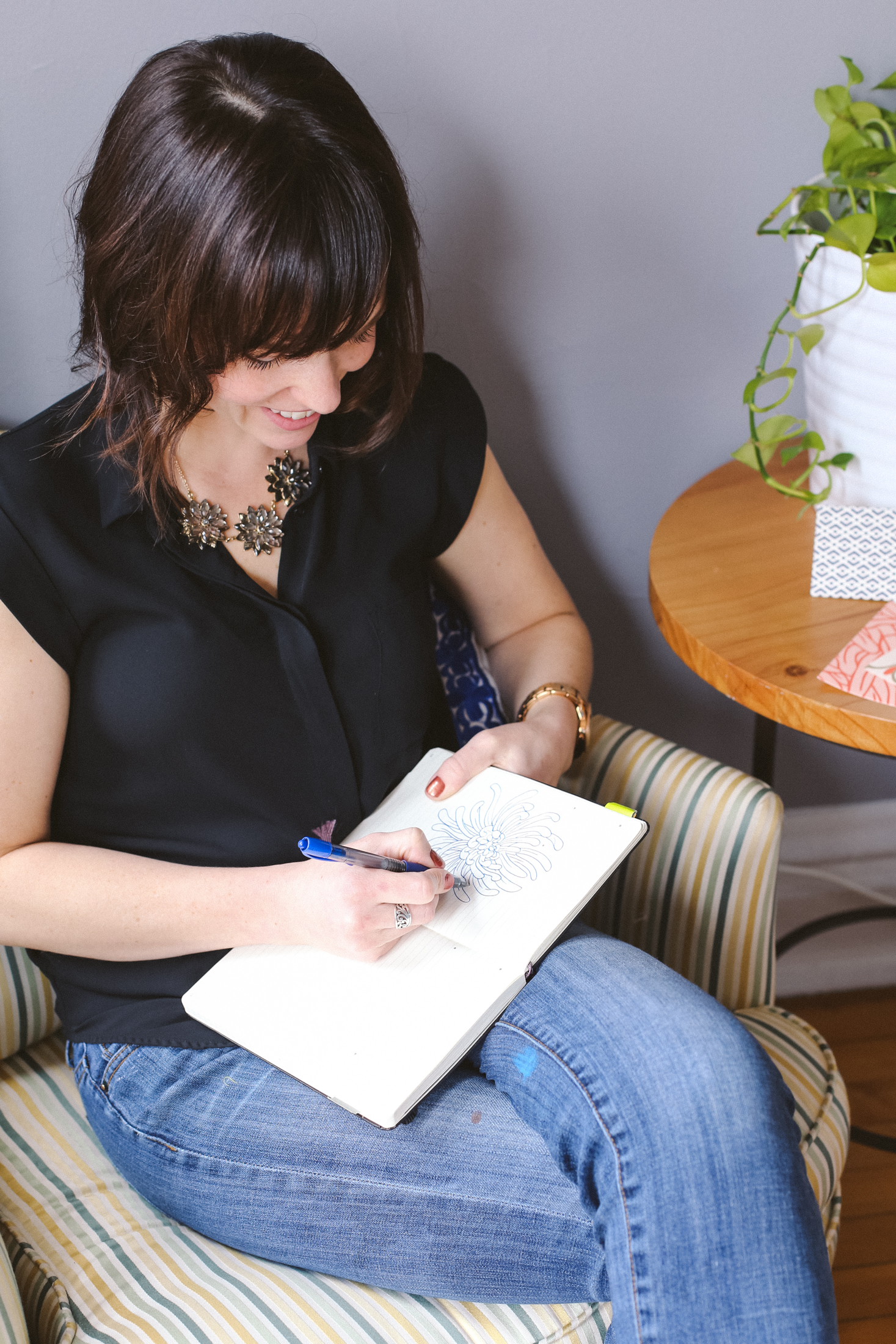 Who or what inspires you?
As an artist, my themes have been about belonging and identity formation. I looked to suits of armor and patterns in nature of self-defense, like fish scales or feather structures. This metaphor of the inside being fragile and the outside protecting the person or thing is understandable to anyone from any background.
I like the idea of camouflage and massive patterns that encompass an entire environment. I realized that a pattern taking up a space is what I love so much about wallpaper. Some people might feel like that is overwhelming, but I find it soothing and inspiring I'm inspired by other cultures. Blending and morphing of cultures. Collisions. I get revived being in foreign landscapes and learning new things.
I'm inspired by patterns and ornament and decoration that symbolizes culturally significant things. Architecture, rugs and garments for rites of passage. The currency of a stain glass window in a church exceeds the beauty of the color palette or repetition because of it's spiritual qualities. A prayer rug has embedded meaning for the user, and thus it was made passionately for daily ritual/consumption. A wedding gown worn on a day that will be remembered as the most special day of someone's life transcends pretty beading or lace. Obviously, these traditions are relatable to everyone, even if one is not religious or married. I like looking at the abstract qualities of pattern as something that anyone can relate to, not just me in my American, white, female body. We are huge fans of your gorgeous wallpapers and patterns!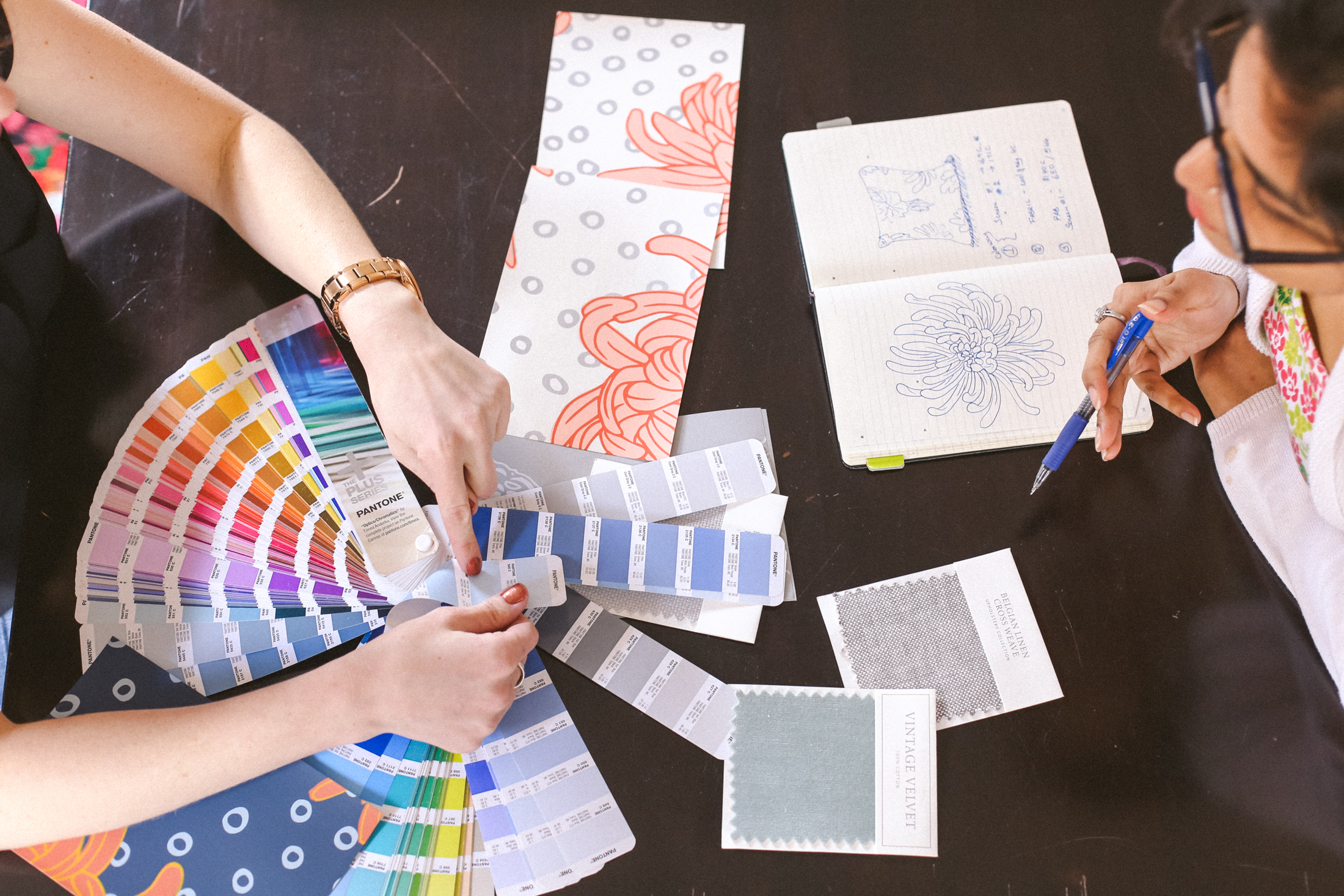 What has your journey been like as an artist and developing your craft?
Thank you! Well, the journey has been long and winding. It wasn't a straight path. I never thought I'd become a wallpaper designer, actually. I was a painter, by training, until I came to Chicago for graduate school. I was buying a lot of patterned fabric to paint on, when it was suggested that I take a screen printing for fabric class and make my own fabric. At that moment, I was really awakened to a craft that inspired me. I wanted to print cloth forever. Learning how to make something gives one an understanding of the value of that thing. An understanding that not many other people have. I liken this to a mechanic who fixes up cars or builds them from scratch. He knows the anatomy of a car so well, that he appreciates every moving part, where as most people just need a vehicle to get them from point A to point B.
The longer answer is that I worked for a LOT of other artists and designers in a small period of time and helped them make their work. I wasn't receiving much credit, because their car was showcased, not my mechanic's work. But, this is to say that I had valuable hours working towards mastery where I wasn't making my own images. The stakes are higher when you're fabricating something for someone else. There's a level of precision you have to touch and you take it very seriously because it's your job. So, I learned to do things the right way, with tight deadlines and now I can practice that in my own work.
Seeing my labor become an object that appeared at the Museum of Contemporary Art, the Chicago Cultural Center or on major design blogs is really awesome. But it inspired me to work for myself instead. So that the showcase would be my own label or name in the future.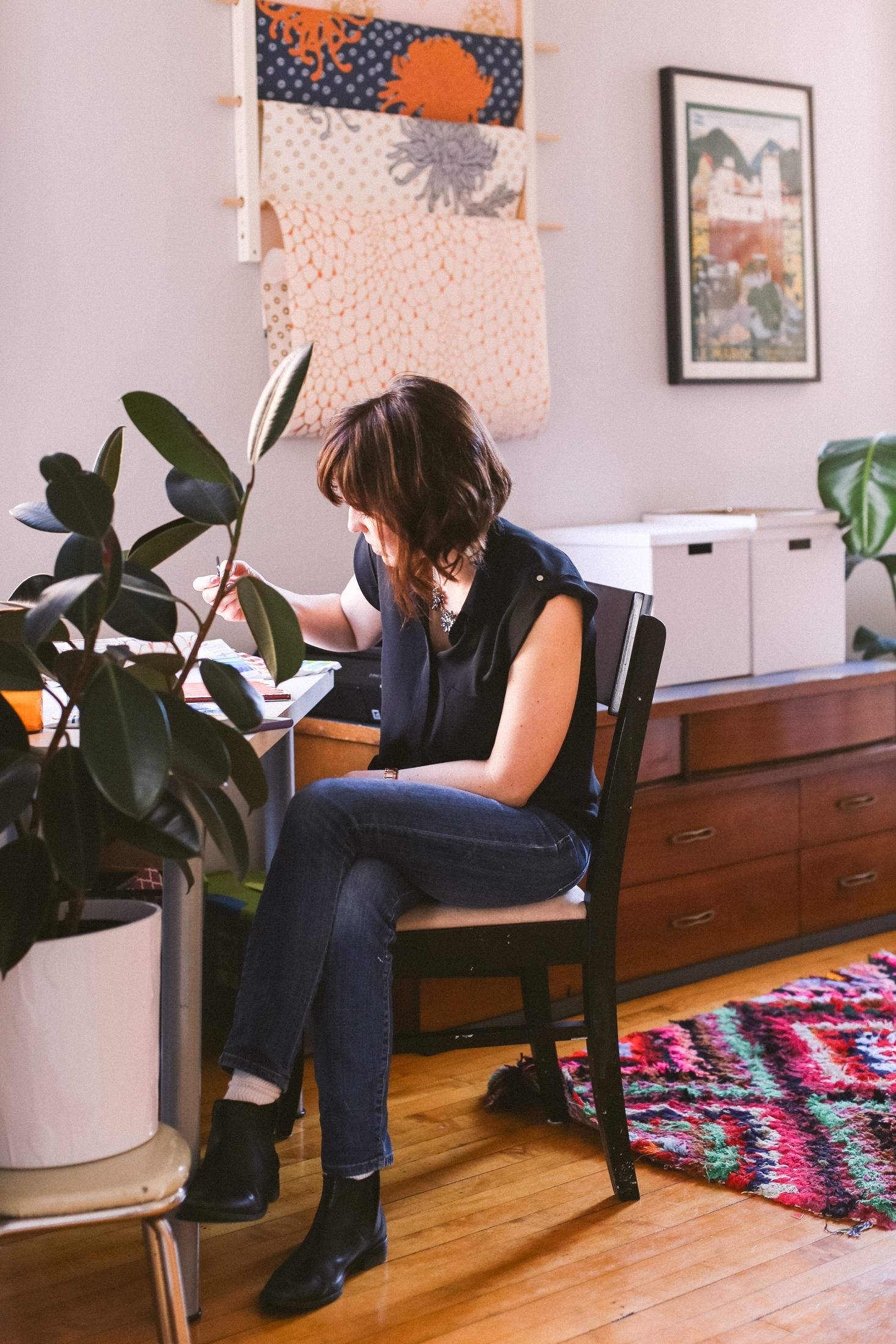 What's the process been like of starting your own business? What has been the most rewarding part? And what's been the most challenging?
Starting one's own business is not for the weak of heart. It requires so much persistence. It requires action every day and organization. It means asking a lot of questions. It requires sacrifice. And most of all, I've had to learn to ask for help. You cannot possibly do everything yourself. So, you outsource the videography, the web design, the photography, the printing, the cutting, the…everything. And there's lots of room for error. The hardest part for me has been trusting everyone and getting punished for it. There are some people out there that are looking to make a buck and not build a relationship. They don't want to help you or be a part of your process. They want to help themselves. That sounds super pessimistic, but truth is there are more good people out there than bad! Thank goodness.
The most rewarding part of my journey so far has been launching a Kickstarter campaign. It was very difficult for me to ask people for money, or even to admit that I needed help financing this project to begin with. Since, I thought that would make the business look like it was struggling. But, the fact is, I now have a bunch of people rooting for me and taking part in my empire. They feel that they are contributing and I feel like I have an audience. I recommend it to everyone! It's a great built in following, for those who don't have one yet.
Another note is that being "emerging" is challenging. When you're new to the party you often feel self conscious or inexperienced. I felt like there were so many other designers with more skills, more experience or more money to fund their collection/launch. And that is true. But, having the drive and the excitement about your company is priceless. It's this kind of raw energy or adrenaline that forces you to take leaps of faith and put yourself out there that you never knew you had. You just show up to the party wearing a hot pink dress, like "Hi! I'm here!" I found showrooms that wanted to rep my line and I got surprised. All of them said "You're so talented. This work is so good." And I thought, "huh? I guess I do have skills. What was I so worried about!?" You have to trust yourself more and push through the fear and doubt until you see the light. Otherwise you never try and they you'll never know if you could've made it or not.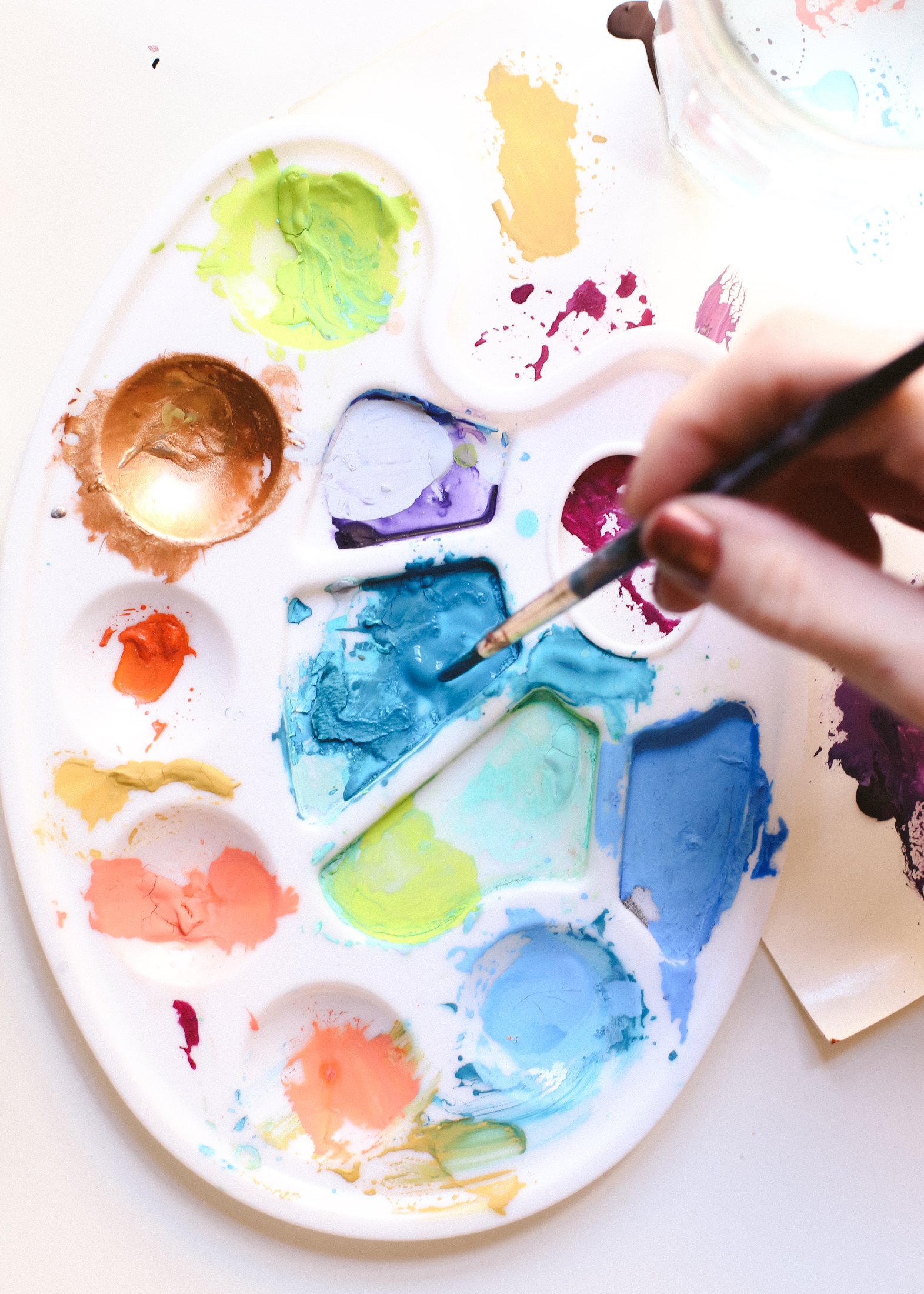 We are so fascinated by your process of how you dream up patterns to transform them into beautiful wallpaper. How did you learn the craft?
I worked for one year at a wallpaper factory. It was the least glamorous job anyone's ever had. I was highly underpaid and overqualified. But, it was the most invaluable experience towards what I'm doing right now. I watched some very admirable designers' patterns come through the shop and I was responsible for getting their artwork print ready. With a firm knowledge of the process and how to repeat a print, I enabled them to have an efficient process. I saw a lot of behind the scenes tricks for print production. I mixed colors, burned screens, edited films, shrink wrapped rolls. I did everything, since our team was small.
Seeing the economy or industry behind one woman's artworks gave me an appreciation for all that goes into a product sitting on a shelf, ready to buy. There are people behind all of that. There's a guy with a toothache printing wallpaper, waiting to go home and see his dentist. Doing his work. There's a young mom, sitting in front of a computer for hours making sure your vector image is totally perfect, tweaking it for hours, waiting to go home to her baby. There's a veteran, shipping your containers all over the world, who doesn't know where he's going to live next month. Those are real stories. So, in seeing this economy, I thought "When I own my own brand, I will surely highlight the hands that touch my product. Every person who is involved deserves credit for the effort and craftsmanship that they put into their job." I guess because I was the laborer, the technician. It's not glamorous. And it's a hidden part of the industry. There are people who like seeing that. And then there are people who just like driving fancy cars that get them to point B.
Malcom Gladwell said it takes 10,000 hours of practice to achieve mastery. That's why doctors do internships before they're allowed to practice. I have been at this for about 6 years, so I suppose I am a master now. Let's hope someday this career path helps me pay off my Master's Degree (lord knows doctors have a way better chance of that than artists.)
What's the best advice you've been given with your creative business?
Business is Business. This one is always a hard pill for me to swallow. As an artist, especially and as a woman. If someone looks at a wallpaper doesn't like it then it's not a reflection of me. As a person. Critique is not an attack on me or something I didn't do right. Critique is an opportunity to get better or change my technique/approach/clientele.
Selling something that is your own artwork is tied to your soul. It's very hard to release one's self from the time, meaning and feelings that went into an artwork. But, looking at it as a product is paramount to success. My artwork needs to fill an emotional need for my client. (Not for me.) It needs to make her feel special! (Not me!) It needs to make her breathe a sigh of relief or pride when she enters that well designed space and sees my paper. She needs to feel good about what she's just paid for it. She needs to feel good about the cause she's just supported, etc. I am thinking now about her when I make wallpaper. "Me" is the origin, but she is the end point. If you could collaborate with anyone (or another business), who would you collaborate with and why?
What's been your most exciting collaboration to date (if applicable)? Ooh. Anyone?
I would love to collaborate with Timorous Beasties. They are a firm based in Scotland, two artists who studied under the same mentor as me, though 20 years removed. I would love to work with them on something, though they rarely do so. They have an amazing print studio and several showrooms across Europe. I first saw their work in the Art Institute of Chicago and met one of the founders last year. He was so generous and emailed back and forth with me about how to stay true to one's artistic vision while still selling product.
A more realistic idea is that I'd love to design a collection of rugs. So, I am actively looking for artisans around the world that could fabricate something of my design. I'd love to highlight their talent, skills and lives in the process and thus take equal part in the final product.
I don't really have a most exciting collaboration to mention. I've always just worked for other people without them ever mentioning me.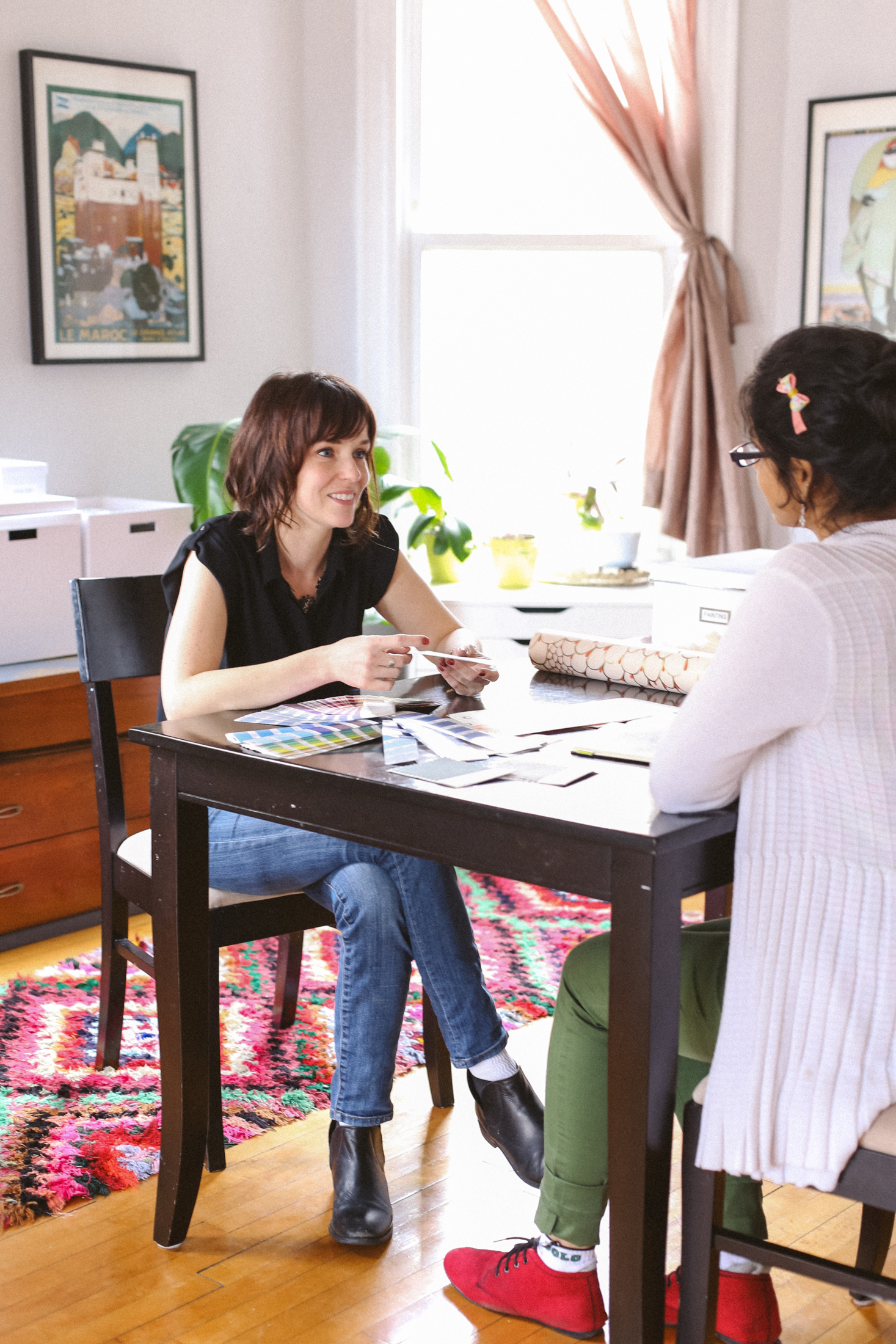 We love that you're a fan of big adventures and traveling. How has travel inspired your work over the years?
Travel has been a part of my life since I was 17 years old. I spent a month living out of a minivan in Baja Mexico with my alternative school group. We went to Vietnam the following year. In college, I studied abroad in Morocco, learning Arabic and living with a host family for four months. I immersed myself in that culture and began to adapt. Later, I visited many countries with my husband who is a flight attendant: Brussels, Venice, Dubai, Barcelona, Paris. We've seen many places together for short trips. But I have an itch to go to India, Turkey and Australia and spend some time there researching textile history and fabrication.
Immersion is a funny thing. You can't truly learn a new language unless you jump into the deep end and begin swimming. Likewise, you can't truly understand another person's culture unless you walk 1,000 steps in their shoes. My aim when traveling is to try to understand the complexity of a culture. Not simply view it. I want to know about food, rituals, sites, music, popular culture, art and architecture too. But, it helps to see things with locals or stay with locals. You barely get a whiff of a place staying in a hotel.
My second home is Morocco. Spending every summer with my husband's family (he is Moroccan) means that my kids are growing up straddling two languages, two cultures and two religions. We are somewhere between Santa Claus and Ramadan, I like to say. It's amazing to see their understanding of the WHOLE WORLD at such a young age. This is a luxury I did not have growing up in a homogenous society in Salt Lake City in the 80's.
So, travel hasn't inspired me as much as immersion has. Paradigm shifts. Seeing a new way. I taught on an Indian Reservation in Southern California when I was fresh out of college. That was a local but foreign excursion. I was quickly re-educated about the American story and my eyes were blown wide open by a reality that is seldom discussed about Native Americans and their quality of life and the tremendous traumas they've suffered on our own soil. I experienced racism for the first time and that shifted my view on life. It made me empathetic to what life might be like for someone of another race than mine. To be seen consistently for how you look instead of who you are. To be reduced to a color. I wish there were tours for this. I wish everyone could spend 9 months like this and serve a similar population. We'd be a more compassionate society and more honest with ourselves. We'd be more apologetic.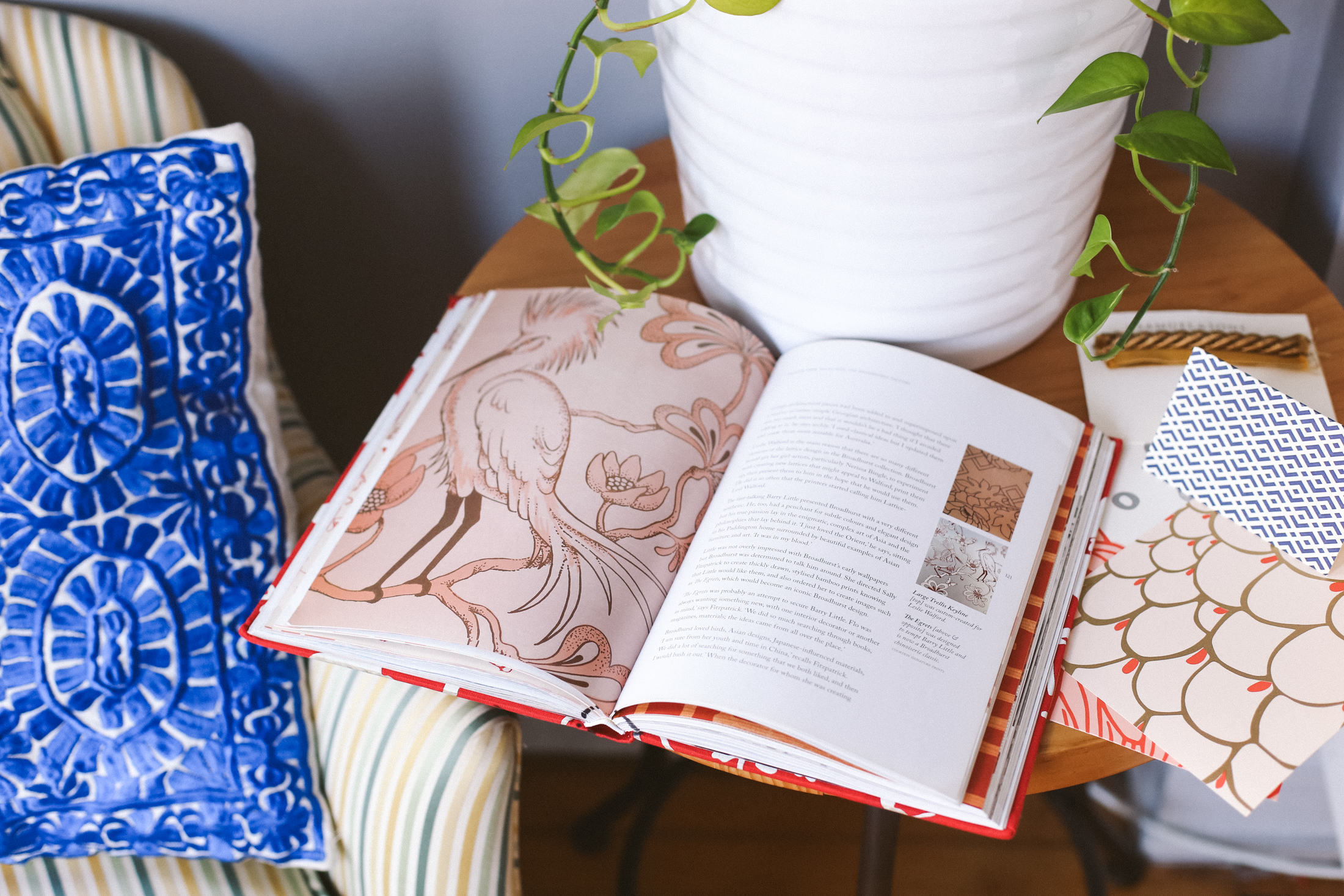 How would you like to see Relativity Textiles grow in the next 3-5 years?
I have big goals for this little company. We will very soon offer wrapping paper and gift cards. Also in 2016 I will release a line of fabrics. I will open a print studio in 2017 where I can fabricate these textiles by hand. I will employ a lot of art school grads, train them and assist them in starting up their own art practices. I want to create an economy for artists in Chicago, albeit a tiny one. I am actively looking to find showrooms in other cities in the U.S. and abroad that we haven't reached yet. I am working on getting published in major design/decor magazines [4-6 page Style Maker article releases March 8th in Luxe magazine!]. I'd like to work on custom projects for high profile designers. I'd like to be writing a book by year 5 and own a home (full of wallpaper of course).
Where do you continually find inspiration for your work?
Pinterest. Every single day I look at Pinterest. It sounds silly, but it's possibly the most comprehensive visual archive there is. I love textile history: weaving, lace, tile, embroidery, fabric, wallpaper, clothing, woodworking, metal, nomadic dwellings. I love ornament: pattern, details, decoration, adornment. I search all over the world, any decade but this one. There's something fun about reviving something that has been under the proverbial bed for a while. Discovering what was already right here under our noses, dusting it off and hanging it up.
Nature also serves as inspiration because the manmade world has limitations. In many cases, design is mimicking that which is already found in nature anyway. Fish scales, sea shells, snake skin, microscopic cell structures, flowers. These are your most common "repeat structures" found in textiles: half drop, spiral, mirrored repeat, half brick, toss print.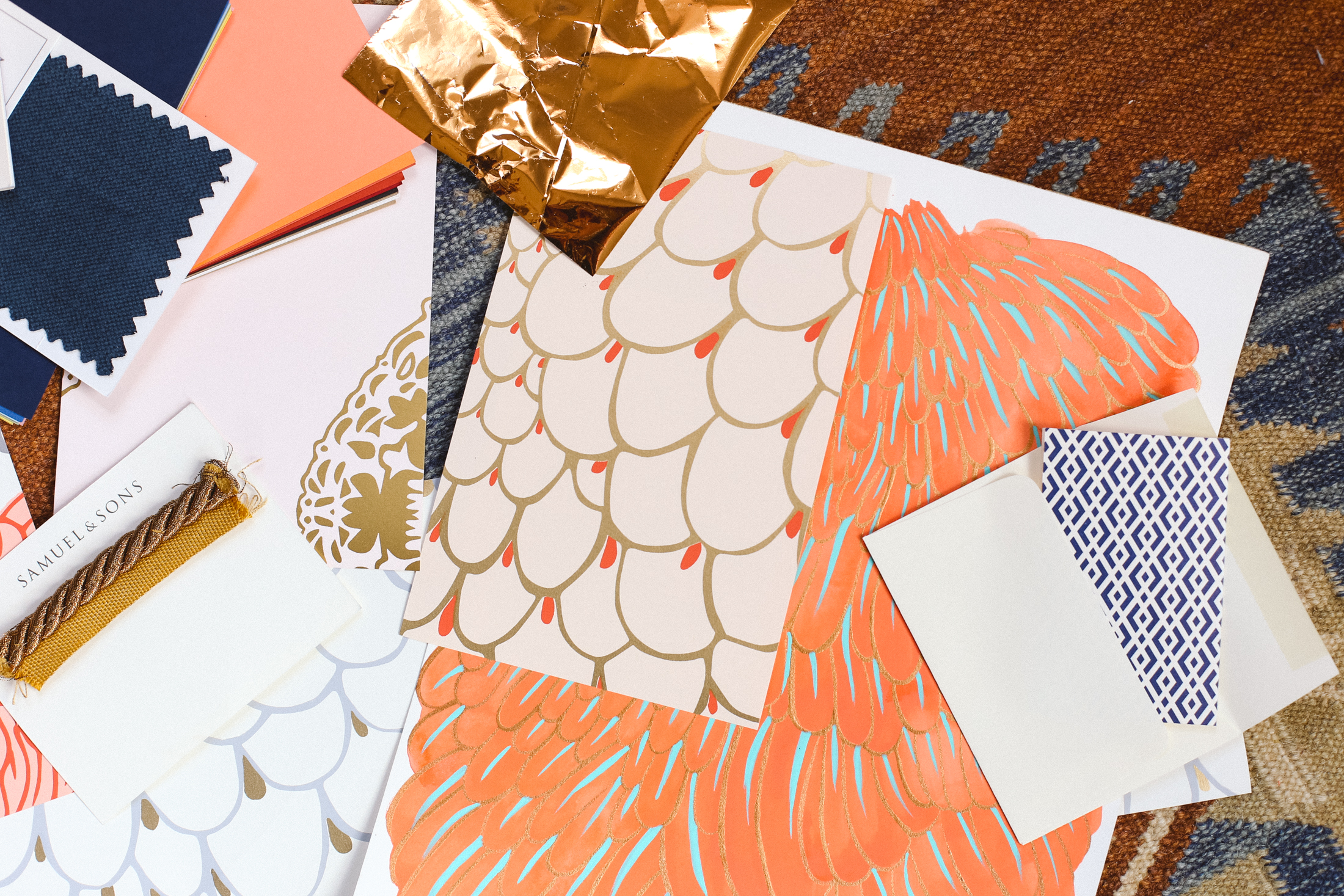 What does being creative mean to you?
Being creative means using the right side of my brain. There's not a lot of logic or pragmatism for why I create in the moment. So, processing an idea. Getting it from my imagination into a physical form. Making something real which only existed in my mind. Problem solving until it looks the way I imagined it. Art. Painting. Printing. I love block printing. The wallpaper part is super technical. Mathematical. Everything has to line up and be efficient. It's not much "fun", really. It's work.
Creation is when you get to play and not think about whether its productive in any way. Using intuition. It doesn't have to be anything or make anyone happy except you. That's being creative. Unfortunately, creativity is in opposition in some way to business. If you can find a way to do both simultaneously and earnestly, please let me know. I would buy a ticket to that seminar in a heartbeat.
---
Learn more about Relativity Textiles on their website, and follow along on Instagram, Facebook, Twitter and Pinterest!