Designer Tips for Decorating with Books

IMAGE VIA
It would be lovely to have fabulous built-in bookcases (how about this entryway) or miles of wall space to install custom shelving (hello rainbow book collection!), but most of us are dealing with the real world when it comes to decorating.
Whether you have the perfect built-in bookcases or not, you can still master the art of styling books and make a colorful, or delightfully subtle impact based on your personal taste.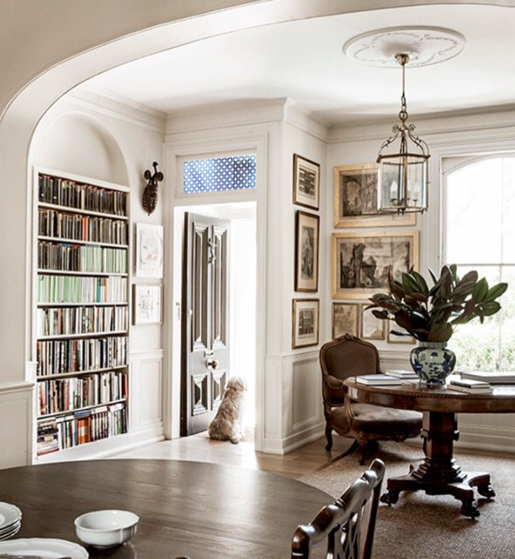 IMAGE VIA

IMAGE VIA
Books are the perfect styling and decorating prop and summer is also prime yard-sale time, and you almost always see a bin of books just waiting to be picked through.
Below are three different routes you can take with your book styling, and my personal shopping tips. Next time you see that bin of $1 books, you'll be armed with inspiration!
Tip 1: Shop for Neutral Books & Decorate with Vintage Touches
If you gravitate towards a neutral palette (think whites, creams, wood tones and a hint of green) there are several options for you to consider.
Look for books with cloth covers, particularly neutral or pastel in color. Taking book jackets off of vintage books often reveals gorgeous cloth covers underneath.
Try turning books around. Arranging books to show the white pages may not be great for finding your favorite novel, but it sure looks nice if a neutral palette is what you are after.
Get a little destructive and rip off book covers altogether. If you like this more organic look, stack a few "deconstructed" books together and tie them with bakers twine.
Add textural baskets, vintage trinkets like clocks or frames, and even artfully place a special vintage book under a cloche for a unique, polished look.

IMAGE VIA

IMAGE VIA
Tip 2: Shop for Colorful Books and Decorate with Modern Touches
If you gravitate towards bold colors, geometric prints, and clean lines try these ideas.
Shop by color. Whether the book jacket is on or off, hunt for similar colors or combinations you think will look good together.
Again, take book jackets off. Try this with books you have at home! You'll be surprised how many great colors are underneath.
Look for modern imagery, designs, shapes, patterns on book covers. These will often be art books, so look in the art/design/architecture sections first.
Style books in groups based on color palette. Decorative fireplace? Fill it with books! Empty coffee table? Fill it with books! Sad looking bar cart? Fill it with books! You get the idea.
Tip 3: Shop by Category and Decorate by Organizing
If you are deeply inspired by art, travel, history, science, etc…there's a book for that. Use your collection in an artful and organized way to create interest and impact.
Example: travel books are constantly updated and therefore recycled often. Scoop up travel books, and create categories to organize shelves and showcase your worldly interests. This look would work with any category and help keep you organized!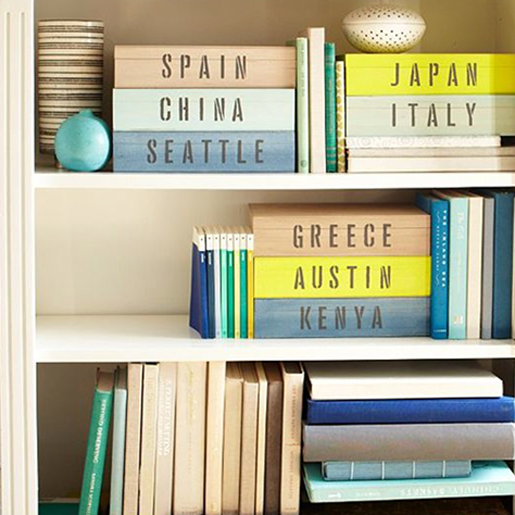 IMAGE VIA
General Styling Tips:
Think horizontal and vertical for book placement
Add accents – sculptures, frames, plants, vases, decorative bowls, baskets
Narrow your focus – decide what the "look" is going to be. White and brass, natural tones and plant accents, colorful with modern accents, etc.
Once you've styled till your heart's content, grab a good book and settle down for read!
---
Claire Staszak, the emerging interior designer and blogger behind Centered By Design. Claire is currently working towards her Associates Degree in Interior Design at Harper College, and interning at Nate Berkus Associates.