The Wall Décor Trend You're About to See Everywhere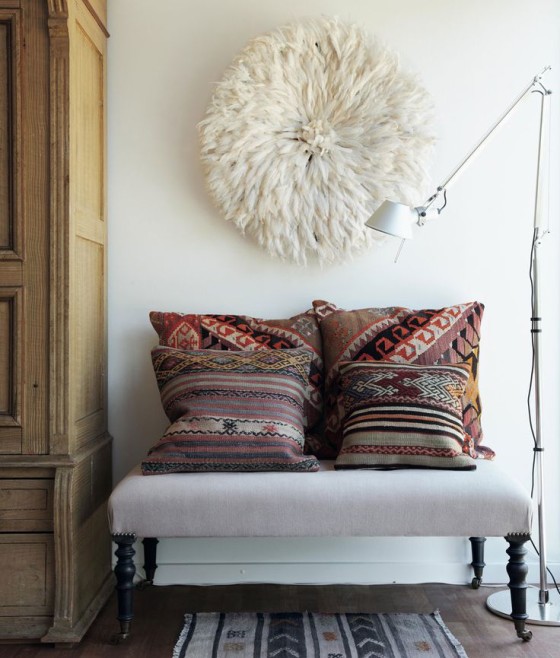 The next big thing in wall décor—probably not a phrase you hear very often, right? Well, there's frankly no better way to describe the up-and-coming African juju hat trend. You're probably thinking, "What the heck is a Juju hat?!" but I can pretty much guarantee you've noticed the fluffy, statement-making pieces popping up in the work of your favorite décor designers (or on Pinterest!) lately. African juju hats are a great way to create impact on large, empty spaces, while adding a softness and dimension that's hard to achieve with more traditional, framed artwork.
Typically made of exotic bird feathers or dried grass in bright, colorful shades (hues like bold cobalt, pink and even earthy tones are popular), African Juju hats were traditionally worn by royalty, chiefs or other prominent members of society during special occasions (think weddings, ceremonial gatherings or funerals). Originating in the Bamileke, Tikar and Babanki tribes in Cameroon West Africa, they're now being given new life as stunning wall art. I love how plush they look—from far away, it almost seems as though they're a flower bud. So pretty!
Juju hats are perfect if you have a large space to fill. In my apartment, we have a huge empty block of wall above our television and not a ton of money to invest in upwards of ten pieces of art for a gallery wall—I'm thinking a singular bold Juju hat might be our perfect art solution. My favorite styling ideas? I love the look of a neutral combination (like this ivory and black one) hung over a bed for a calm focal point in the bedroom. Clustering a few in a bright blue would be fun over a console table in an entryway, and working them into a packed gallery wall is a great way to create some "breathing room" between your frames. What are your thoughts on bringing home this exotic home trend—sans passport?
photo sources: one, two, three
---
About the author: Alyssa is a magazine (and our "nest") editor who spends her time eating (and living) in New York City. When she's not styling shoots and writing copy for Good Housekeeping, she can be found dreaming up content for her lifestyle blog, The Glossy Life, exploring the city, rearranging yet another corner of her apartment or raiding the farmer's market. Loves Bruce Springsteen, spies, curling up with a good book, a personal block of cheese, crackly old records, exploring new cities and truly believes Mindy Kaling is her spirit animal. Really, she is.