Creative Space Tour – Foxtail and Moss
There's nothing better than discovering a creative space that not only inspires, but is drop dead gorgeous to boot. While we love home tours as much as the next gal, we're really interested in highlighting spaces our favorite creatives find inspiration from day in and day out. Today, we're giving you an office tour of Foxtail + Moss, the dynamic Chicago creative duo that was designed by the incredibly talented Claire of Centered by Design! Take a peek at this gorgeous bohemian-chic space and get inspired to make your space even more creative. 

We love your collaboration with Centered by Design for your studio space redesign! What inspired you to update your creative space?
Thank you so much! When we first started blogging, we worked out of our homes. We would meet in one of our kitchens or living rooms and just absolutely tear the place apart staging photos and constructing DIYs. It was a mess!
So when we moved into this big airy empty loft we were beside ourselves- more room to make more messes! We were so focused on working and creating that we neglected to decorate. We bought a couple tables and chairs and brought in an old rug from my house and called it a day. To say we were going for a minimalist vibe would be an understatement!
Around that time, we were introduced to Claire Staszak, of Centered by Design. She suggested we collaborate to take the studio from generic work space to cozy bohemian sanctuary. She really pushed us to create an environment that sparked creativity and felt comforting to be in and it's made such a difference!
When thinking through your re-design, what did you want to accomplish with your space?
We use our studio for a myriad of purposes. It serves not only as our DIY workshop and photography studio, but also a space to host events, meetings, and gatherings. Anything hanging on the wall, every piece of furniture, has to be multi-functional and easy for us to move around. The space has to adapt quickly and easily.
On top of that, the loft is really fairly small. A long rectangle about 20' x 10'. We wanted to break the room up in to clearly designated areas. This is where we answer emails, this is where we create DIYs, this where we shoot photos, this is where we hang out, sip coffee, and dream up our next project.
It was a bit of challenge when taking all those things into consideration but we really feel like we accomplished those goals!
When going through the design process, where did you find inspiration? Was there a certain vibe or style you wanted to accomplish, pins on Pinterest that inspired you, etc.?
Claire and I both have what we like to a call a modern bohemian aesthetic. We love Scandinavian inspired interiors, neutrals, a very minimal feel. But at the same time we dig lots of plants, kilim textiles, sheepskins, the whole 70's vibe. Claire Staszak did such an amazing job of channeling that energy and keeping us true to that vision!
We pull a ton of inspiration from places we've traveled and cities we've visited. Exploring different cultures and landscapes can open your eyes to new color schemes, patterns, and design ideas. But there's so much to be inspired by here at home in Chicago! The architecture, street style, museums and galleries. Every neighborhood has its on energy and influence. And we're constantly inspired by fashion, artist, makers and photographers, both current and from past decades. Right now, we're smitten with vintage interior photography and design books from the 60's and 70's.
Of course, we get a ton of inspiration from Pinterest and Instagram. But we try not to get too caught up in that. It's way too easy to compare yourself, your space, your possessions, to these seemingly unobtainable interiors and homes that you find on social media.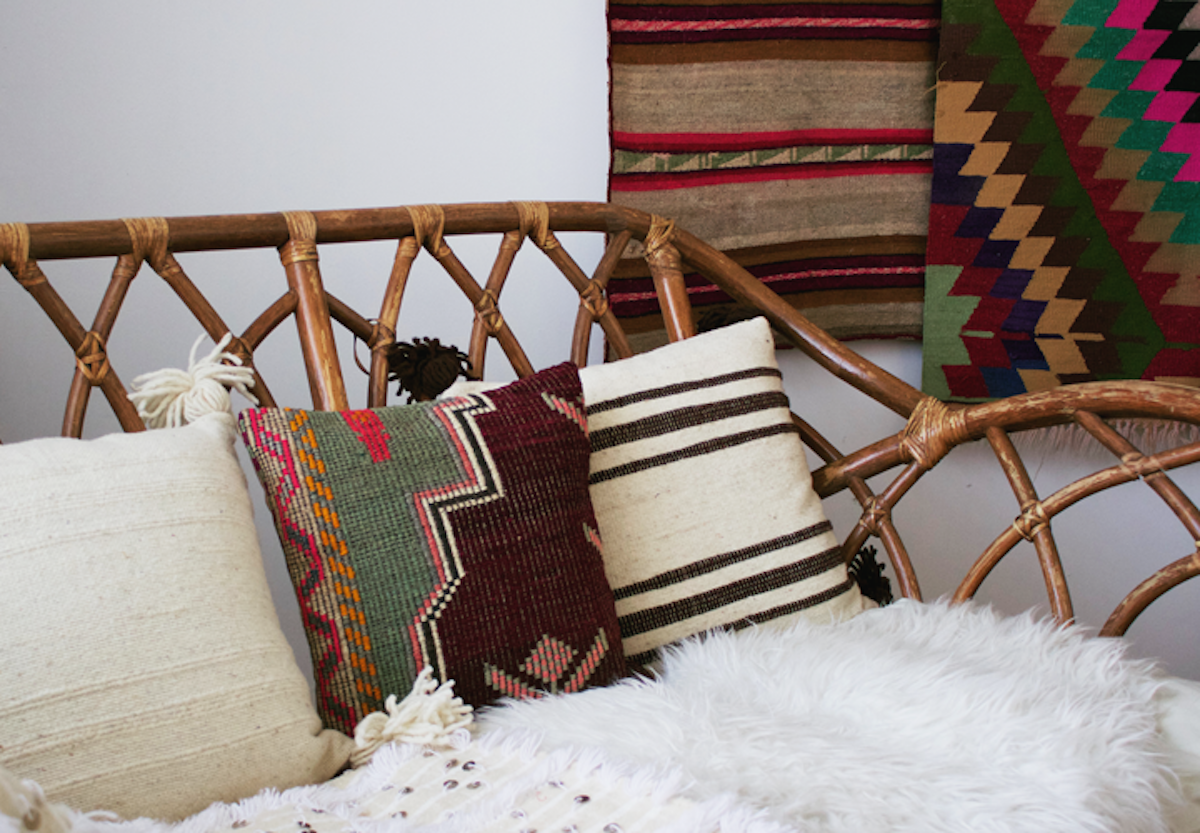 We love that you collaborated with local businesses to decorate your studio! What are a few of your favorites here in Chicago (and what did you purchase from them in your studio?)
Supporting local and shopping small is really important to us. And we're so blown away by the amount of talent coming out of Chicago right now! We sourced most of the textiles, pillows, baskets, and plants in the studio from Territory Design and Alapash. We loooove those shops! They offer such a unique selection of artisan made, fair trade, and vintage products. Beautiful items that you can really feel good about bringing home.
Also, we're forever crushing hard on Humboldt House, Gather Home & Lifestyle, and South Loop Loft. Each shop was founded by a seriously bad ass #girlboss and we're so inspired by those ladies!
How has the space brought more creativity to your work?
No longer are we focusing on the messes and clutter, or the lack of the room feeling "finished". When we walk into the loft it's a warm, inviting space that is well curated and clean and that sparks our creativity. We totally feed off a well designed room. You can't help but feel inspired in a beautiful space!
Have any tips for other entrepreneurs or creatives looking to make their work space more inspiring and productive?
It's important to make your creative space your own. Following trends and gleaning inspo from Pinterest is all well and good, but at the end of the day you want to stay authentic to yourself and your personal style.
Make the most of what you have and surround yourself with things that make you happy to look at. Even if you work from your laptop in bed, there's no reason that space can't inspire you. Treat yourself to a brightly patterned high thread count sheet set or a colorful blanket. You don't need a huge budget to make your work space a joyful place to be.