Creating an Outdoor Oasis on a Budget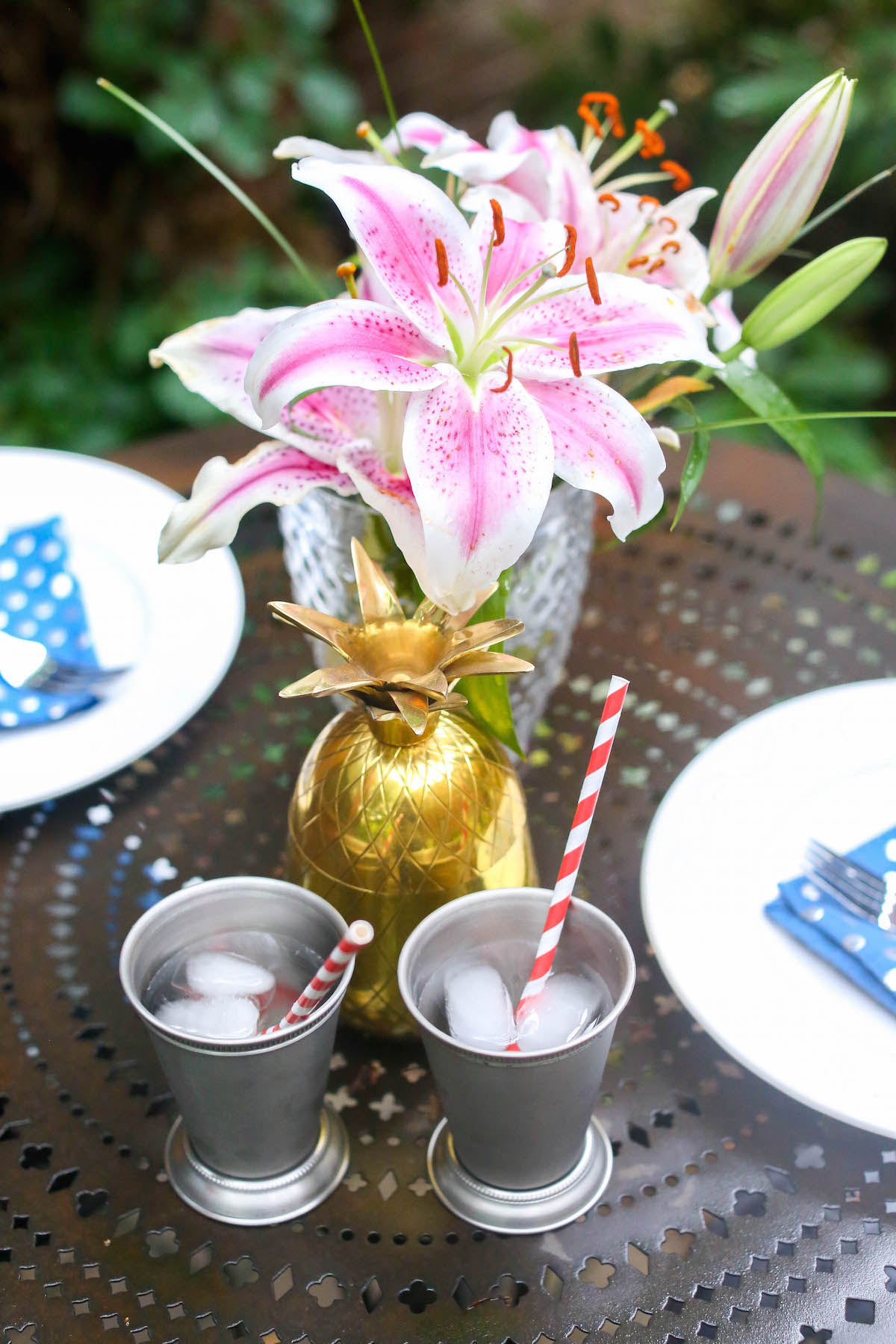 With summer officially here, patio season's in full swing! While I love going from patio to patio in Chicago, there's nothing more rewarding than creating a patio oasis for your own backyard (or in my case, my courtyard!)
After living in my apartment for a few years, I finally purchased a bistro set for a steal from Craigslist this spring. To give it a little more personality, I swung by Pier 1 to check out their gorgeous outdoor patio selections and scored a few perfect pieces for a romantic evening dinner, or just as a comfortable oasis for working during the day. Here are a few of my favorite tips and tricks for creating a comfortable, chic and affordable outdoor space you can feel creative in all summer long!
Embrace Pattern: As a lover of all things blue and white, I loved these nautical inspired pillows I scooped up at Pier 1 to make my metal chairs a little more comfortable and chic. Besides being functional, throw pillows are always an easy and affordable way to jazz up an outdoor space by adding a little bold touch to your outdoor oasis.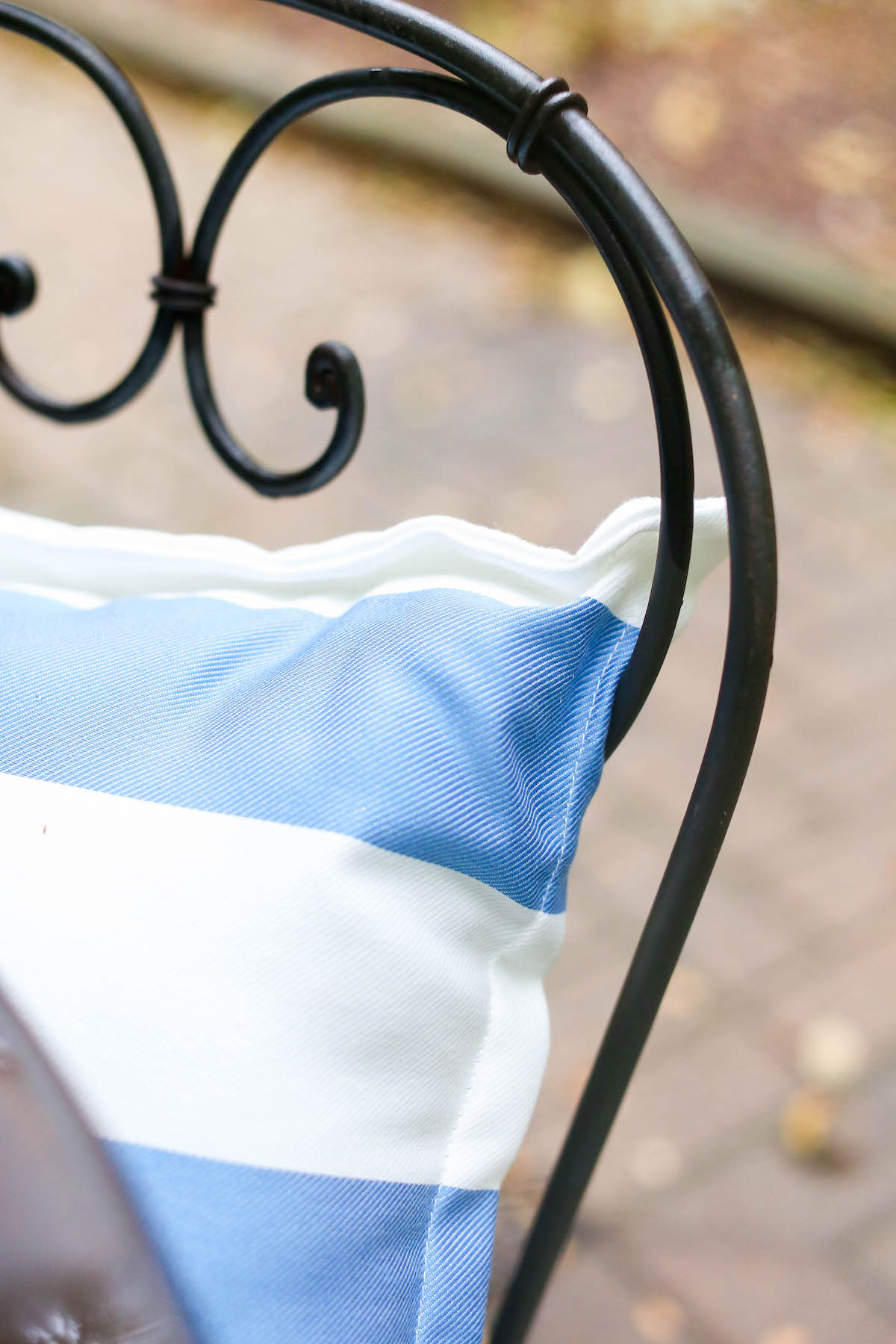 Add some mood lighting with a lantern: Lanterns are another functional and decorative touch that add a little more dimension to your favorite outdoor space. To match the white in the pillows, I picked out this gorgeous oversized lantern from Pier 1 and put a white candle in it to add a little lighting for when the sun goes down. Even better – you can put in a citronella candle in a lantern (or 10!) to keep the mosquitos at bay while you're sipping margaritas in the moonlight.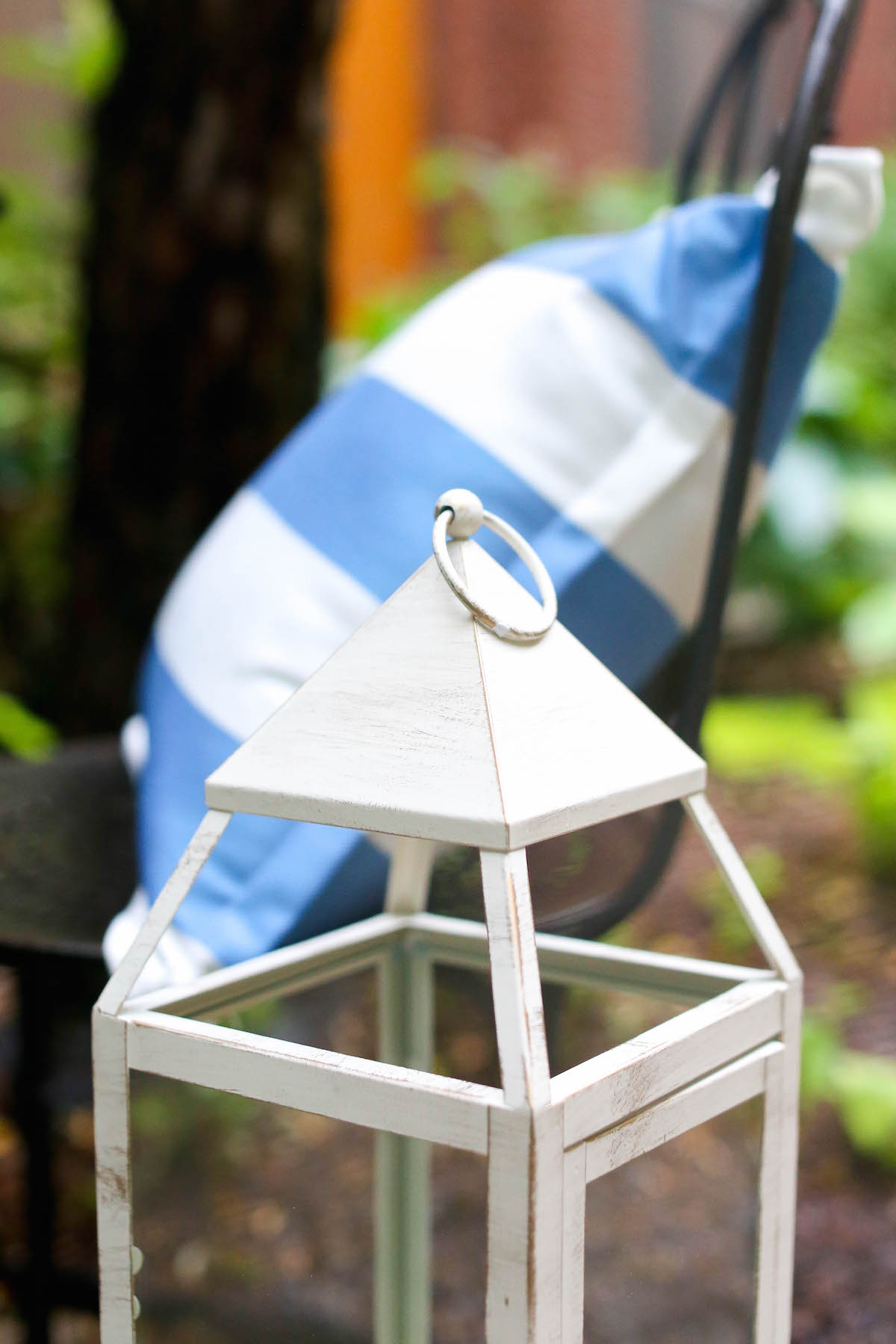 It's all in the details: As a firm believer in the little details, I picked up this gorgeous vase for fresh-cut flowers to add a colorful touch to my outdoor space. I loved that this Pier 1 version had a unique vintage flare to it, and reminded me of the bubble glass version my mother had when I was a little girl! And since no dinner is complete without cocktails, I picked up these julep glasses I'd been eyeing ever since Derby! I just used them as festive water glasses for my romantic dinner date, but I'm looking forward to whipping up some juleps on an extra hot summer day.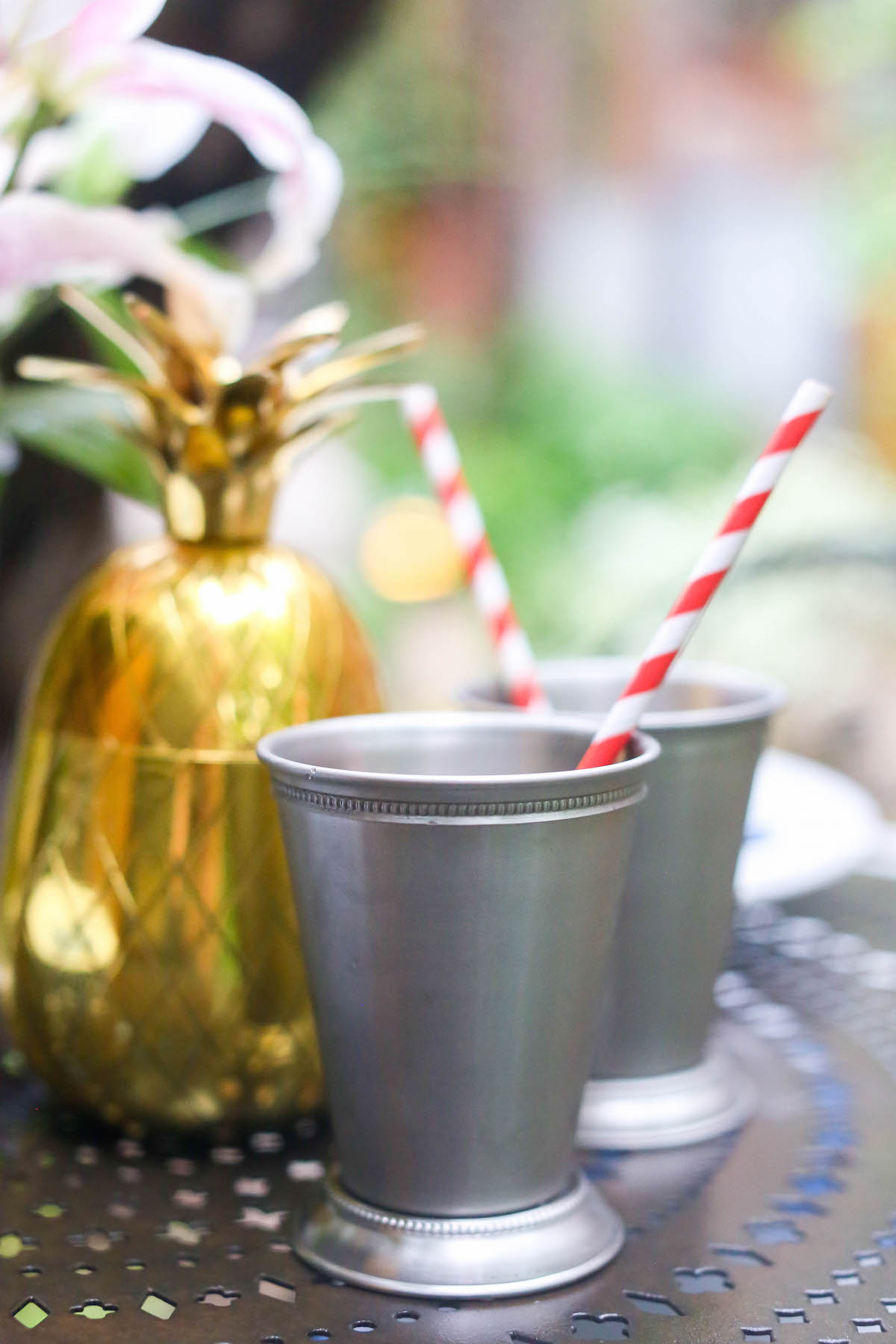 And viola! You have a gorgeous, comfortable and super affordable outdoor space you can enjoy all season long! While I might be biased, I think my neighbors might be a little jealous that I'll be dining in style (and outside!) all summer long.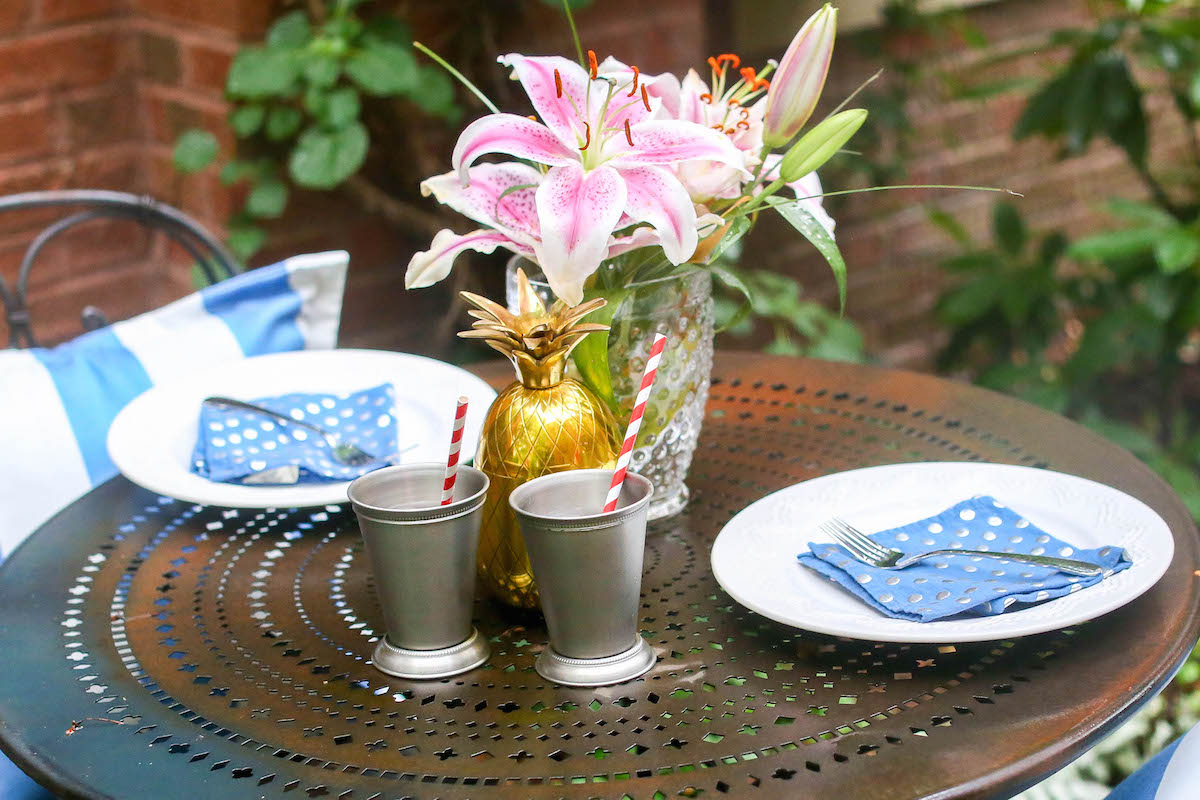 Looking to beautify your outdoor space? Make sure to check out the incredible new collections from Pier 1 (I'll definitely be adding more to my collection soon!) 
This post was sponsored by Pier 1, but as always all opinions are our own! Thanks for supporting the brands that make Wandeleur possible.