Caroline Curtin McGah of Lovely Paper Things
Caroline Curtin McGah is the talented designer behind the "boutique hooray & yay studio," Lovely Paper Things. It's here that she creates stunning, hand-made wedding invitations designed especially for each couple she works with. Her detailed design process allows the couples' personalities to shine through their paper goods to make their big day even more special. Read on to see how Caroline got started in her field and pick up a few hand-lettering tips she's sharing!
Being an entrepreneur is a tough route. What inspired you to start your own business?
Even when I was little I always knew I wanted be an artist and designer when I "grew up." I always had crayons in my hands, play dough in my pockets and/or a paintbrush swept up in my hair. I was always drawing masterpieces for my family, and I loved how happy my art made those around me feel. Fast forward a few years and very little changed. I went to college and double majored in Graphic Design and Painting, minored in Art History, and I fell even more in love with the art of paper, letters and visual story telling. I especially adored my letterpress class and as I created our wedding invitations, I began daydreaming about creating Lovely Paper Things.
After college I worked for an interactive web design company, and I quickly learned that though I love web design, my heart would always be with paper and its more personal interaction and connection with people. I truly adore people, and getting to know their stories is a constant source of inspiration for me. So creating Lovely Paper Things was the natural next step my heart had to follow! Every day I get to use my background in graphic design and painting, while helping to celebrate love….seriously….is this real life….it's pretty amazing! And I just adore that connection to a tangible, custom created nugget of goodness for an amazing couple or a budding business – oh be still my heart!
I was beyond lucky to grow up in a family that has always been incredibly supportive of all of my creative adventures. Over the years, my dad, an entrepreneur himself, has taught me so much about the art of starting a business from the ground up, and the passion, dedication and discipline it takes to have it flourish. Seeing firsthand the joy and sense of accomplishment that owning your own business provides you is so inspiring and no doubt helped guide me to creating my own business.
It takes a TON of hard, smart work, late nights and a true unwavering love to run this sweet business, but I'll tell you what, I wouldn't change it for the world! Seeing the huge smile on couples faces as I helped capture their love stories on paper, or watching a business flourish after a newly unveiled identity design – it's an incredibly amazing rush like no other!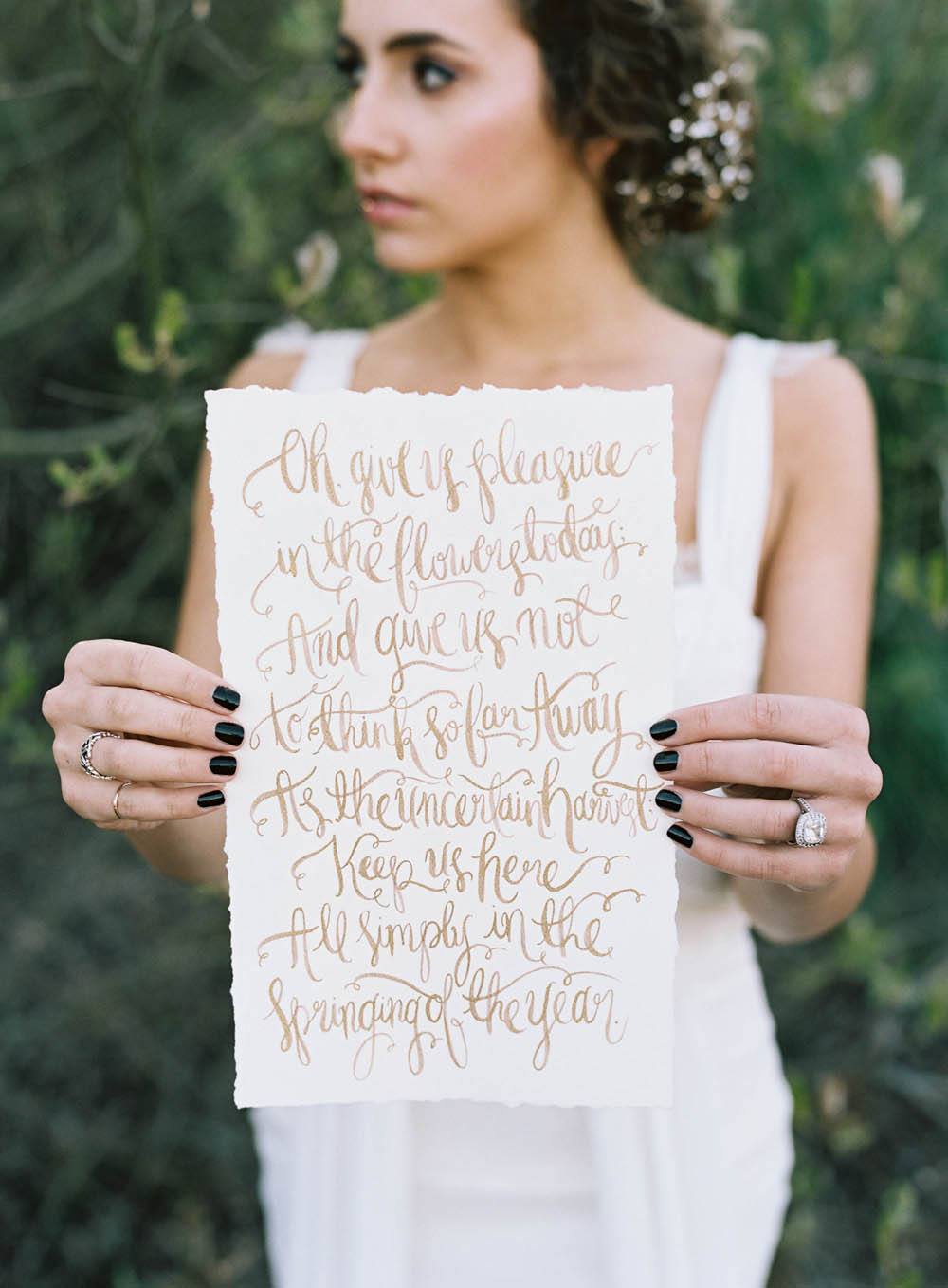 Has following your passion paid off in your career?
Oh my goodness, 100% yes! EVERY SINGLE DAY I'm SO thankful to be doing what I love and working with absolutely incredible, inspiring and wonderful couples and companies! Even on the rough days when I'm exhausted and drained, my husband always reminds me I'm doing what I love and I know I'm lucky to be doing that instead of stuck in a job that crushes my creative soul! Honestly, I think that there are so many wonderful career paths I could have followed, and many may have made me pretty happy, but doing what I'm so lucky to do, I know there is nothing else that would leave me feeling so completely fulfilled and delighted!
Beyond illustrating and designing, do you have other creative passions?
Oh my goodness, YES! I find baking and cooking to be two of my favorite, relaxing and inspiring creative outlets – if I'm stressed, or happy or celebrating, I turn to concocting some sort of delicious goodies and I always finish feeling happy and inspired by the colors, textures, and tastes! Plus when you can do something creative, then eat it…really does it get better than that?! 🙂 I also adore painting, gardening, throwing pottery, sculpting, and building pretty much anything! If there's a chance for me to create something original, creative and thoughtful plus have fun getting messy, sign me up, I'm in!
Future creative pursuits: I would love to learn the art of furniture making and glass blowing and really get into sewing garments and accessories!
You primary work with brides as you help share their love stories on paper. Describe that process. Any parts that are especially tough, scary or exhilarating?
With Lovely Paper Things, it's not just about the beautiful paper goodies! It's about conceptualizing, creating and celebrating each couple's unique love story through a cohesive, custom branded design experience. Love stories are full of so many wonderful nuggets, inside jokes, adventures and memories. Finding the perfect elements to visually represent what truly makes a couple's story unique is the most challenging and the most rewarding part of my creative process!
Over the years I've created a process that helps make each suite super strong and super unique:
1. Get to know the couple and learn their love story
2. Estimates and contracts
3. Brainstorm concepts, gather imagery, experiment with materials and design mood boards
4. Create sketches based on the selected design direction
5. Happily design the final suite with a combination of hand-painting, hand-lettering and/or illustration
6. Scan the suite in and add in any vector elements like typography
7. Print using a variety of awesome printing techniques and even hand embellish for super special projects!
8. Deliver delight!
Each step of the creative process requires a lot of hard work but it's such a blast! The scariest part? Every single time I send out the first round of sketches and the first looks of the final designs, I always get a squishy, nervous feeling in my tummy, hoping that I perfectly captured the couple's story and the vision we created! The love and amazingly kind words I almost always receive after these steps is of the very best, totally exhilarating feelings – making the momentary squishy tummy, totally worth it! 🙂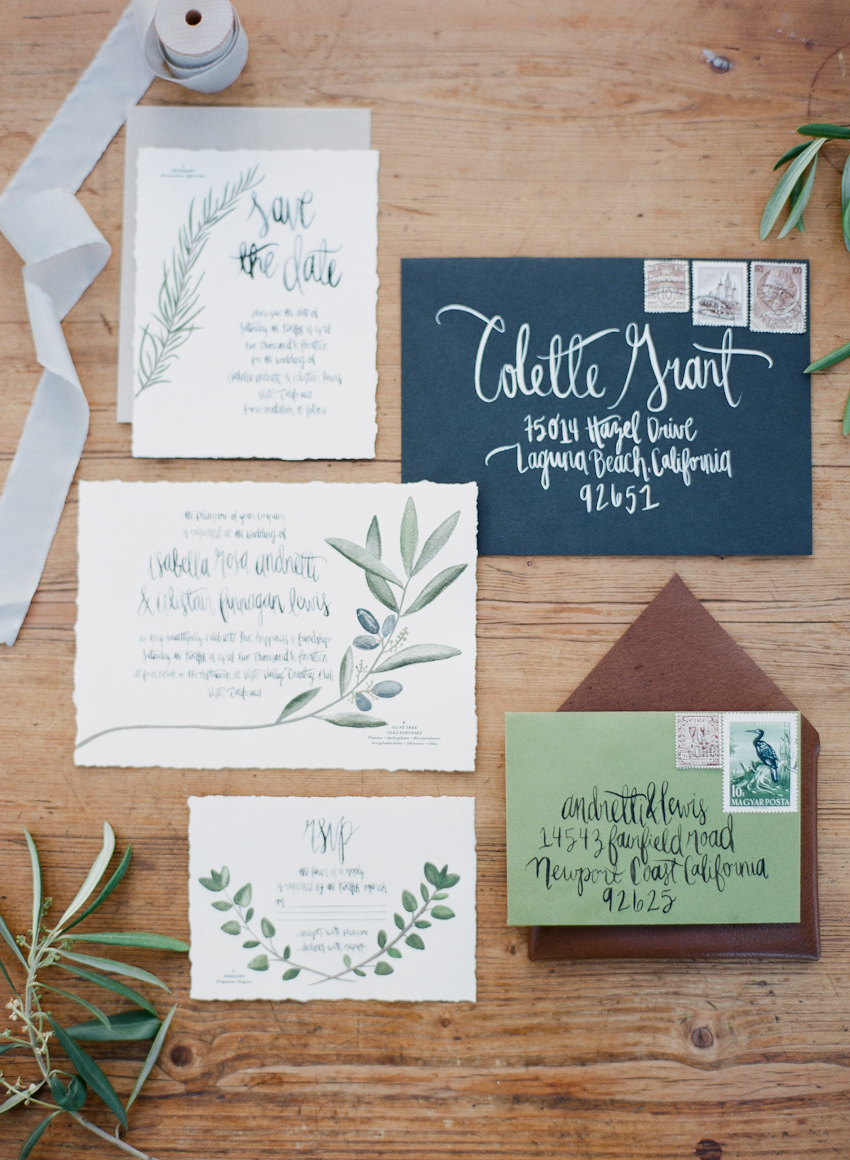 Who or what inspires you?
Traveling is hands down the most inspiring thing to me. Just getting out of my typical environment and every day routine, noticing the little things, exploring new cultures, experiencing the differences between where I'm adventuring to and my home…LOVE IT!
Also, the amazing people around me, from my incredible husband and puppy, to the strangers on the street, constantly inspire me. I adore chatting up interesting characters, people watching and creating stories about passersby. I love the arrival gates at airports – so much happiness everywhere. It gives me goose bumps thinking about all of those people being reunited with loved ones – how could that not be inspiring?!
A fantastic run always leaves me feeling refreshed and a walk on the beach never fails to inspire me, dorky I know, but it's so incredibly true.
And in the art and design world, I'm incredibly inspired by Richard Scarry because of his true talent for storytelling, and his ability to create an interactive experience on paper is pretty amazing. His whimsical, detailed worlds are so beautiful, thoughtful and timeless – I still look at them in the same awe as I did when I was little. I'm also a big fan of Wes Anderson's beautifully intricate, yet stunningly simple films, Alise Davis' awe-mazing floral creations and oh yes, food, all, delicious, amazing, food 🙂
How did you learn the art of hand-lettering?
As a graphic designer I think it's engrained in me to be HUGE type-nerd. From hand-written snail mail, to beautiful signage, and custom typefaces, I love studying letters and numerals – the way they loop, curve angle and connect, it's an art form in and of itself. I've always loved doodling names, words and letters and over the years, through design school and my professional career, I've refined and developed my own style which is honestly constantly changing. I adore experimenting with different tools like brushes, pens, pencils, calligraphy nibs…etc. to create different kinds of strokes and marks, and I'm always testing out different papers and mediums. It's just a blast!!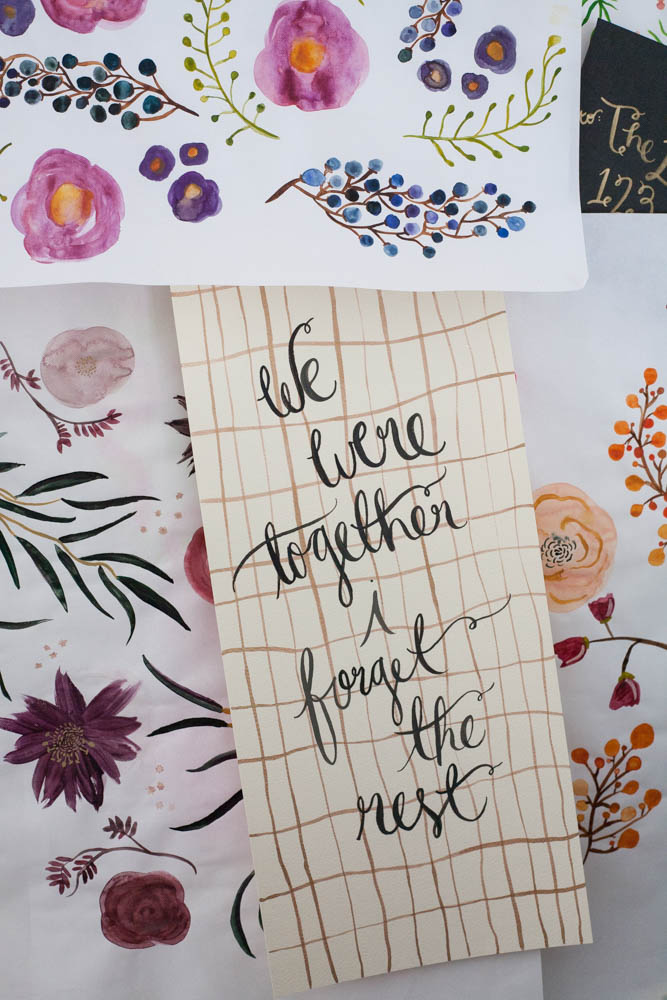 For those interested in learning more about hand-lettering, where do you suggest they start?
HOORAY! The art of hand-lettering is SO much fun to explore! Remember in middle school when you would endlessly doodle your crush's name with darling little hearts around it…wait who does that…hehehe? Well, sweet darling, you've already started the quest to lettering perfection! Start by just doodling away – no doodles are bad! Use a name or a word you like and letter it over and over. Practice lettering the name/word as many different ways as possible – some with big swashes, some with bold serif letters, some in block style, some slanted and sweet, some bold and fierce. Experiment with different materials – brushes, inks, nibs, pens, pencils, papers – find what style of mark making you feel most comfortable with, challenge yourself to do more, and just keep practicing.
Collect inspiration – tear out letters or typefaces you love in magazines, create a lettering pin board, go to the library and rent a couple of books on typography and study how each letter connects and interacts. If calligraphy is your groove, I totally recommend taking a calligraphy class! There are a lot of great ones you can even take online to get started, and even more that you can sign up for and take in person – stay tuned a Lovely Paper Things calligraphy class may just be in the works!! It's a blast! Remember the best part of hand-lettering is finding your own, original style and rocking it! 🙂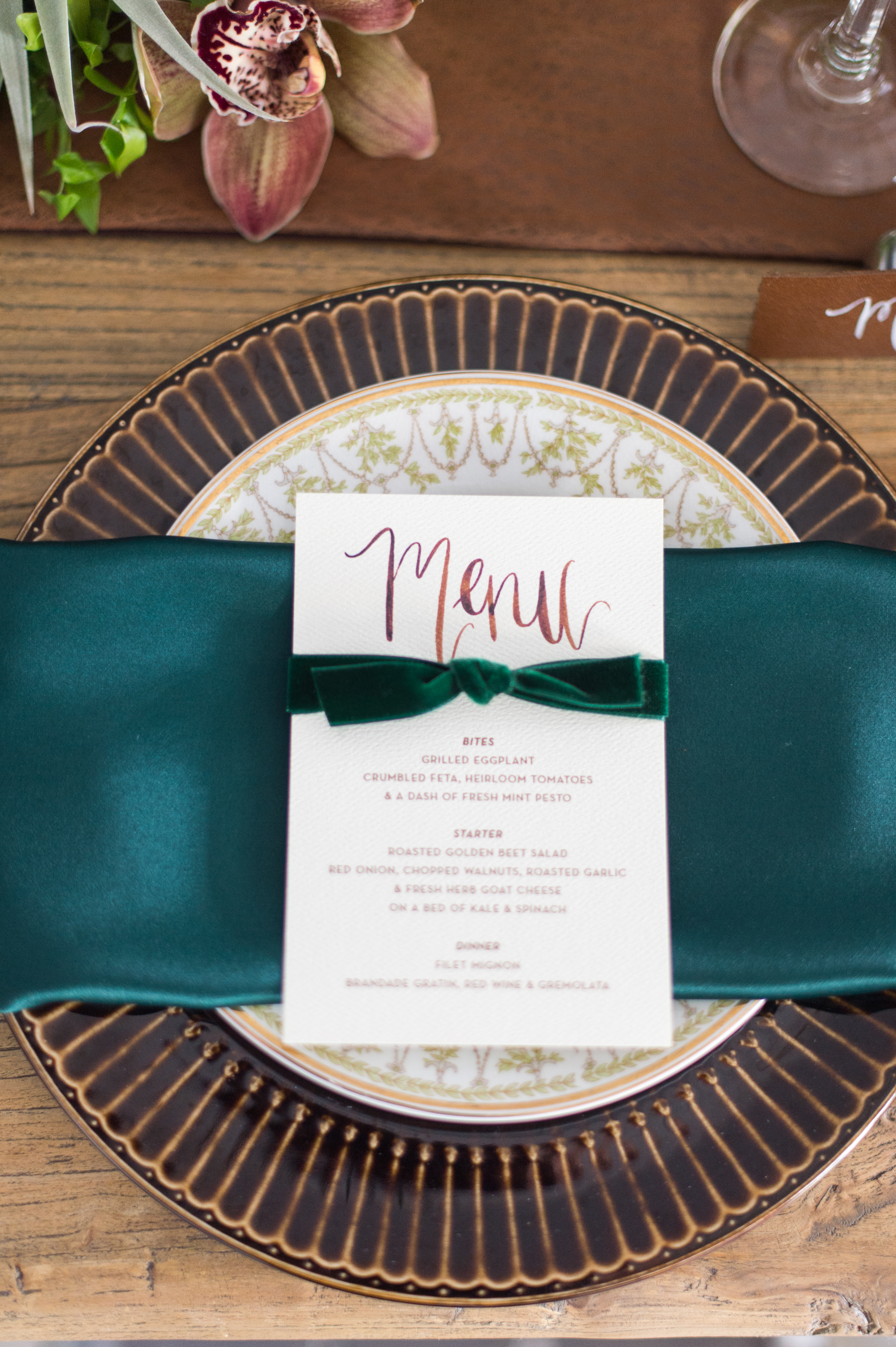 What does being creative mean to you?
Being creative means seeing the world from a unique point of view, that you and only you can see it from, and taking this amazing you-ness and creating anything with it. Creativity is a calling from deep within your soul to do something bigger than you. To put out into the world something that no one else could every dream up. To do something tiny but put your own spin on it. To do something huge that pushes the limit or causes people to ask questions, feel all the feelings and just think.
---
Caroline Curtin McGah links to follow: Website | Facebook | Instagram | Pinterest | Twitter