3 Fresh Hairstyles for Spring
Can you feel it? Though it's not technically springtime yet, it's most certainly in the air, and we're more than ready for the surge of life it brings. Of course, a new season brings the desire for new looks. Something fresh & radiant to bring in the promise of sunshine accordingly.
To arm ourselves (and you!) with new styles to try this season, we teamed up with Civello, an Aveda salon that recently expanded to Chicago from Canada, to try out some new looks. The result? Classic favorites with easy-to-accomplish twists that'll leave heads turning.
Undone Waves
A hot trend off the runway is to have less volume on top, and more texture and fullness on the sides. "Purposefully undone" as we call it. Another phrase for the look? "On point."
Step 1 :: Divide hair into 3 sections on the top, side and nape.
Step 2 :: Start with the bottom 2 sections. Curl hair horizontal with the iron parallel to the floor. Be sure to wrap hair over the top of the iron, not under it.
Step 3 :: Once you get to the top section, change up your direction and wrap each hair piece over the iron, making them the opposite direction than the first two section's curls.
Step 4 :: For all sections of hair, to get a slightly undone look as opposed to romantic curls, slightly twist the hair piece as you're wrapping it around the iron.
Step 5 :: Once entire head of hair is curled, loosen waves slightly with fingers and spray to ensure hold.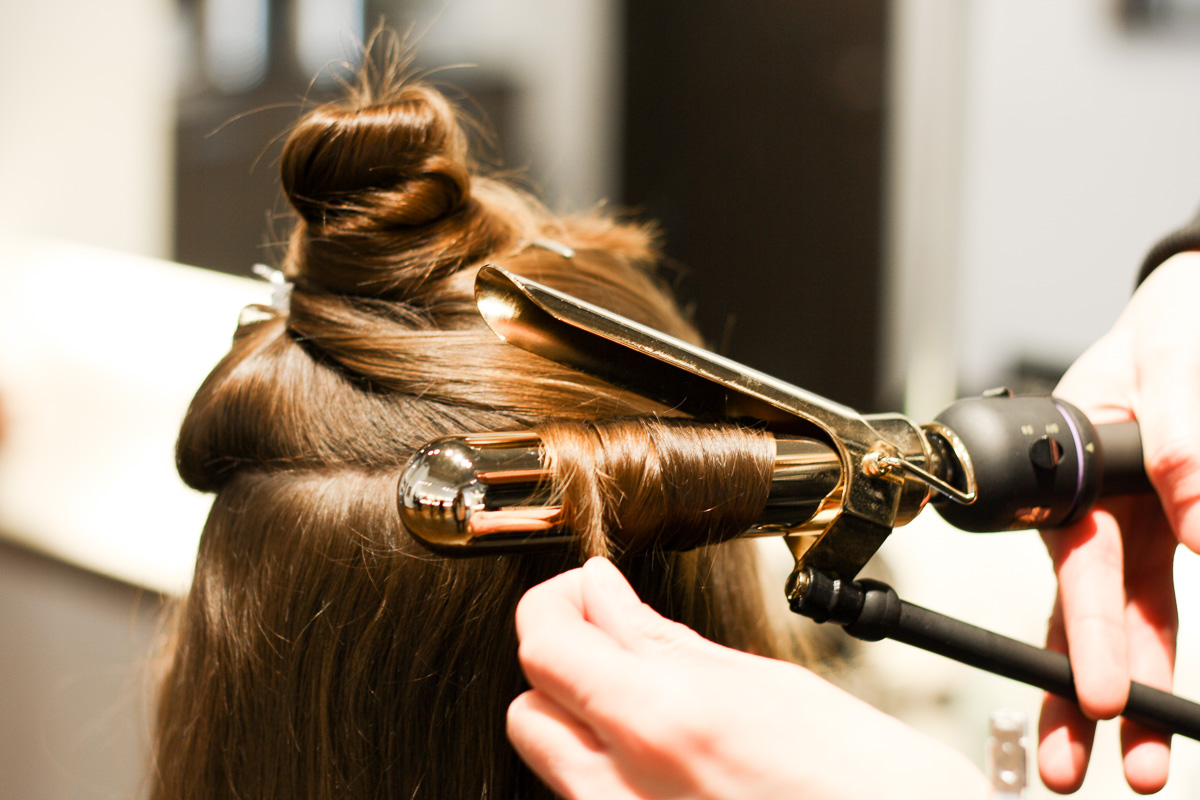 60s-Inspired Bun
Mod is in, and with is comes looks with lots of volume. The classic bun will always be a staple, but that doesn't mean you can't embrace the trend and jazz it up with some personality.
Step 1 :: Start with loosely curled hair. (This would be a great Day II look after wearing the "Undone waves" look above!)
Step 2 :: Tease through the top/crown of hair to create a little height. Leave any loose pieces around your face.
Step 3 :: Gather hair and pull into a loose French twist, using bobby pins to hold the twist in place. Make sure to leave all remaining hair out of the twist, positioned at the top. 
Step 4 :: Wrap the leftover hair around your French twist. Secure with bobby pins.
Pony with a Twist
Let's face it, some days pony tails are just so necessary. Want an easy way to turn a standard ponytail into a fashion statement? Simply wrap a strand of hair around the elastic and secure it with bobby pins. It'll immediately take your look from "Meh – today I didn't really try" to "I totally planned this." Even if you didn't. (Don't worry, it'll be our little secret.)